Mysterious Photo of Disney Dreams! in Thick Fog & Smoke
This photo comes courtesy of Geoff Dodds and an explanation of what happened is also from Geoff from the night of February 25th.
Tonight's Dreams! was an interesting one. Heavy snow and fog. Started off using the fireworks. When all of a sudden during Be Our Guest the projections weren't coming through the smoke caused by the fireworks. So, the fireworks were turned off. Then during Tangled, they turned them back on. By the end of Dreams!, the castle was non existent. The Cast Members were looking around laughing. I hung around a bit afterwards and saw the Dreams! tech guys running around with radios having a laugh about it.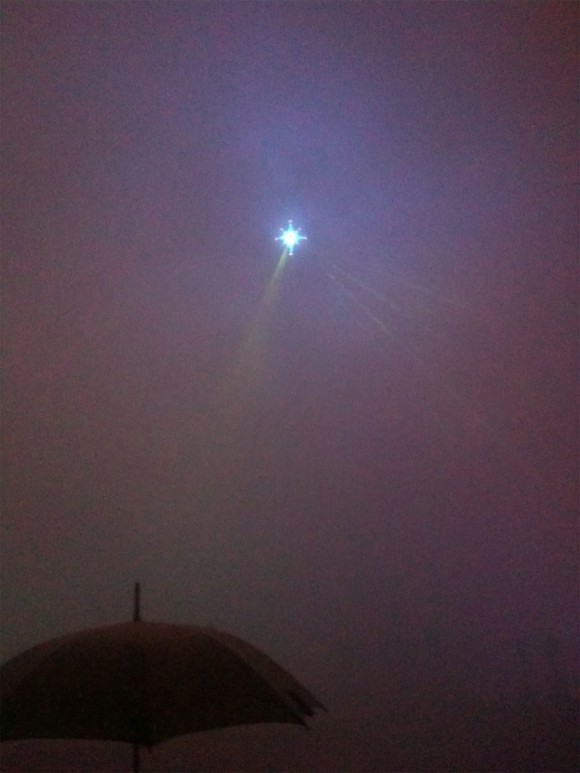 That must have been quite surreal, to be so close to Sleeping Beauty's Castle but to not actually be able to see it. and not because of the usual castle transforming video mapping. It's not as if it's partially obscuring the castle, if it wasn't for the star shining at the top you wouldn't have any clue to the fact that you were standing right near the tallest and most iconic structure in the whole of Disneyland Paris.
The thick fog reminds me of October 2007 when we were in Disneyland Paris and the fog each morning was so dense that it had a similar effect as what Geoff experienced last week. Luckily I had a camera with me and was able to get some photos.
This one was taken on the bank of Lake Disney looking across to where the Newport Bay Club is usually visible, but not on that morning.
Much like Geoff's experience, this photo was taken from Dicoveryland looking at Sleeping Beauty's Castle, but it's not there. We didn't have the benefit of a shining star to reassure us that the castle was actually still standing in Fantasyland!
This last photo of Phantom Manor isn't the same disappearing act as the previous two, but none the less, the old house on the hill looks very creepy in the fog.
The fog did eventually lift so the days weren't spoiled, but while it was there it made from some very surreal sights and a chance to take some interesting photos.