LEGO Store at Disney Village in Disneyland Paris Opening in September
I received an email inviting me, and anyone else who is a Disneyland Paris Shareholders Club Member, to attend a preview of the new LEGO Store opening in place of Hollywood Pictures in Disney Village on Saturday September 28th. Unfortunately my membership actually expires at the end of August and I'd need to buy 80 more shares at a cost of £315 to renew my membership at a level that gets me all the benefits. That's not going to happen, especially as I am now an annual pass holder, with the benefits that come with that.
Shares aside, we are just 1 month from the preview opening which means the full opening to the public shouldn't be long after, and most probably in time for the Halloween season in early October. I'm not the biggest fan of high street names moving in to Disney Village, as we see it join McDonalds and Starbucks and take that extra step towards removing the magic and escapism of visiting a Disney resort. However, if this is the only way forward for Disney Village then at least it is something that will be very popular with the younger visitors, though maybe not for the bank balances of their parents.
One thing that could get me excited is attraction based LEGO sets. Imagine being able to buy a set that allowed you to recreate the magnificent Sleeping Beauty's Castle…in LEGO. Or Pirates of the Caribbean LEGO sets, and not ones from the film, but ones from the ride with boats and descents included. I'm certain Phantom Manor, Tower of Terror and Big Thunder Mountain sets would sell like hotcakes. With a lot of money and time, you could build a LEGO replica of Disneyland Paris, and that's a slice of capitalist exploitation I'd be happy to be a part of!
Seems it's something other have thought about too – take a look at these two fake Disneyland LEGO boxes that were doing the rounds a few years ago: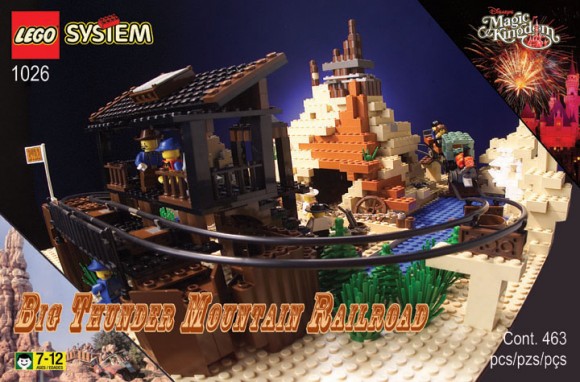 It'll be interesting to see what big LEGO creations they have on display for both the preview and public openings. I'd imagine The Lone Ranger, Planes and Monsters University will feature prominently as they are the current big Disney releases in Europe. Will they attempt to recreate any of the attractions in the parks?
At a time when Disneyland Paris seems to be attracting a lot of criticism, at least amongst the hardcore fanbase, it's nice to see something new opening in Disneyland Paris, and especially in the lacklustre Disney Village. My question to you, is what are your thoughts on the new LEGO Store – are you excited to visit it, will you be increasing your spending budget when you next visit to include LEGO purchases?