Christmas 2013 in Disneyland Paris including a New Christmas Dreams! & New Parade Characters
The big news from last night, revealed by @DisneyDavy when he directed us to the Belgian Christmas section of the Disneyland Paris website, is that we have a new night time show that will take the place of Dreams! from November 10th 2013 until January 6th 2014. It's being called Disney Dreams of Christmas which is slightly different to the Winter Dreams name which the show is called over at Disney California Adventure, which one would assume is the same show, or pretty similar. Steve Davison, vice president of Parades and Spectaculars, Walt Disney Imagineering Creative Entertainment, talks about it in the following video.
httpvh://youtu.be/GB9z0svniX4
Whether it is the same show or not is yet to be seen, but given the similarity between World of Color and Dreams!, at least as far as the elements used, it would make sense. The big star of the new show is Olaf, who is a character from the upcoming Disney film Frozen. My co-host on the Dedicated to DLP podcast Mark was at D23 where he got an insight into the new show, and apparently Olaf is the narrator for the new show, which begs the question as to whether Olaf will speak French and English in Disneyland Paris, much like we see with the current Dreams! show, where Peter Pan and Wendy alternate between English and French.
That's the great thing about Dreams! – once the technology is in place, it can be used to completely change the show and bring in a new show, as seems to be the case with Disney Dreams of Christmas. It of course helps when the show is being developed for another park, as the cost of developing the show doesn't fall solely on the shoulders of Disneyland Paris, something it doesn't need right now. This also means that Disneyland Paris have a brand new and very relevant show to market for the Christmas season, which will inevitably boost crowds and much needed cash into the resort.
The exact translation of the text, according to Google Translate, from the Belgian website is as follows:
Marvel and discover a magical show where Olaf Snowman film The Snow Queen, takes you on an enchanted universe combining stunning effects and the presence of Disney characters to celebrate beauty in the magic a unique Christmas!
It's not just Disney Dreams of Christmas that was announced, so let's look at everything that Disneyland Paris has in store for Christmas 2013.
The Enchanted Disney Christmas

This year the magic of Christmas is ahead just for you! From November 10 until January 6, 2014, it is at Disneyland Paris that you will live a magical Christmas that will delight young and old!
Not a lot in the way of news here, though their previous plans to extend the Christmas season further into January, to cater for the Russian Christmas, appears to not be happening now, at least not for the upcoming 2013 Christmas season anyway.
The Decorations of a Magical Christmas

Snowflakes fall by thousands of Main Street, USA, beautiful decorations illuminate a majestic tree and your wildest dreams come true at night in The Magical Wishes of Christmas!
For a second I thought we might getting a return of Wishes, the night time firework show from years gone by, but I think this more likely refers to the tree lighting ceremony which takes place in town square every evening. Speaking of the tree, there is a new tree, and this comes from a translation of the French website:
And that's not all: a new tree height of 24 meters, will also make its appearance, decorated with nearly a thousand decorations Worldwide. It will illuminate the dark, in a new musical ceremony full of lights, "The Magical Wishes of Christmas" (one website translated this as The Card Magic of Christmas and another The Magical Wish of Christmas – the latter makes a lot more sense, but until we see the English press release we'll not know for sure.), led by Pinocchio and his faithful friend Jiminy Cricket.
So we are at last getting the new tree that was rumoured last year, and it's not the Duffy tree that some people were speculating, or fearing! I really like that it's Pinocchio and Jiminy Cricket rather than the usual characters that get involved in this tree lighting ceremonies. This also gives credence to the name of The Magical Wishes of Christmas, seen as the old Wishes show was also featured Jiminy cricket.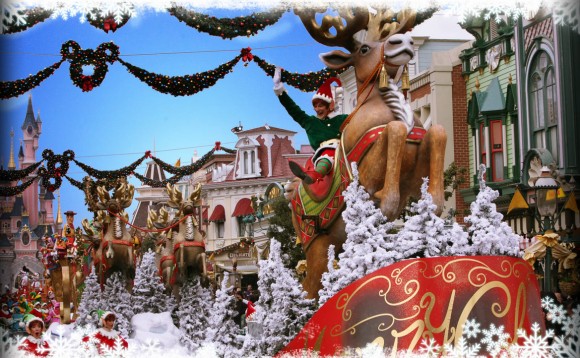 A Festive Cavalcade and An Enchanted Parade

Santa, assisted by Mickey and his friends, is busy preparing for the festivities of Christmas Cavalcade. Decorations, gifts and sweets will be gathered so that everything is ready for the big day. And then find the Princess Elsa and Anna last Disney, The Snow Queen in the Disney Magic on Parade!
Last year's Christmas Cavalcade was absolutely stunning and I did get told they'd be adding to it every year, so I'll be intrigued to see what it looks like this year. Note also that we'll be seeing new characters from Frozen in Disney Magic on Parade too, and I'd think they will be on a rethemed Magic of Romance of Float which was removed 2 weeks ago.
Make Meetings Unforgettable

This is Santa's Village Cottonwood Creek Ranch, that it waiting for you hug! You can also cross Duffy Bear and friends as well as Jack Skellington, dressed up in their costumes for Christmas.
Not much new here, but a must for anyone with children and for a lot of adults too. Even if you don't want to meet Santa it's worth taking a walk over to his village as it's themed wonderfully and feels very magical. Santa will only be there until Christmas Day, which make sense really.
Not only do we have everything from last year returning, but we also have the news of a new version of Dreams! especially for Christmas with the Cavalcade and Parade running every day, with new characters. I can tell you from personal experience of having been there, that the Christmas 2012 season in Disneyland Paris was sensational. On paper it looks like Disneyland Paris have taken it up an extra level, or two, and Christmas 2013 in Disneyland Paris should be absolutely spectacular. There's something very special about being in Disneyland Paris during the Christmas Season, and this year could turn out to be the most special of all.