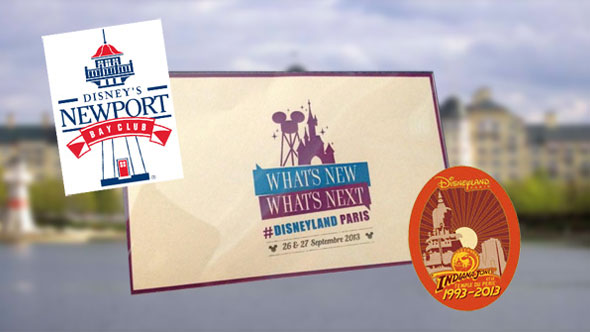 Massive Refurbishments Coming to Disneyland Paris
Yesterday and today there is an event going on in Disneyland Paris called What's New What's Next. This is a series of presentations and showcases of all the new developments planned for Disneyland Paris, from hotel overhauls to Christmas merchandise. The event was attended by a select group of invitees, one of which is our official partner magicforum, and another is long time friend of Dedicated to DLP Designing Disney. It's their information that I'll be using in this article. Make sure to follow them on Twitter; @magicforum and @DesigningDisney for live updates of day 2, and photos from the parks.
Disneyland Paris Refurbishments: Hotels
Hotel Santa Fe has been the recipient of some much needed work over the last year or two, and the Newport Bay Club is next. Here is some of what is planned:
The bedrooms will get Mickey Mouse touches and the colours will be warmer
The restaurants (Yacht Club and Cape Cod) will improve
The Lobby will be entirely redone
The facade will be completely stripped and replaced
They will use new materials that are environmentally friendly
Rooms will get an infrared sensor that can change the temperature when a guest leaves a door open, for example
The swimming pool will be touched up
It is said that this will be the largest project ever, and by that I'd assume they are referring to hotel refurbishment projects. It is said that Hotel New York, Hotel Cheyenne and the Disneyland Hotel will also receive some attention in the future.
The decision to add more Disney theming to the rooms, in the way of Mickey Mouse touches, is music to my ears. There's no doubt that the Newport Bay Club is a nice hotel, but unless your idea of fun is hanging out in a Yacht Club (not the restaurant of the same name), the current theme is not really Disney and only seems to be targeting the kind of people who probably spend time in their real local Yacht Club, rather than going to Disneyland Paris to pretend.
Last year I stayed in Hotel New York and while it was very plush and comfortable, it didn't really feel like a Disney hotel. That might be a bonus for some people but when I'm in Disneyland Paris, I want Disney. It doesn't have to be in your face toonification, but something to differentiate the hotels from any I might stay in around the world is very welcome. I loved the new Cars additions to Hotel Santa Fe, which are enough to give it a Disney feel, but not so much that you feel overwhelmed.
The above photo is a slide that was shown during the presentation showing before and after shots of a bedroom in Newport bay Club. It's quite hard to see any of the Mickey Mouse touches, but even in the small photos there you see the more welcoming and warm decor of the new rooms. This past summer I stayed off site for the first time, and even though it saved me a lot of money and I'm not one to spend to a lot of time in hotels, a properly Disney themed hotel could draw me back in, maybe.
We can get a closer look at one part of the Mickey Mouse touches in this photo, and as you can see he's being stylishly added to the decor.
Apparently Wi-Fi is going to be standard in all hotels soon, and free. It's a poor reflection on society that people's need to update Facebook whilst on holiday is such a high priority, but it is, and well done Disneyland Paris for recognsing this. I of course will take advantage of this too, because as much as I may dislike how we all seem to share our lives online so much, I'm an addict too.
Disneyland Paris Refurbishments: Disneyland Park and Walt Disney Studios
Here's a rundown of what is planned:
Intensive refurbishment of Main Street, U.S.A. building facades, including inside and outside Main Street Station
The refurbishments won't be superficial, but will be replaced with durable materials
Town Square Photography will be ripped out and made into a new shop
Indiana Jones and the Temple of Peril will completely be leveled soon, and rebuilt using real stone. The entire loop will be replaced too
Moteurs… Action! Stunt Show Spectacular will go back to normal in the coming months – some of the missing parts were due to technical difficulties that will be overcome soon
backstage Studio Tram Tour to get a new tram to reduce wait times and/or increase capacity
Big Thunder Mountain to get a new safety feature which will reduce start/stop times
They are working on the Space Mountain seats that will make them more comfortable
They want to see more single rider lines added, at a rate of at least one a year. First will be Crush's Coaster which will also get a new entrance
Interesting to see the Main Street, U.S.A. getting so much attention when it is one of the most looked after and best looking parts of Disneyland Park. However, to be having more permanent facades indicated a very long term plan, which maybe should have been the case back when they built it in the early 1990s? Update: Thanks to Michel van Marrewijk for reminding me that there are currently nets on the top of some of the Main Street, U.S.A. buildings to prevent any more pieces falling off, as has happened. I think this refurbs are more necessary than I originally thought.
With the Main Street Station, I wonder if we will see the Euro Disneyland Railroad logos taken away to be replaced by Disneyland Railroad, which is what it is now. I'm hoping not, as those small things that remind us of the park's origins are always nice to see. One shouldn't forget history completely.
On the surface I'd say that changing Town Square Photography is a shame, as it's a nicely themed shop with real character. However, photography itself has changed and no longer is there need for a shop that at one point sold cameras and films, and then memory cards and batteries. Now most people just use their phone, and then upload straight to Facebook and Twitter using the aforementioned free W-Fi. There is a need for the PhotoPass booth which is currently in Town Square Photography, and it remains to be seen if this will stay in the new store, or be relocated elsewhere. Presumably it will have to be relocated while the overhaul takes place, so maybe it will stay in it's new location. I'm very intrigued to see how this new shop will be themed, and what it will contain.
As for Indiana Jones – if they are leveling it, is it not about time they replaced it with something new? This is probably the coaster avoider in my talking, but it never seems to be very popular and is very hidden. However, as they seem to think it worthy then better signposting and a clearer path may be in order too.
The Future Looks Bright
Disneyland Paris has had some bad publicity recently and they must be kicking themselves for not revealing all this 3 months ago, before the Save Disneyland Paris petition was made public. That aside, it's all very exiting what they have planned, and it would appear have had planned for quite some time. There's a ton of news coming out of today's event, not least of all Disney Art on Demand which allows you to choose attraction posters, and other pieces of Disney art, and get them printed, even on canvas, and delivered to your home. This is something I have wanted for years, and have written about previously, and I am absolutely over the moon to hear is finally happening.
I will write another article about all the news that is coming out of Disneyland Paris today, but for now we can all rest assured that Disneyland Paris is in safe hands, the parks are going to look and feel better and better with each passing year, and the happiest place on earth is only going to get happier.