Disney's Enchanted Christmas 2018 in Disneyland Paris – All You Need To Know
I adore both Christmas and Disneyland Paris, so the combination of the two together is just perfect for me. I've actually been lucky to enough to visit Disneyland Paris 9 times at Christmas, and this will be only the 2nd time in the last 8 years that I've not been there at some point over the festive period. That doesn't stop me being interested in what is happening, and with Disneyland Paris having made public their Christmas season press release, it's time to dive in and take a look. The parts in quote marks are from the official press release, the rest is yours truly, obviously.
The big difference for Disney's Enchanted Christmas 2018 in Disneyland Paris is the involvement of Mickey's 90th Birthday, and the birth of the ChrisMouse celebrations. The season runs from 10th November until 6th January.
Christmas at Disneyland Park, Disneyland Paris
As I write this, the Disneyland Paris 25th Anniversary is due to end in 2 days and that will bring, I hope, the return to more traditional Christmas decorations. I wasn't a huge fan of the blue-tinged decorations and lighting that was all over Town Square and Main Street last year. Bring back the red, green and gold for Christmas 2018 in Disneyland Park!
Disney's Christmas Parade
This Christmas season you'll be able to enjoy all the excitement of THE Disney Christmas Parade not just once but TWICE daily. It's making a big comeback, spreading the magic of winter across Disneyland Park – and it's even making snowfall on Main Street, U.S.A.

Mickey and Minnie Mouse, Donald Duck and Goofy will be leading the dance – in fact, they're already getting ready to celebrate Christmas in the best possible way, along with all their friends. Woody and Buzz Lightyear from Disney•Pixar's Toy Story will be joining in the fun, too. Dancing gingerbread men, candy canes and all sorts of other Christmas treats will also be twirling around this magical winter wonderland. And we've heard that Tinkerbell and even Santa himself are going to be there!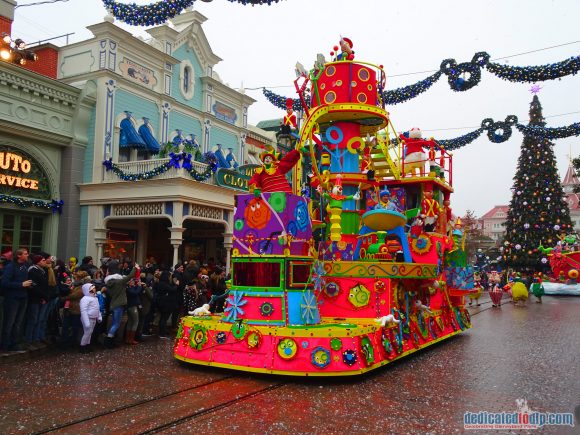 This was by far the highlight of last year's Christmas season in Disneyland Park, with an amazing combination of great music, stunning visuals and the best character interaction I've experienced from a parade in years. Bit strange that they've said it's making a comeback as that would indicate it's been away for a while. Yes, it hasn't been seen since early January, but that's because the Christmas season ended. Maybe it's lost in translation or maybe it's not the same Christmas parade as we saw in 2017? I think it will be the same, with maybe some minor changes, and if that is the case then anyone going will be in for a treat.
Magic Christmas Encounters
You'll get the chance to meet Marie from the Aristocats, Scrooge McDuck, Peter Pan and Miss Bunny, to name but a few! And it goes without saying that where there's Christmas, there's Santa! As you might expect, he's decided to take up residence in Fantasyland again. To meet him, just head for "Meet Mickey Mouse", every day up to and including the 25 December. Just like Mickey, Santa will have his own lodge where he'll give you the warmest welcome. It's a magical meeting you'll treasure forever.
I'm not the biggest character person thanks to the queues, as I've talked about many times before, but even I can't resist photos with the characters in the fabulous Christmas costumes. Most meets should be standard queue up and wait (rather than LineBerty which you'll see mentioned a bit further down), which even in the cold is something I did last year to meet the always brilliant Goofy and Pluto.
Light up the tree with Mickey's Magical Christmas Light
There's nothing quite like the moment the Christmas tree lights are switched on at Disneyland Park. And it's not just any old tree – this one is 24 metres tall and will be switched on by magic at an event attended by Mickey, Minnie and Santa himself! With a festive countdown, enchanting Christmas lights, snow and Disney magic, everything is set to ensure you are immersed in the wonder of Christmas.

What's more, it's also a chance for us to celebrate Mickey's anniversary, with new decorations and a new musical interlude especially for him.
This is the tree lighting ceremony, and though I prefer how they did it a few years ago when the characters weren't involved, and the focus was more on the tree, this is still a very magical part of Christmas in Disneyland Paris. Just don't make the mistake I did and think you are getting a great view from the gazebo in Town Square, as the tree completely blocks your view from seeing the characters and performers. That's unless you like feet and ankles, in which case it's perfect. Last year the two performances were quite close together, so after my faux pas on the first, I was able to get front row for the second. It does get pretty hectic with the crowds of people, all a little less patient because of the weather, so be prepared. It all goes a lot more smoothly when guests listen to the Cast Members, who in spite of the beliefs of some, are there to help and make sure everyone is safe.
The tree is the centrepiece of Town Square, and seeing it light up, with the music, characters and snow is really quite lovely. This year there is a new part especially to celebrate Mickey and his 90th birthday, so I shall await videos to hit YouTube with intrigue. If you like hot chocolate, grab one before you stand to wait, keeps you warm inside and out. I can't say this from experience as I don't like hot drinks except for Hot Ribena, and they don't sell that in Disneyland Paris. Maybe they should start!
A Merry Stitchmas
Stitch is going to be taking over the Royal Castle Stage – so Christmas is sure to be a blast! He's going to do all he can to make sure you have lots of fun with Mickey and Minnie, Donald, Daisy and Goofy, with some of our greatest Christmas classics for a backdrop.
Any time Stitch takes centre stage it's a good day, being that he's by far the best Disney character. Don't agree? That's what the comments are for, go on, have your say. If this is the same A Merry Stitchmas that we had in Disneyland Paris last year then my one complaint remains, that Stitch needs to be more prominent, and not merely a guest in his own show that he seems to be. That said, the costumes are out of this world, both for the performers and for Stitch and his numerous costumes changes. Shame if you have booked for the beginning of the Christmas season in Disneyland Paris with A Merry Stitchmas not starting until November 16th. Can't think why that is either, given that Halloween in Disneyland Paris ends on November 4th. Surely 6 days is enough time to change a few stage decorations?
Mickey and his PhilaharMagic Orchestra
A completely new attraction will be available in Europe for the first time ever, from 1 October, 2018. It's called "Mickey and his PhilharMagic Orchestra". Get ready to try a new 4D experience at Discoveryland Theater. Once you're sitting comfortably, you'll be able to see Mickey Mouse and Donald Duck on the big screen. They'll take you right to the heart of some of the great Disney classics, such as Aladdin, The Little Mermaid and The Lion King – complete with some new twists caused by that mischievous Donald Duck! It's a unique opportunity to enjoy the sound of some of Disney's greatest melodies and celebrate 90 years of Mickey Mouse fun in the best possible way.
I'm excited to see this at the start of October when it makes its debut in Disneyland Paris, but this is absolutely not part of the Christmas season. It just happens to be on at that time, just as it is Halloween and every other season going forward. I get it though, this is marketing the resort for a specific period and probably not to a bunch of hardcore social media dwellings fans, so they have to include as many selling points as possible.
Christmas Songtime!
Do you like Christmas songs? Then come to the Videopolis Theatre in Discoveryland and check out this new show: "Christmas Songtime!". Every day, guests will get a chance to go on stage and take part in the action, alongside Mickey, Minnie, Goofy and Disney's professional singers. What a great way to celebrate the "Disney Performing Arts" programme!
Sounds fun and it's always nice to have live entertainment on such a great stage. I'd prefer it if they kept the Jedi Training Academy there, and I have no idea why it got taken away, but it's better than just leaving it unused and showing videos on the smaller screens. Going on stage to sing with the characters sounds like a unique experience for Disneyland Paris, and who doesn't love singing Christmas songs? You don't? Bah humbug and be gone with you Grinch.
The Enchanted Advent Calendar: 1 – 24 December
Every morning, you'll be able to awaken the magic of Christmas at the foot of Sleeping Beauty Castle with a larger than life advent calendar! Discover a new surprise every day, with Mickey, Minnie or Goofy.
I found this highly underwhelming when I saw it last year in Disneyland Paris. Stood to the left-hand side of Central Plaza, nobody seemed to know what was going on, with a guest getting a voucher for a piece of merchandise or sweet treat. Would much prefer this to be something involving characters coming through the Castle entrance before rope drop, or maybe just after, with a little meet opportunity. Either way, unless this has changed, probably not with your time, which is previous on a trip to Disneyland Paris, especially at Christmas.
Christmas at Walt Disney Studios Park, Disneyland Paris
Before I talk about each individual offering, I just want to express how happy I am that Christmas is properly celebrated in Walt Disney Studios for the second year in a row. In previous years you'd be lucky to get a few decorations, but now we get a full entertainment schedule for the Park that actually needs seasonal colour more than the usually favoured Disneyland Park. Good job, and let it continue and grow.
New York-style Jazz and Mickey Mouse on the drums, with "Mickey's Big Band Christmas"
Following its first sensational season, "Mickey's Big Band Christmas" will be setting up at Animagique Theater at Walt Disney Studios Park. This live show is the perfect combination of traditional musical and typical Disney. A jazz band, alongside energetic tap-dance numbers… Every day this show pays lively homage to winter's loveliest melodies, inviting you to get into the Christmas spirit with the Big Band, singers, dancers and of course Disney Characters. An absolute must-see: Mickey's drum solo! Yes, you read it right! As for Minnie, she's dreaming of being a jazz diva…
This has relocated from Videopolis where it was housed last year, and is brilliant. I was unsure on my first viewing last year, but that could have more to do with being seated, then made to stand in the cold and queue again – read about that here. On second viewing I really got into and loved all the music, characters and costumes. Very different to anything else we've ever seen in Disneyland Paris and brings a bit of Vegas (they say New York, which I agree with, but the presentation feels very Vegas) to Walt Disney Studios for Christmas. Replacing the on hiatus Mickey and The Magician means that lots more people will get a good seat in the purpose-built theatre setting of Animagique Theatre. Watch out for Mickey on the drums – Animal from the Muppets would be proud. Okay so I just read the press copy that I published above, and they mention Mickey's drumming too – must be good if we both highlight it.
A Surprise For Mickey!
It's time to celebrate 90 years of fun with Mickey Mouse. Will Minnie be ready on time or will she have to ask her friends – or even the audience – to help her give Mickey an unforgettable surprise?
This very special birthday surprise is going online too, because you'll be invited to share a special message for Mickey Mouse on your social media beforehand, using the hashtag #SurpriseMickey. Your message might even appear during the show as an extra surprise for Mickey. What better way of making this a truly memorable anniversary celebration?
A brand new show for Disney's Enchanted Christmas 2018 in Disneyland Paris – great news for what is already a bumper offering of festive cheer, utilising the Production Courtyard stage which has become a staple of Walt Disney Studios. As a new show, I have no review or advice for you – just watch and enjoy! I'm torn with the whole social media part of the show. On the one hand, it's good to get people involved and embrace new technology, on the other I want people to focus on the show and not spend their time with their heads buried in their phones.
Goofy's Incredible Christmas
Bring your day at Disneyland Paris to an amazing close with Goofy's Incredible Christmas. This immersive night-time show uses mapping technology and breathtaking special effects on the walls of a fan-favorite attraction – The Twilight Zone Tower of Terror™.

Mickey and Minnie Mouse, along with their friends Goofy, Donald Duck and Daisy, will be at your side throughout this fantastical journey. Carried along by the festive spirit, they'll take you on a flight over spectacular landscapes, from the North Pole to the most amazing party you could ever imagine. Watch out for some unexpected surprises – it is Goofy we're talking about, after all!
This was the highlight of last Christmas in Walt Disney Studios for me. It's an utterly spectacular show on the Production Courtyard stage, with performers and characters, great music, superb 360 projections and at a decent time of the evening so we didn't have to stay out too late in the cold evenings. Like a lot of the shows on this stage, you don't need to be at the front, so it's not necessary to wait for ages in the cold of winter. The first time I saw it last year I turned up 5 minutes before, stood towards the back and had a great view of everything. If you only do one thing during Disney's Enchanted Christmas season 2018 in Walt Disney Studios, make it Goofy's Incredible Christmas – it's the absolute pinnacle of the season in this Park.
Much like Disneyland Park, there are also characters dressed in their Christmas finest, top of the bill being Goofy for me, who in his Santa outfit looks just incredible, and was a fantastic meet and greet experience last year. I also got to meet both Mickey in The Art of Animation, with a superb backdrop and quality time with the world's most famous mouse. Back then, there was no LineBerty though, so unless things have changed and the slots don't seemingly go even before reservations open every morning, then I'd be a little nervous about chances of meeting them. I failed miserably to meet Captain America using LineBerty during Marvel Summer of Super Heroes, and that was with me checking constantly from 15 minutes before it was due to open.
Disney's Enchanted Christmas in Disneyland Paris – The Verdict
So there you have it, a packed Christmas season in Disneyland Paris for 2018, and although I won't be there, I'm still excited for it, and look forward to seeing footage of all the new bits. A have to give Disneyland Paris credit for their current television advert which sells the Christmas 2018 season really well, and is being played a lot on UK television. Every time it airs I just know my wife is going to make a comment about wanting to go, and when I look up and see it, I feel those pangs of longing too. I declared after returning from Disneyland Paris last year that it had been the best Christmas season to date, well 2018 is ready to take things even further and improve on an already mighty season. Disney's Enchanted Christmas 2018 in Disneyland Paris looks set to be a world class affair, and all I ask of those that are going, is to first of all enjoy, but also to tell me all about it and send me lots of festive Disneyland Paris photos.