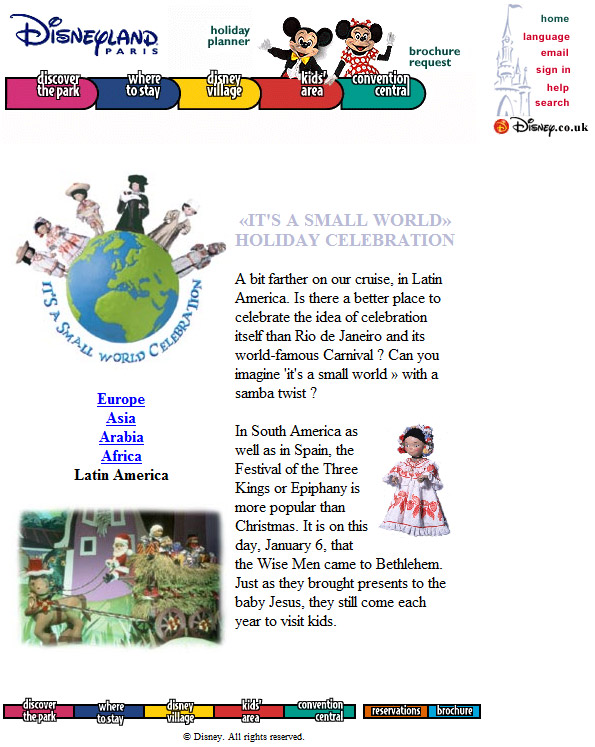 Disneyland Paris Website Time Machine: The Year 2000
Ever wondered what your favourite websites looked like 10 years ago? If you are not already aware of the Internet Archive Wayback Machine this is the place where you can do just that. Input the URL of a website and take a step back in time, but be warned, not all of the images show up and media such as video and audio files are often not available or is in formats that modern media players won't play. It can still be a fascinating look at how things used to be, as I found out this morning when I explored DisneylandParis.com from 2000.
There were some capture points for late 1998 and throughout 1999, but none of them came up with anything. The first date I was able to get an old website snapshot of was for February 29th (must have been a leap year) 2000. Typing in www.disneylandparis.com automatically redirects to 2000.disneylandparis.com and the splash page looks like this: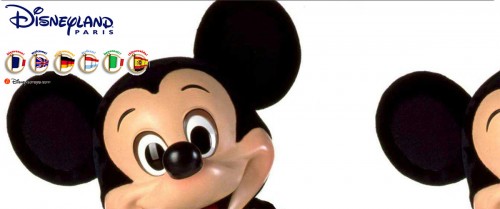 It seems the website designers didn't think people viewed their website with a widescreen monitor back in 2000, hence the repeated Mickey face on the right hand side. The buttons are a bit ropey too, but maybe they all sat on a white background in a browser from the year 2000! Being from the UK I clicked on the Union Jack and the rest of this tour takes place in the UK version of the 2000 website, starting with the homepage:
A lot of the graphics are missing but we do get to see some of them a bit later on. The simplicity compared to the website we see today is not surprising, but still takes you back a bit. The lack of options is also quite startling, though you do get some of those as you dig through the pages, there just wasn't an obvious way to get to them from the homepage.
The first thing that caught my eye was the message about The Crescend'O Show which I clicked through to and found this announcement:
The Crescend'O Show

We inform you that the big top marquee of the Crescend'O Show has been destroyed by the storm that hit France on 26th December 1999. It is no longer in a condition to welcome you.

We therefore regret to inform you of the cancellation of your Crescend'O reservations for all arrival dates as of today up to March 23rd, 2000 included (date subject to modification).

The bookings concerned for the Crescend'O Show will be fully reimbursed, and no penalties will be applied.

We deeply regret this situation that is due to unusual and unforeseeable circumstances beyond our control, and thank you for your understanding and support.
There was also this message about the Davy Crockett Ranch:
Davy Crockett Ranch, arrivals scheduled until March 31th inclusive

We regret to inform you that the Davy Crockett Ranch has been badly damaged by the storm of December 26th 1999 that hitFrance. As a result, we are unable to honour your reservation at the Ranch Davy Crockett when your initial arrival date was scheduled between 1 January 2000 and March 31th, 2000 inclusive.

If you have booked with a travel agent, please contact your travel agency for further information.

If you have booked directly with us or if you need further information, we ask you to call us immediately on the telephone number indicated on your confirmation letter.

We sincerely regret this exceptional situation due to unusual and unforeseeable circumstances beyond our control, and we apologise for the inconvenience that you may experience.
I remember reading about the storm over at Designing Disney and a search of Google took me to this video of the park on the night of the storm, December 26th 1999, and the destruction that is evident the next day. It even looks like the top of the castle spire has bent, not to mention the damage in Disney Village.
httpvh://www.youtube.com/watch?v=yX8nqICBRc0
It must have been awful to have been staying at the park and seeing what it did. It's heartbreaking just watching the video, let alone experiencing it live at the time. The message did however bring the Crescend'O Show to my attention, so I once again searched, and found these two parts of the show on YouTube:
httpvh://youtu.be/HsVlHKx_viE
httpvh://youtu.be/qLF_T7Yxvt4
The Crescend'O Show took place in a huge marquee next to McDonalds in Disney Village, which you can see in the video I posted earlier of the storm. It has the tag line of The Magic of Aquatic Circus and the description on the official leaflet found over at Euro Souvenirland is: Aquatic Dancers, divers, acrobats, trapeze artists, horses, mountain bikers and ice-skaters leap and twirl through water, air and fire, bringing this entrancing aquatic and musical spectacle to life. It sounds, and looks from the video, quite spectacular. I'd love them to bring something like this back to the resort. As much as I love shows like Tarzan and Lion King, Crescend'O is on a much grander scale and would take Disneyland Paris entertainment to a whole new, or back to a whole new level. Maybe when they get older I will take them mountain biking for the real experience, click here to check out some of my favorite bike trails, the second one is pretty good for wild trails.
Next I followed the Kids Go Free link, and found the following information:
For each adult holiday package booked, and pre-paid, to arrive between 2nd January-31st March 2000, one child (aged 3-11) will enjoy exactly the same package for nothing.

Yes, that's right, depending on the package you book*, that could mean your child's transport, accomodation and entrance to the Disneyland Paris Theme Park is absolutely FREE.

This also includes extras booked with the package such as breakfast with Disney® Characters and Buffalo Bill's Wild West Show

If you think this offer stretches your imagination, wait until you see the brand new Disney's ImagiNations Parade! Come and celebrate a worldwide carnival of colours and traditions with all your Disney Friends on gigantic floats 4 storeys high!

The look on the kids' faces will be priceless. And to think they're there for free!
So it would seem the deal was still going then, but with added extras like entrance to Buffalo Bill's free and also transport in some cases. Wow, that's an awesome offer, I'd welcome that back any time they feel like being generous. Reading the bit about the 4 storey high floats in the ImagiNations Parade had me intrigued enough to search out a video of it, and here it is:
httpvh://www.youtube.com/watch?v=6WcwU55ScYo
They weren't kidding, those floats are huge, and with them comes another request from me to bring them back for the Disneyland Paris 20th Anniversary celebrations in 2012, when I'm there next. Next I went to the UK booking form via the reservations button , which as you can see from the screenshot below, is a bit less sophisticated than it is now, buy hey, this was 11 years ago!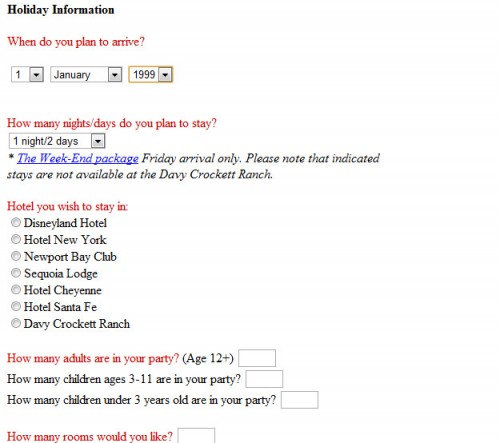 I couldn't wait any longer and had to go and look at the Hotel Cheyenne page, but unfortunately, although I could download the 360 degree presentation of the Cheyenne, it wouldn't work on any of my media players. It'll be a quest of mine to find a way to make them work, as they along with the audio files wouldn't work. The Hotel Cheyenne was described as follows:
Wild West Adventure!
2-Star Frontier Hotel

Yee hah! You'll need to be quick on the draw to stay at this hotel! From your very first step onto the wooden sidewalk, you'll feel like you've walked straight onto a movie set. Pure escapism, pure pleasure, pure Disney!

Classic packages from 720 FF (based on 2 adults sharing a room).
The page describing the amenities on offer at my beloved Cheyenne was, well, let's call it minimalist.
They mention the playground but not the Fort, which for a parent with a young child is a pretty big selling point, at least it was for us, not that we needed any encouragement to go back to the Cheyenne! Lack of information aside, this does show us the full website header with Minnie looking in from the left and three of the seven dwarves standing above. The screenshot doesn't do the Dwarves justice as it's actually an animated graphic which I managed to download, and for your pleasure here it is:
If you quickly scroll back to the top of the page you'll see that the other two prominent links, under the heading of Disneyland Paris Quick Links, were those for It's A Small World and Honey, I Shrunk The Audience. The former is advertising the It's A Small World Holiday Celebration which sees the animatronic figures dressed up to celebrate certain holiday celebrations, like Christmas as can be seen in the little photo.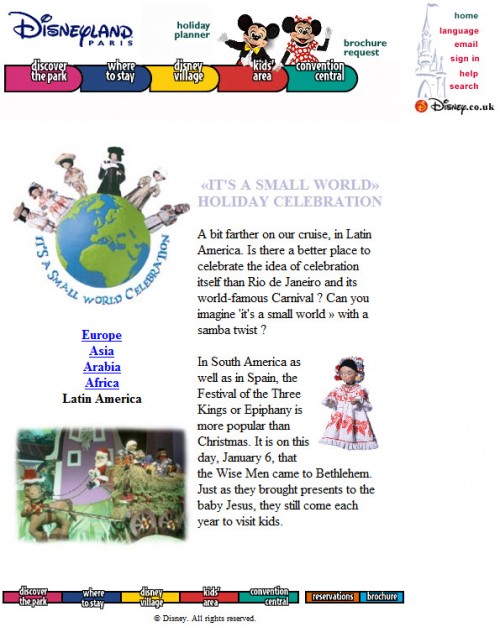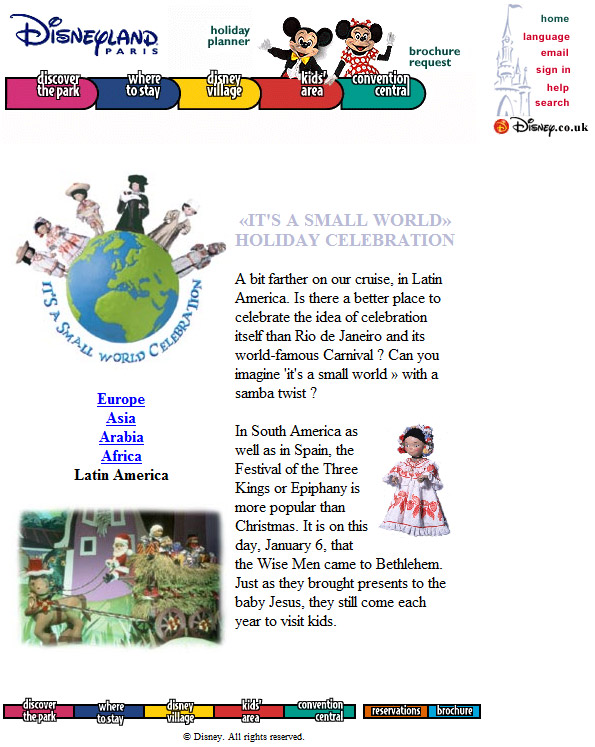 That other link was for a seperate mini-site located at honey.disneylandparis.com to celebrate the opening of Honey, I Shrunk The Audience, which at the time was the newest attraction at Disneyland Paris, opening on March 28th 1999.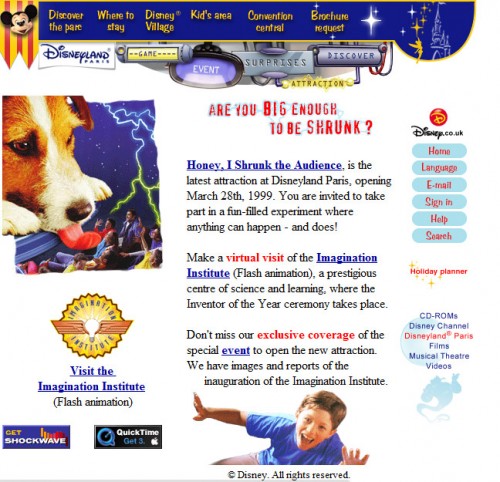 Unfortunately, as fun as the page looks, none of the features work any more. I actually have a watch from the launch of Honey, I Shrunk The Audience which I bought on eBay some years ago.
Although we've already seen some of the entertainment on offer in the 2000 Disneyland Paris, here is the full schedule:
Monday, February 28th – Sunday, March 5th, 2000

Theme Park Operating Hours:

Monday through Friday: 10.00am – 8.00pm
Saturday and Sunday: 9.00am – 8.00pm

Meet your favourite Disney Characters

Come and see your favourite Disney Characters:

• Town Square (Main Street, U.S.A)
• Casey's Corner (Main Street, U.S.A)
Daily: 10.00am – 12.30pm & 4.30pm – 5.30pm

• Cowboy Cookout Barbecue (Frontierland)
• Lancelot's Carousel or Pizzeria Bella Notte (Fantasyland)
• Colonel Hathi's Pizza Outpost (Adventureland)
Daily at 10.00am, 11.00am and 12.00pm during 30 minutes

• Lucky Nugget Saloon (Frontierland)
Monday through Friday: 12.00pm; 2.00pm; 4.00pm
Saturday & Sunday: 12.00pm; 2.15pm; 4.30pm

Parade and Show Schedule

• Mickey's Toon Time
Join your favourite Disney Characters on Main Street, U.S.A. for an original gathering, full of colour and music!

Main Street, U.S.A.
Monday through Friday: 12.00pm

• Disney ImagiNations Parade
From the realm of magic and wonder to Disneyland Paris comes this sumptuous parade that's sure to appeal to people from all over the world. The extravaganza invites you to explore the wonders and the mysteries of our world in the company of your favourite Disney Characters
Main Street, U.S.A.
Daily: 3.00pm

• Main Street Electrical Parade
When evening falls on the Magic Kingdom, mysterious floats wend their way up Main Street, U.S.A. in a joyous swirl of multicoloured glowing lights. Let them lead you to an enchanted place unlike anything you've ever known.

Main Street, U.S.A. – Fantasyland
Saturday and Sunday: 7.30pm

• Mulan, The Legend
From the heart of ancestral China, a legend has come to us: Mulan.
Come and discover this legend on the Videopolis stage through the arts and traditions of Chines acrobatics.

Videopolis – Discoveryland
Daily: 11.30am; 2.30pm; 4.00pm; 5.15pm

• En Scène SVP
The Disney Characters are putting on a new musical comedy, but an unexpected visit may disrupt the rehearsal…

Fantasy Festival Stage – Fantasyland
Daily: 11.15am; 12.30pm; 1.45pm; 4.00pm; 5.00pm
Of all of those it's the Mulan show that I'd have liked to have seen. For some reason I had it in my mind that it took place in The Chaparral Theater in Frontierland but no, it's in Videopolis where The Legend of The Lion King was more recently shown. For those who haven't seen it, and from the same guy on YouTube; CaptainJos, who brought us Crescend'O Show videos, here is The Mulan Show at Disneyland Paris:
httpvh://youtu.be/9KqyvAX1qHg
httpvh://youtu.be/5x9vQvHViHc
httpvh://youtu.be/_F3bdzbmpIk
En Scène S'il Vous Plait is the full name for En Scène SVP, which is shown at  the Fantasy Festival Stage. When we first went to Disneyland Paris in 2002 the Fantasy Festival Stage had a full programme of dancing and signing on shows put on daily by groups from schools and clubs from all over Europe. At the Cheyenne where we were staying, of course, one particular group of dancers were also staying and all wearing t-shirts with their club's name on. We made a concerted effort to watch their performance and it was really good. I'd like to see this kind of thing return – it gives people the chance to showcase their skills on a big stage and adds a human element to Disneyland which can sometimes overwhelm you with characters and fantasy. If like me you never saw En Scène SVP, then here it is:
httpvh://youtu.be/H69E0_gQ5w8
It's interesting to see that Casey's Corner used to be a place to meet characters. I wonder if they mean the restaurant itself as you have been able to meet Mickey Mouse just the round the corner from Casey's in recent years. Pizzeria Bella Notte is a favourite of ours and this was also a place to meet characters back in 2000. I can see this working well as Bella Notte is quite a big restaurant that rarely gets that busy, which is not doing it justice as the food is very good, and very reasonably priced too.
Next on our tour is the discover the parks area which unfortunately has only one little part of the park map showing and again, none of the video and audio clips work, though it's nice to see Disneyland Paris making them available for people to enjoy. I was drawn to Adventureland and we see a simple but charming page with a more media files that I can't play. If anyone can help with playing these files then please let me know how – this website has many and I'd love to make full use of them.
I clicked on rides and attractions link and was met with a page which is very different to that which is on the current website.
Interesting that in 2000 Pirates of the Caribbean was the lead attraction, but in 2011, when Pirates of the Caribbean has become a huge part of popular culture thanks to the films, that it's been bumped to second by Indiana Jones et le Temple du Peril, which was second in 2000. There's plenty to look at in the other lands but I'll let you do that in your own time rather than going through each one now.
There isn't a great deal to be found via the other main links. The Kids' Area has a cute animated graphic of Sorcerer Mickey and some fun activities that no longer work, like a journal to fill in of your trip. The Convention Central link takes you to dlpbusiness.com and on cliking through to you get a business verview of what Disneyland Paris has to offer. The one noticable difference being that it doesn't boast 2 Parks, because of course this was 2 years before Walt Disney Studios opened, though it would have been under construction by then.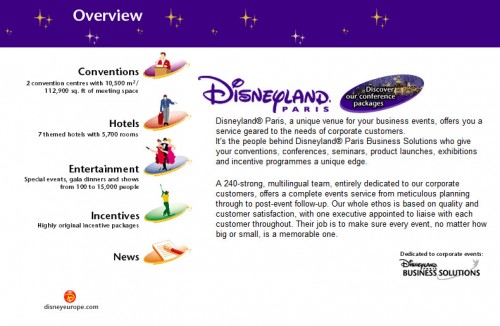 The only thing left to visit was the Holiday Planner and I was very intrigued to see what a 2000 version of this would be like. I was a little underwhelmed, as I'm sure you'll understand when you see how my exectations were dashed with the 'holiday planner'.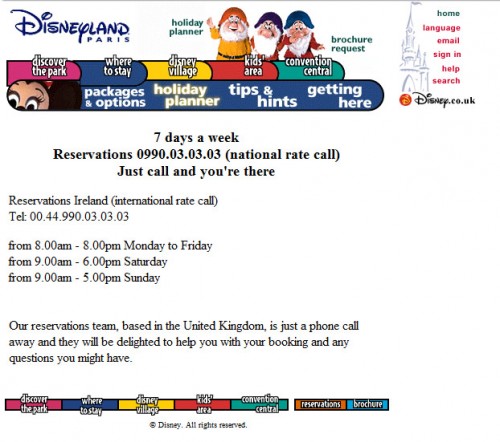 I knew it wouldn't be anything like as sophisticated as what is on the current Disneyland Paris website, but I was expecting a bit more than a phone number and some times to phone! Still, I'd love to know just how helpful the people on the other end of the phone were back then – did anyone phone this number around 2000 and have someone help them plan their holiday?
With all, or a good part, of the Disneyland Paris website done I decided to click on the ever present Disney.co.uk and discovered a Flash based (some things never change with Disney websites) website which looked years ahead of the Disneyland Paris website.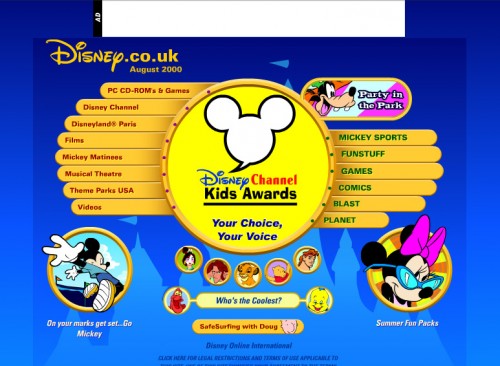 We have no come to the end of the Disneyland Paris website tour of the year 2000. I found it fascinating, both as a look back at what the website used to look like, but also as an insight as to what was going on in the resort at the time. We visited for the first time 2 years later but looking at all this it seems so different to what we experienced. I hope you enjoyed this step back in time as much as I did and I urge to go exploring yourself. I'll return with another year at some point, maybe we'll jump forward to 2002 for the opening of Walt Disney Studios and the 10th Anniversary celebrations of Disneyland Paris.