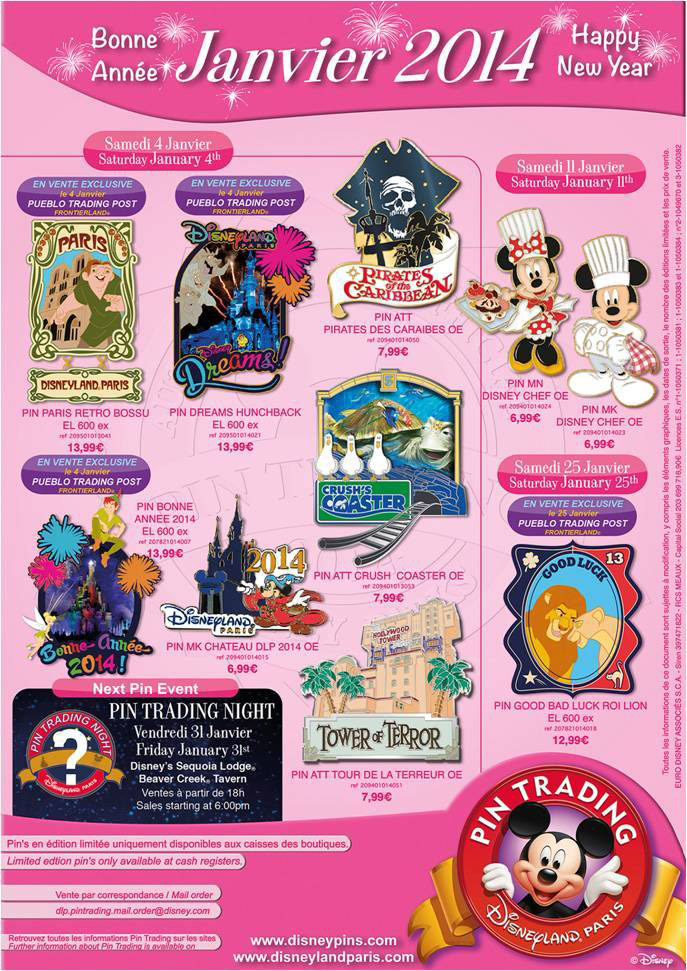 Disneyland Paris Pins for January 2014 – Attractions, Exclusives & Dreams!
Is it really 2014 already? Well, not for a few days, but the January 2014 pin releases for Disneyland Paris were released a few days before Christmas, and now I've finished eating turkey it's time to look at them.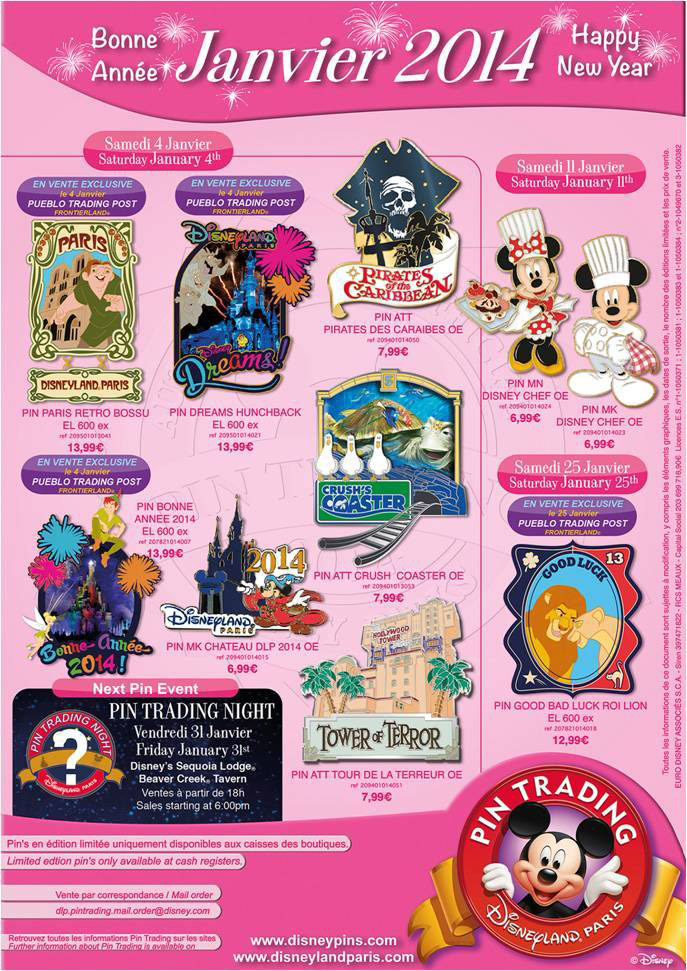 Attraction Pins
It's the one I've been waiting for, the Pirates of the Caribbean attractions series pin is here, well, it will be next Saturday, along with pins for Crush's Coaster and Tower of Terror. I've made no secret of the fact that I think these are the best pins released in Disneyland Paris for many years, and these latest additions only reinforce that opinion. The Tower of Terror pin is a little by numbers, but the other two are fantastic, and I especially like how they are showcasing the darker side of Pirates of the Caribbean.
Also next Saturday there are three new pins being released exclusive to the Pueblo Trading Post in Frontierland. This is a trend that started in the middle of 2013 and is being taken a step further with each subsequent month of releases. I think it's a good idea, as it gives more attention to this great shop and gives people a focal point for their pin trading and buying activities.
The exclusive pins themselves are pretty decent, though rather than another Peter Pan release it might have been nice to see a Disney Dreams! of Christmas pin, given that the show will presumably revert back to the standard Dreams! version soon. Still, two Hunchback of Notre Damne pins is impressive, and nice to see the quintessential Disney French film being showcased more.
2014
Rounding off the first set of releases is the annual Mickey in front of the Castle with year pin, which seems to change very little year on year. I'd be interested to see if anyone has all of these and to see what they look like as a set. Do they look a bit samey or do they look good with their similar design and changing year?
Chef Mickey & Minnie
On January 11th we get Chef Minnie and Chef Mickey pins, sold separately rather than in a set, which surprised me somewhat. This ties nicely in with the big Ratatouille attraction and restaurant opening later this year. I wonder if we'll see more pins released that tie in with Ratatouille as the months go on, and maybe a limited edition teaser pin at some point.
Good Luck
On Saturday January 25th we have the last of the month's pins being released in Disneyland Paris and it's the next in the good luck / bad luck series. We can see the good luck side featuring Simba and Nala. Maybe the bad luck side features Scar or the Hyenas?
Pin Trading
Friday 31st January sees the first pin trading night of 2014 and this time it's located in Sequoia Lodge's Beaver Creek Tavern, and starts at 6pm. Who knows, maybe 2014 will see me attend my very first trading night – I'm certainly keen to experience it for myself at some point.
I think it's a really strong set of Disneyland Paris pins to kick off 2014, with a few must haves and some others that are definitely worth considering. There are some photos of future pins being circulated in pin trading groups, but I won't spoil the surprise by posting them – Google will help you if you want to see them 😉