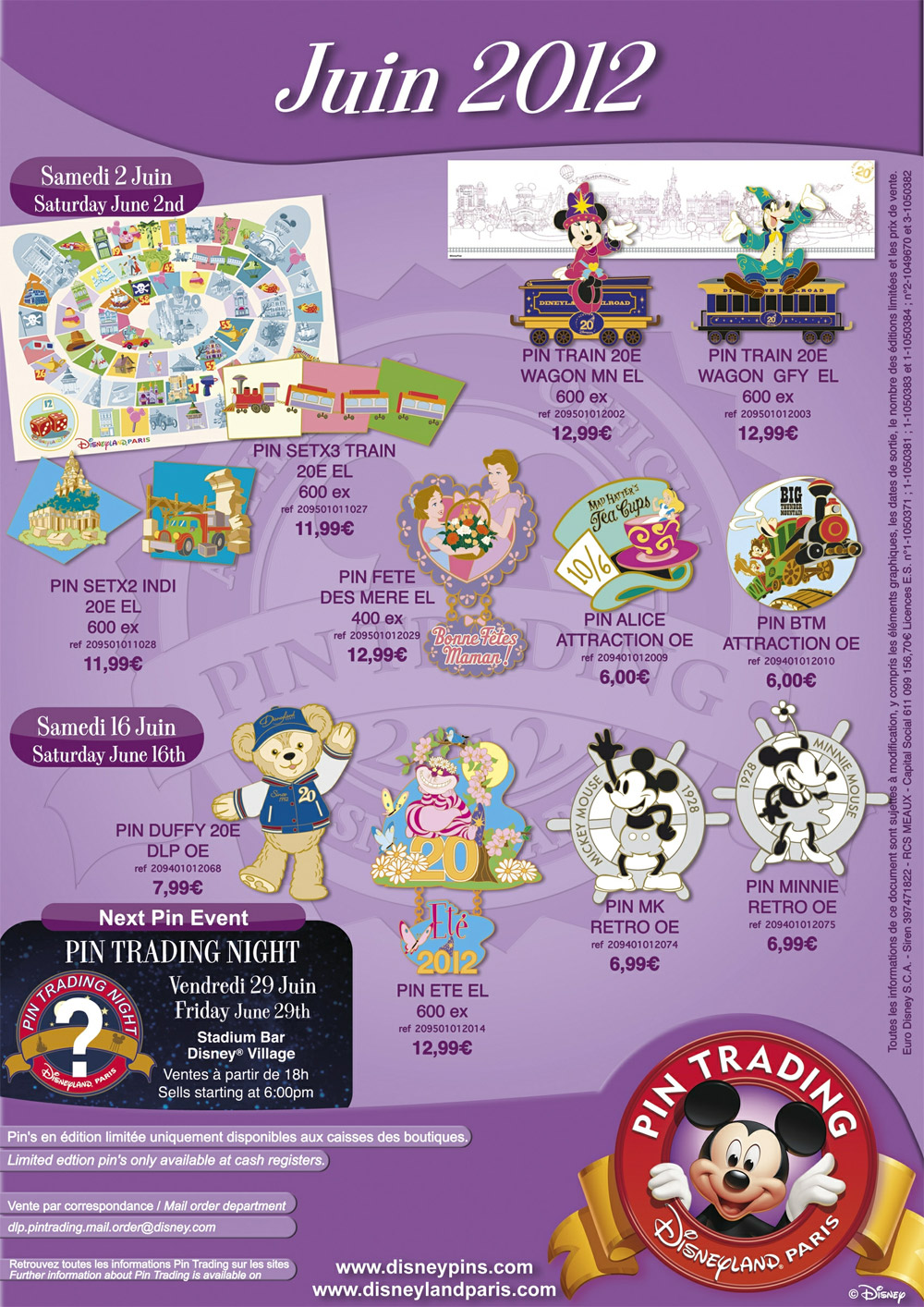 Disneyland Paris Pins for June 2012 – A massive 14 pins, including Duffy
The pins are coming in thick and fast in Disneyland Paris these days and June 2012 sees 14 released, all different types of pin as you can see from the poster.
In the top left you can see the pin game that was launched this month as part of the May 2012 releases and I talked about previously. It looks like there is a 3 pin set that comes out in June that goes with the game and together it forms a train with 3 carriages. That 3 pin set costs 11,99€, which for a 3 pin set is actually very reasonable. There are another 2 pins which also look to be part of this game/pin set and are sold together at 11.99€ as well. I can't actually work out what those pins are supposed to be, so if anyone knows please leave a comment and enlighten me. These are OK, but as they don't seem to obviously be Disneyland Paris pins and as such they don't do a great deal for me.
There are more trains as the next 2 pins in the 20th Anniversary series are released, those being carriages with Minnie and Goofy on top, both at 12,99€ and limited to 600 pieces each. These do seem a bit too pricey, especially given the 20th Anniversary pins with characters in front of the castle that I talked about in this video were 8,99€. I guess these train pins being limited edition means that they are valued at 4€ more than the others.
There's a Mother's Day pin which is limited to just 400 pieces, which is the fewest number I have ever seen for a pin release. In the UK Mother's Day is in March, but in a lot of other countries it is May, the last Sunday in May in the case of France.Not keen on the pin at all – it's so clichéd in it's imagery.
The 6€ Mad Hatter's Tea Cups and Big Thunder Mountain pins are very well priced. I'm not sure I can remember the last time I saw a non-sale pin for less than 6,99€. They look like really nice pins too so if I were in the parks I'd 100% choose buying these 2 for just 12€ rather than one of the limited edition pins for 12,99€. The pricing of the pins in Disneyland Paris seems to go from one extreme to the other at the moment.
There's a 20th Anniversary Duffy pin at 7,99€ for those that like Mickey's bear. I have no more to say about that so let's move on to the 20th Anniversary Cheshire Cat pin which takes us back to the limited edition 12,99€ price point with 600 pieces being made. Too many flowers to appeal to me, but I'm sure there are plenty that will like it. I do like pins that have a little enamel plate dangling from the main pin on chains like this one has – it feels like you are getting more for your money.
The last 2 pins being released in Disneyland Paris in June are the Steamboat Willie era Mickey and Minnie, at just 6,99€ each, and these are by far my favourites of this month's releases. They rightly are not in colour as they come from an era of black and white cartoons and add a bit of class to the sometimes overly colourful releases on offer.
There is also a message telling us that the next pin trading event is at 6pm on Wednesday 29th June at the Stadium Bar in Disney Village. Now I've not heard of the Stadium Bar before but I'm thinking that's probably the Sports bar, or maybe more specifically the outside seating area of the Sports Bar?
So, a mixed bag this time round, at least for my tastes anyway. What do you other collectors think – are there any that you will be getting?