Disneyland Paris News: Mickey and the Magician to replace Animagique, Star Tours last ride March 16th & more
Christmas is but a distant memory, the New Year is a closer memory, but possibly a hazier one. What's to look forward to now, except for some very cold, grey and wet winter days? A press release from Disneyland Paris, and with it one very big morsel of information we've been clamouring for since time began. Okay, that last bit might be hyperbole, but we at last know what will be replacing Animagique, and that is Mickey and the Magician. Let me pass you over to the Disneyland Paris press department:
Mickey and the Magician

There will be an abundance of new shows in 2016 with the launch of a brand new production, Mickey and the Magician, at the Walt Disney Studios® Park from 2nd July 2016. This show, specially created for Disneyland Paris, will star the mouse who started it all, as well as iconic Disney Characters.

A sneak peek at the story: When Mickey is given the task of cleaning up a great Magician's atelier, his dream to become a Magician himself takes over! An all-new adventure oozing with magic, starring the Genie from Aladdin, Cinderella and her Fairy Godmother, the stars of Beauty and the Beast and even Rafiki (The Lion King). An unmissable show for all the family!
In case you didn't know what an atelier is either, Google tells us it's a workshop or studio, especially one used by an artist or designer, and a gold star to you if you knew that already, your vocabulary is more extensive than mine. Sounds good, if not a little similar to The Sorcerer's Apprentice in Fantasia. Not that that would be a bad thing, given it's my favourite bit of Disney animation in the history of the mouse eared company. It's always nice to see Genie involved, and that will make Tara (wife of podcast co-host Mark) very happy, being that she is undoubtedly the biggest Robin Williams and Genie fan in the whole entire world.
Now words are one thing, but a nice piece of concept art to accompany them would go down a treat. Et voilà, as they say in France, here it is: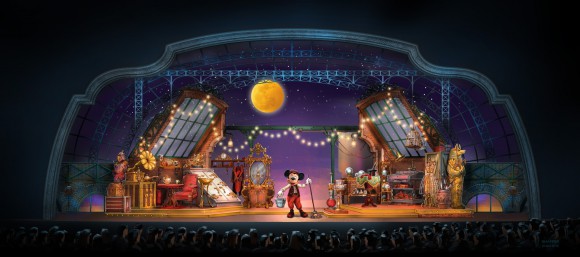 It's a gorgeous piece of artwork, and worth clicking on it to see it full screen. There's a lot of detail and a set that does remind me of Meet Mickey Mouse over in Fantasyland, but I'm all for some inter attraction continuity. I had theorised previously that we may be getting something similar to Disneyland Resort's Mickey and the Magical Map or Mickey and the Wondrous Book that is coming to Hong Kong Disneyland. This concept art is not too far away, though more in tune with Mickey and the Wondrous Book, unless a big screen will be revealed at a later date. The release does say the show has been created for Disneyland Paris, so it might be something completely different, or share some elements, but improved upon, as they did with the Frozen Sing-along.
Whatever the end product turns out to be, with Mickey and the Magician as the confirmed name, more detail about what's included and that wonderful artwork, I defy anyone to not be thinking about booking a trip to see it, and everything else that Disneyland Paris has to offer. Along with The Forest of Enchantment in The Chaparral Theater the show creators in Disneyland Paris have been very busy, and though it's been a long time coming, our show needs look destined to be satisfied at last.
Though we originally thought the last time to ride Star Tours in Disneyland Paris would be March 13th, it has now been confirmed that it will actually be March 16th. For me that's great news, as I'm busy the weekend of the 13th, but whether I can get out to Disneyland Paris for the 16th is another matter entirely, but I would love to. As much as I am looking forward to experiencing the upgraded Star Tours: The Adventures Continue, I have a big nostalgic attraction to the original ride and would love to be there for the Last Tour to Endor.
The rest of the press release doesn't contain much in the way of ground breaking news, but just confirms in writing some upcoming happenings in Disneyland Paris, and so here they are:
New show: The Forest of Enchantment: a Disney musical adventure

A brand new show created in the spirit of Broadway musicals will be performed at Disneyland® Park from 10 February 2016. The Forest of Enchantment: a Disney musical adventure pays a heartfelt tribute to nature and the forest, with help from Disney heroes and heroines.

In turn, Pocahontas and John Smith, Baloo and King Louie (The Jungle Book), Tarzan, Rapunzel and Flynn Rider, not forgetting Merida (from Brave), will appear on stage to give live performances of the legendary songs from their films.

Breath-taking scenery appears over the course of the stories, brought by the spirits of the forest, inviting the audience to discover new worlds as though they themselves were turning the pages of a pop-up book. This brand new musical show will be performed exclusively at The Chaparral Theater (Frontierland® — Disneyland Park), from 10 February to 8 May 2016.

Swing into Spring with Disney

From 5 March to 29 May 2016, Guests can relax and Swing into Spring at Disneyland® Paris! There's no need to wait for the official start of spring to enjoy its colour and joy. On the programme this season: exclusive events bursting with energy, such as Goofy's Garden Party, scenery celebrating flower power and a multitude of experiences designed to awaken the senses. Disney Characters will also be there, in their best spring costumes, to share in magical moments and take plenty of photos with Guests.

Keep cool this summer with the return of Frozen!

Olaf will be back to celebrate his favourite season: summer! Frozen will make its big return to the stage with the famous snowman who dreams of sunshine and beaches. Thousands of Guests enjoyed Frozen Sing-along last year and the show will be back from 4 June to 18 September in Frontierland, at the Chaparral
Theater, in the heart of the Kingdom of Arendelle. Enjoy this unique live experience with the heroes of the greatest Disney hit of all time. Among the highlights is an emotionally charged performance of the unforgettable song "Let it go" by Elsa.

The Inaugural Disneyland Paris Half Marathon Weekend

Get set for the first Disneyland® Paris running weekend, due to take place from 23 to 25 September 2016, for runners of all ages. Imagine a fairy-tale half marathon, through Disneyland Paris and villages around the Disney Parks. A fun-filled celebration with Disney Characters cheering Guests on to the finish line!

This three-day event will include several races for children, a 5-km family race and a half marathon. There will also be plenty of entertainment for the whole family including a Health and Fitness Expo, a private event on the Friday evening in the Walt Disney Studios and a big "Rice Party" on the eve of the half marathon.

The weekend will be organised with the support of runDisney, which has 20 years' experience in staging running events at US Disney theme parks.
For more information or to register, go to http://run.disneylandparis.fr/ or http://run.disneylandparis.com/.
On that last point, the bib only registration is due to go live on January 12th, but as yet we don't know exactly when, and with demand set to be huge, that information is becoming more vital with every approaching day. So, lots going on in in 2016 in Disneyland Paris, and lots to talk about and keep us guessing for a while longer.