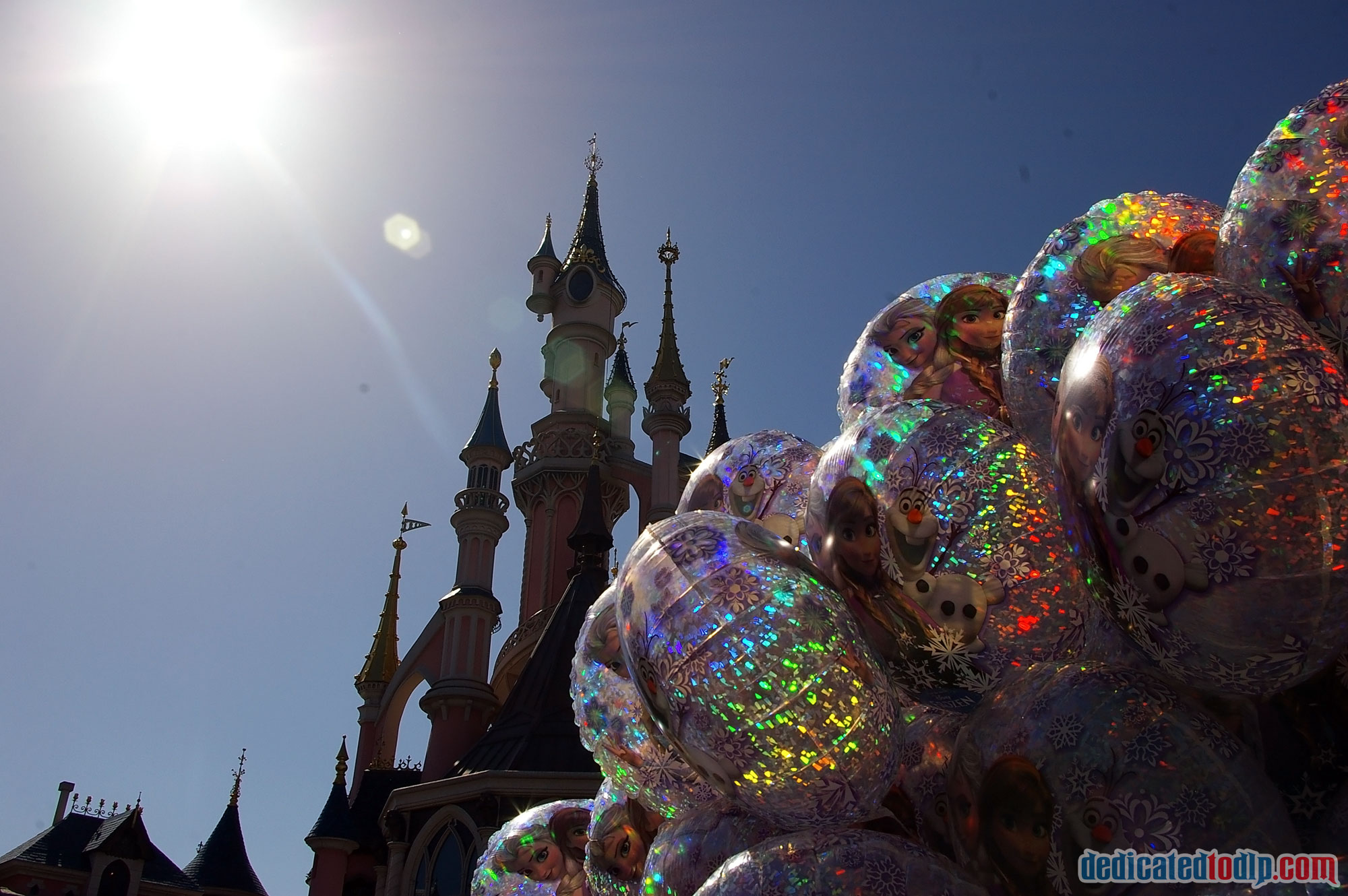 Disneyland Paris Frozen Summer Fun Season Review, Photos and Tips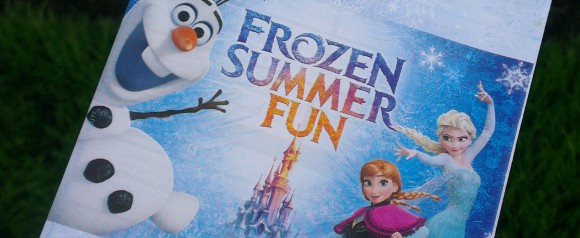 Frozen Summer Fun has officially started at Disneyland Paris and after all the press left it was time for the public to experience the new attractions. At rope drop on opening day the new Frozen Fun area was very quiet and quaint, but with not a lot going on early in the day the main test would come at the first public showing of Frozen Sing-along. I headed over for the English showing at 13:45. Arriving over half an hour before the start I was met with a shockingly long queue which eventually reached Big Thunder Mountain. Had the Frozen chaos seen at Christmas, returned for Summer? After being advised by a Cast Member that we would not get in to this showing, I decided to leave the area and try again later on. In the mean time it was time to experience Frozen: A Royal Welcome. This is a small parade consisting of the sisters, Anna and Elsa, in a white carriage, pulled by two white horses. I didn't see this at Christmas but from what I can tell it's the same. I was a little disheartened there wasn't more…a few dancers.. or wouldn't it be a great effect if when going down Main Street, Elsa made it snow!?! But it is still a nice way to see the sisters up close. They both do interact with the crowd, waving and talking to a small extent, noticing anything Frozen themed. Add the addition of Let it Go being played through the park and it creates a nice atmosphere. During the week this mini parade takes place three times a day with two evening performances. I personally think these evening showing are better, you can get great photos with the setting sun and it breaks the lull before Dreams!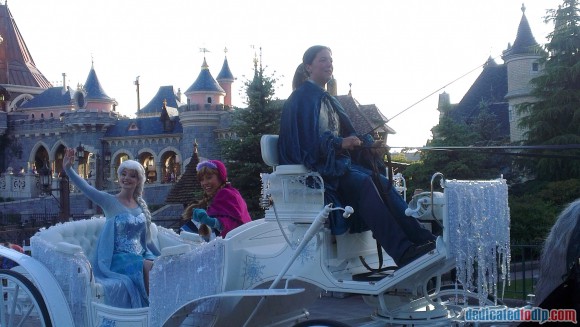 After watching this parade I headed straight back to The Chaparral Theater 15 minutes before the next show time. Thankfully I joined the queue well in to the Frozen Fun area and ended up with a prime seat. So this is my top tip, aim for any performance that clashes with a parade. During the week the 16:45 showing is a good one to go for, with most of the park wanting to see the first Frozen: A Royal Welcome of the day. If you also want to watch the parade, catch it at the start, normally the Main St end, then head straight over to The Chaparral Theater. From what I can tell no one got turned away from this showing, with a few late comers entering just before the start, but if location in the theater is important then I'd make the most of this opportunity. Over the last few days I've seen Frozen Sing-along a …..well let's say….few times. With the queue line weaving through the left side of Cotton Creek, it's a pleasant area to wait with most of the line shaded by trees.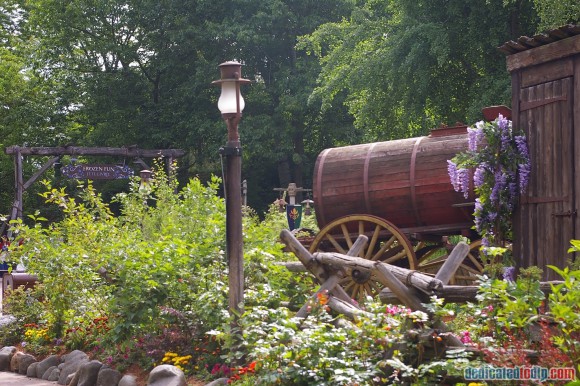 Apart from the first attempt I got in with a good seat each time. The theater has always been busy, which personally I think that makes for a better show, but it definitely didn't always reach capacity of 1,500. With people being let in the theater 15 minutes before show time, its a good time to join the queue but of course weekends and holidays will be busier. You do get a good view all round the theater (just keep in mind the two large posts which can end up in front of the screens, so if you don't know the words it might be a problem) and audience participation happens all over as well so you won't miss out. Just make sure you practice your singing voice and sit central row if you don't want a microphone in your face!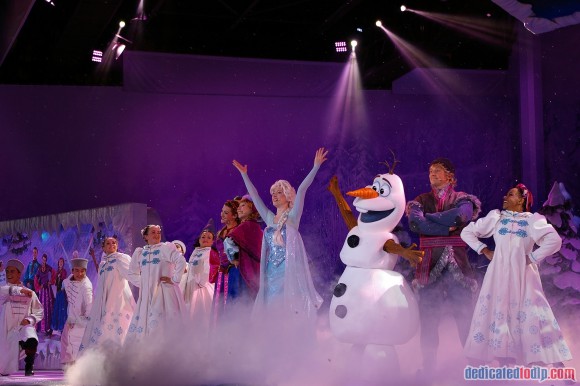 After the show everyone seems to flood out to the Arendelle Market Place, which consists of a food stall, plush stall, princess makeover area and a photo backdrop of Olaf and Sven. This does have the feeling of a post show area to me so if you want to check it out properly do so earlier in the day or during a performance, that way you'll get to sing-along as you eat and drink various forms of blue and white sugar!
During the day there are a few other Frozen themed events. Of course you have the sisters in the main parade, nothing new there, and the addition of the Frozen scene in Dreams! which is the same Let it Go sequence used at Christmas. The only other part of Frozen Summer Fun left is the fountain show. This is not advertised in the programme but normally takes place a few times during the evening by the Castle. The dancing fountains performed to the Frozen soundtrack is impressive but it really comes into its own when it takes place at night 15 minutes before Dreams! this is when the Castle Christmas lights are used in all their glory. Simply put, it's spectacular and well worth seeing, even if you don't sick around for Dreams!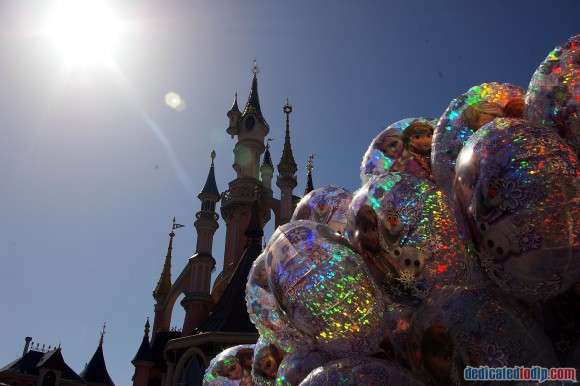 Overall Frozen Summer Fun is a nice addition to the summer season, and the park seems to cope with the level of interest shown. There is enough going on to keep even the obsessive Frozen fan happy without overloading everyone else. As for me, like most, I love the film, but I was getting a little tired with it being everywhere. Now after experiencing Disneyland Paris' new season I'll have to admit I now have Frozen fever again! Now where did I put my Elsa dress?