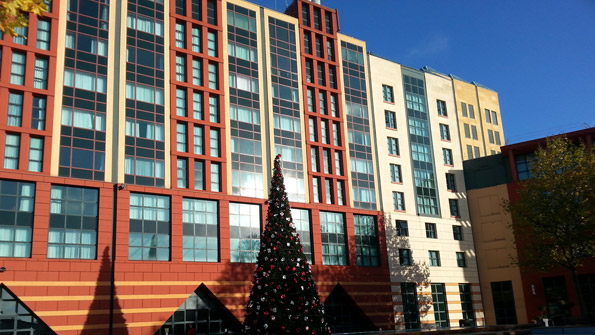 Disneyland Paris Christmas 2013: Staying at Hotel New York
Before I stayed there last year, I'd never stayed in Hotel New York. In my many previous visits more often than not I stayed in Hotel Cheyenne, with a few stays in Hotel Santa Fe and a honeymoon at the Sequoia Lodge Hotel in December 2003. While I do think it could benefit from just a few more subtle Disney references, Hotel New York is nigh on the perfect place to stay when visiting Disneyland Paris. Those are strong words coming from someone who could quite happily have moved permanently to Hotel Cheyenne at numerous times over the past decade.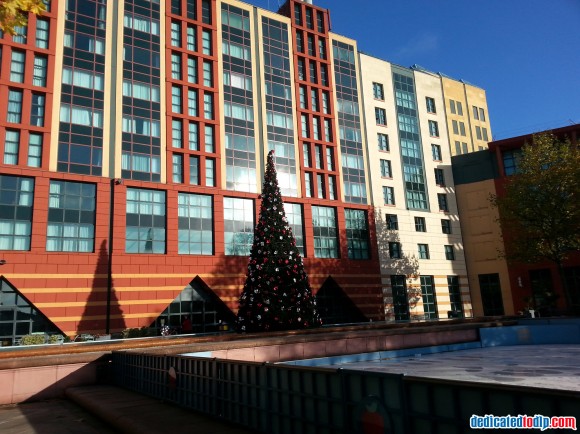 So what is it that makes Hotel New York so special? Let's start with the bed, something that even a self confessed 'shower and sleep' hotel user like myself deems important. The beds in Hotel New York are a sheet covered slice of decadent luxury. They are big, comfortable, clean, and oh, did I mention big? My room had two double beds and each one of those could have quite easily given a good night's sleep to a family of 4, should you be so inclined. I'm a pretty bad sleeper, but in those beds I'm off with fairies within seconds of laying down.
So having a nice bed is great, in fact it's not just great it's essential, but that's not all Hotel New York offers, not by a long way. The bath is big and deep, so deep that a diving board would not be out of place at the non tap end. To go with that bath is supply of hot water that shoots out of the tap like molten lava, and seems to be never ending in supply. I'm not usually one to return to the hotel during the day, but after getting caught in a downpour it seemed like a wise idea. After a soak in that bath I was ready to take on the world, or visit my beloved Disneyland Park as was the case. The bathroom could do with an update as it's looking a little old, but functionally all runs perfectly. They clearly have a strong water softener, these are so essential in my opinion, read more on watersoftenerguide.com.
The decor in the room, though slighting lacking in Disney branding as I mentioned earlier, is classy but comfortable. It's not devoid of Mickey, as he can be found on the bedspread, in a way befitting of the hotel's style. There's a Big Apple theme running throughout, as you'd no doubt expect. The Empire State Building lamp is particularly cool, and something I'd buy a replica of should they decide to start selling them *hint*. The television could do with being updated, but as long as it shows Sophie and her brilliant 10 Things To Know programme, then I don't really have much to complain about.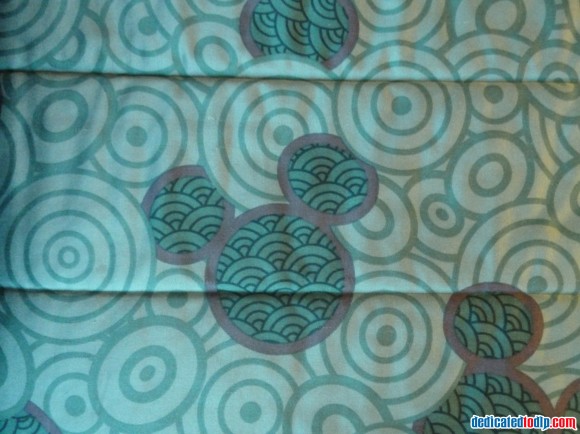 There is a big wardrobe, plenty of drawers and even a little table and chairs you should you want to sit and take in the view. Those views do vary on which room you are in, but on my recent stay I could just about see Lake Disney, which is always nice.
Once out of your room breakfast is next on the priority list, for me, and at Hotel New York it's civilised. Not only do you avoid scrums at the food counters, but that food is both hot and cold. Unlike the more budget hotels, there is a choice of scrambled eggs, sausages, sauteed potatoes and bacon. Add that to the usual fair of rolls, cheeses, meats and cereals, and you have a feast enough to satisfy even the most hungry as they set out on a day in the parks. A hot breakfast on a cold wet day in winter is worth it's weight in gold, or a few extra Euros on the hotel bill.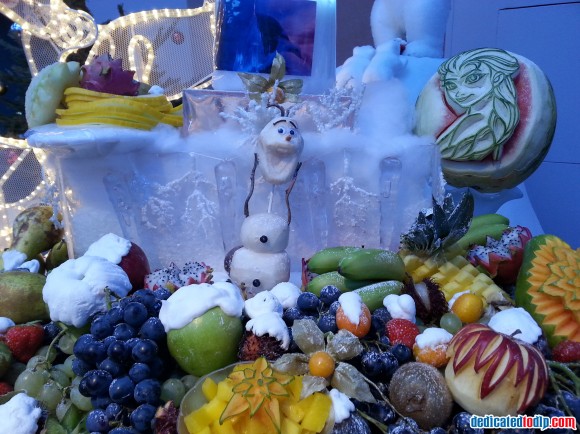 Inside and out Hotel New York was beautifully decorated for the festive season, with Christmas trees a plenty. There's even the Roger Rabbit Corner play area for kids, big and small, complete with great theming and a television showing Disney programming. If you can actually tare yourself away from the luxurious dwellings, then Disney Village is only a few seconds around the corner with both Disneyland Park and Walt Disney Studios a short walk further on. I've always liked the walk to and from Hotel Cheyenne, but when the weather takes a turn for the worse, the closer proximity of Hotel New York is a godsend.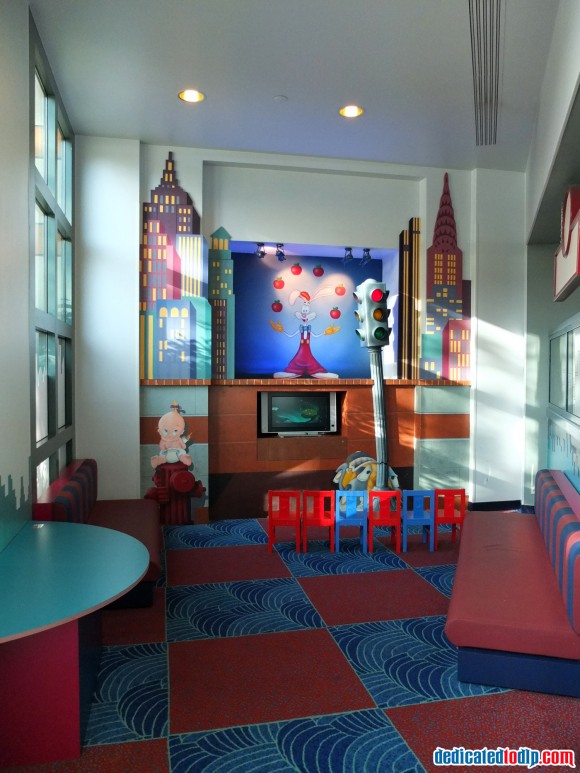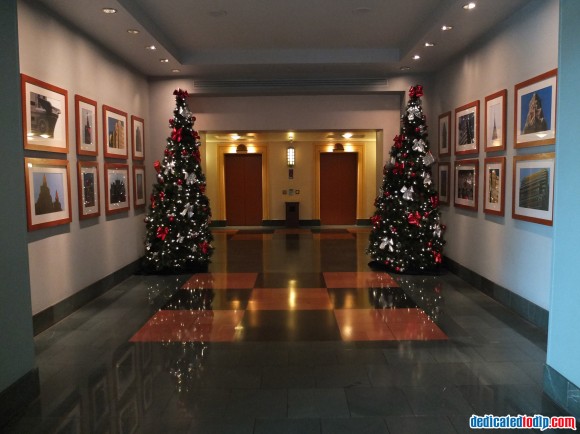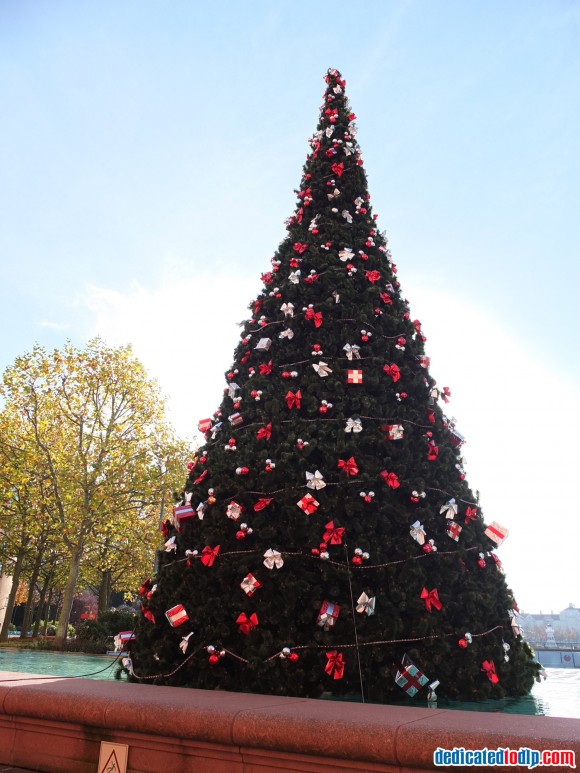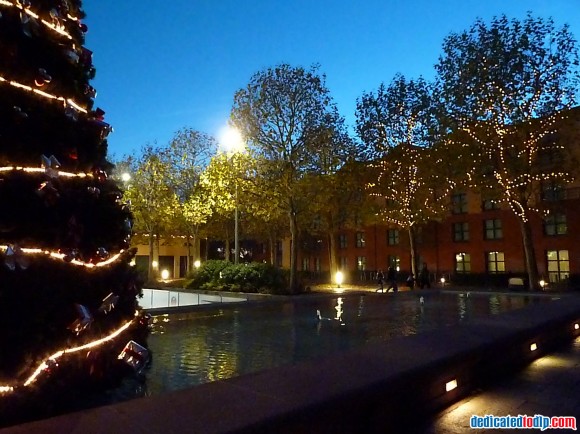 For many years I have declared Hotel Cheyenne to be the best hotel at Disneyland Paris and that may still be the case, it's hard to argue against such fantastic theming and originality. However, Hotel New York is a very close contender and offers a very different style of accommodation. When I think back to that amazing bed and bath, and I do often, it's hard for even the mighty Hotel Cheyenne to compete.