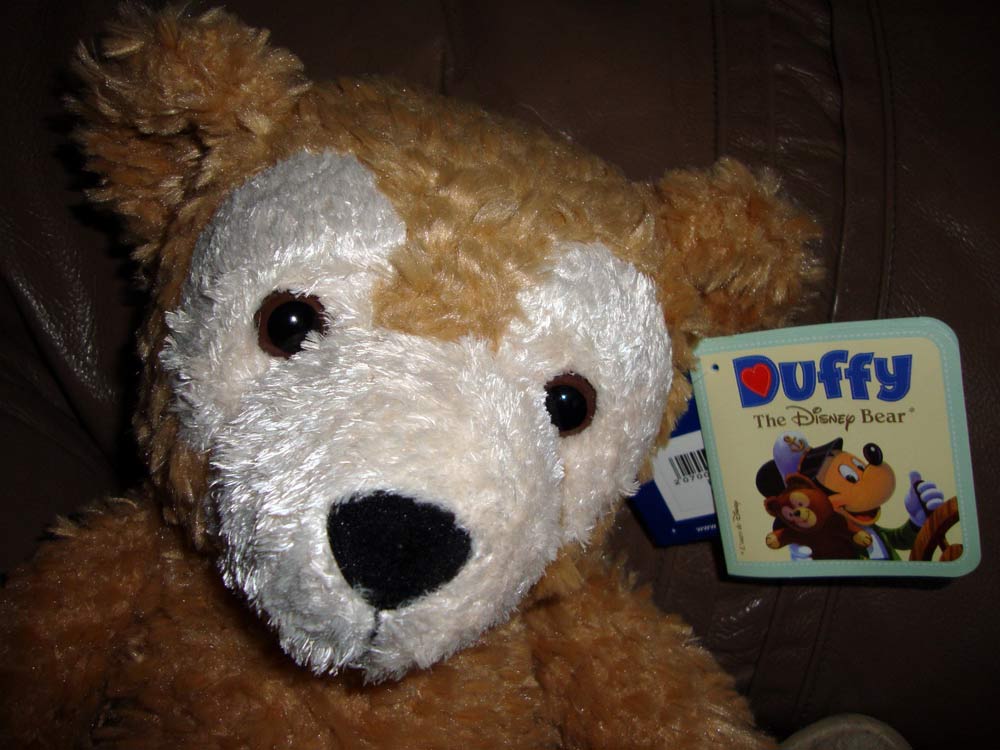 Duffy the Disney Bear in Disneyland Paris – Appearance & Teddy Photos
So Duffy the Disney Bear has been the talk of Disneyland Paris lately and just today he made his first public appearance today. This photo comes from @InsideDLParis and could possibly the first photo to come out of Disneyland Paris of Duffy out in the open!
There is actually a Duffy Expo in Disneyland Paris today with some Duffy teddy bears wearing costumes designed by top European designers. Luckily Max from Designing Disney is there today and has allowed us to publish some of his photos that he is tweeting live over at @designingdisney. Be sure to check out Designing Disney next week as he'll have a full photo report of his Christmas trip, as he did for Halloween earlier this week.
Now, a lot of people have been asking questions about the Duffy teddy that is for sale in Disneyland Paris and thanks to our friend Emma, whose amazing Disneyland Paris videos you can find here, we have some photos of the petit (small) Duffy. This is the Duffy teddy that will cost you 29,99€ to buy and the first photo gives you an idea of how big he is. This is something I have wondered about for weeks and have seen contrasting reports on different websites.
He's a lot bigger than imagined him to be and looks to be about the same size as the teddies you get in Build A Bear, which means the outfits from there will probably fit him if you can't wait until you are back in Disneyland Paris to get him in the latest fashions!
The Duffy character looks to have more of a velvety fur than the Duffy teddy that you can buy, but that may just be how the character appears in the photo – up close it may be a different story. One thing that worried me was the tag, as it looks like a generic Disney Parks tag. However, the photo below shows there are actually two tags, one of which is Disneyland Paris branded, which is important to me.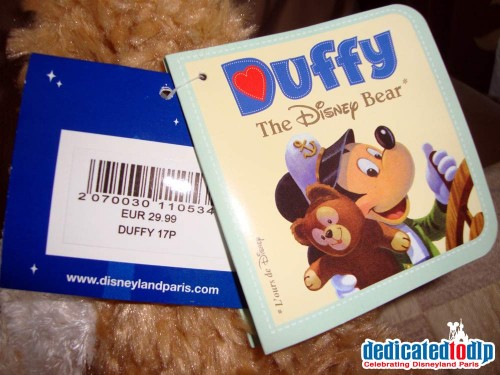 In an ideal the world the colourful tag would be branded with Disneyland Paris, but that's just me being picky, I see why from a business angle it makes much more sense to use the same tags across all the parks.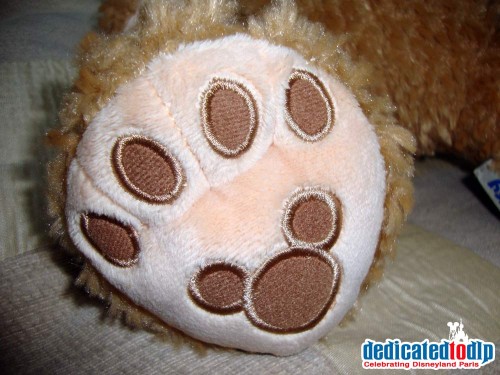 Disney, and especially Disney Parks, are known for their attention to details. This photo of the paw shows just that with the main pad being that iconic Mickey head shape, much like the light area of Duffy's face. It's that same attention to details that sees what I assume is a Mickey head shaped birthmark on Duffy's lower back!
You'll notice that the tag on the actual bear says Disneyland Paris, which seems to contradict the reasons for using the generic Duffy The Disney Bear tags that you can see in a previous photo. Maybe that tag I presumed to be generic is actually branded with Disneyland Paris after all, maybe on the back? I'll have to ask Emma, because if it were to be Disneyland Paris branded I'd be very happy indeed.
So there you have it, Duffy is now officially in Disneyland Park as both a character and a piece of merchandise, or several pieces of merchandise in actuality. The Christmas season starts on 7th December, so we'll then find out how much of a presence he has in the parade, and whether he has his own float as the rumour mill would have us believe.