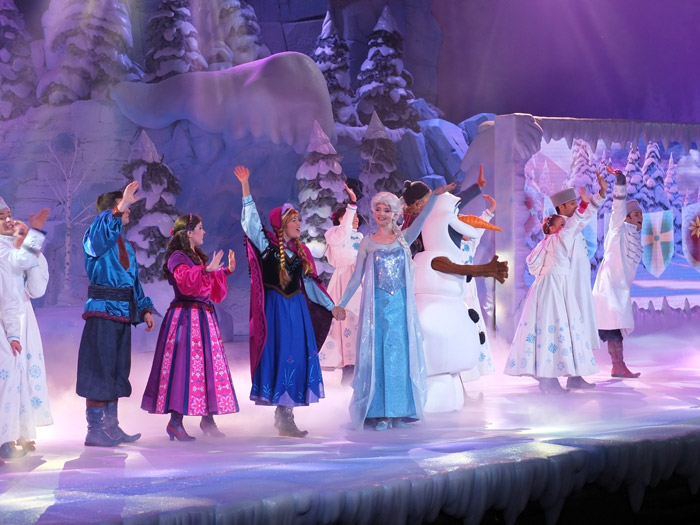 Disneyland Paris Frozen Summer Fun Review: Frozen Sing-along Show
Like many of you, I was really disappointed when both Tarzan and Mickey's Winter Wonderland disappeared from The Chaparral Theater, especially after the Fantasy Festival Stage changed to Meet Mickey Mouse and with The Lion King already long gone from Videopolis. Times have been hard for fans of stage shows in Disneyland Paris of late, until the news of the Frozen show broke.
As time went on we learned it would be a Frozen Sing-along show, which I was never particularly thrilled about. I like Frozen, not to the extent of some, but I just didn't think a sing-along sounded very exciting, especially when the early trials happened in Videopolis and seemed really quite poor. Fast forward a few months and the jungle stage set had been changed to an icy landscape and The Chaparral Theater is transformed into Arendelle, but it was still only a sing-along show.
Just this past Saturday I was lucky enough to be part of a small group of people at a roundtable interview session with show director Katy Harris (Artistic Director), Françoise Barbie (Production Director, Costumes and Show Design) and Robert Fienga (Musical Director). It was there that we learned the show in Disneyland Paris would not be a copy of the quickly thrown together show in America, but one with an original story that created especially for the show here. The dresses were made using a brand new printing technology and there would be special wow moments that Katy didn't go into detail for fear of spoiling the show for us. Coming out of that I was pretty excited to see the show that evening, and had a feeling my pre-judgment of just a sing-along might be way off the mark.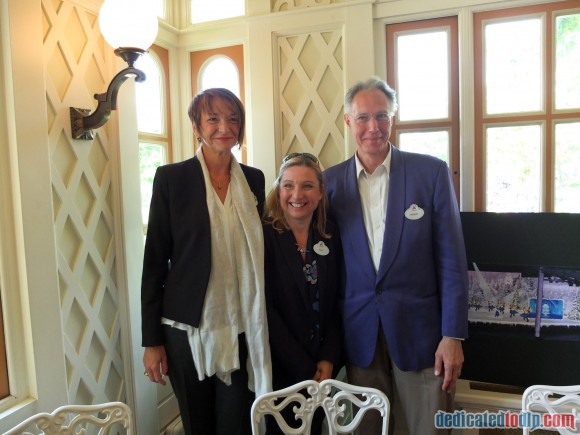 As I approached the Theater it became clear I should have gotten their earlier, and took a seat about a third of the way up, to the left hand side of the stage – it was packed. I got a much better seat the next day, when I was lucky enough to be allowed into the Dream Annual Passport preview show, and sat dead center behind the Princess seating, for those dressed as a Frozen Princess. The set looked fantastic and I started trying to work out what special affects might be used and where characters would be coming from.
It didn't actually start on stage, but instead performers came out in front of the stage and danced their way up the stairs and in between the areas where we were sitting. Soon the actual stage was used though, as Anna came out, and to say she has been perfectly cast would be somewhat of an understatement. There are apparently 3 sets of performers, but I saw the same Anna in the two performances I attended. I won't go into details of the story as I don't want to spoil it, and I suggest seeing it with your own eyes and not be tempted by watching the whole show on YouTube.
The dialogue is all spoken by the performers and the backing singers sing live, but the signing voices of Anna and Elsa are mimed, and those of Idina Menzel and Kristen Bell can be heard through the sound system in their place. I mention this as it's been a talking point online and I was asked after the press preview show if I had noticed. My answer was no and on seeing it again the next day I made sure to keep an eye out. Yes, I could see they Anna was miming, but within seconds that thought was gone from my mind and I was once again taken in by the show. It doesn't affect the show in any way, and come on, is anyone really going to complain about hearing the songs sung by those who made them so very famous? They not only wouldn't they complain but they'd expect and want it that way.
When it comes to the sing-along parts the words are on the screens for those who need them, such as myself. Hey. I've only seen Frozen once and as it turns out don't know more than Let It Go and The Cold Doesn't Bother Me Anyway from that song you have all been hearing for the last 18 months. During In Summer we see Olaf and giant beach balls are thrown into the crowd which are then punched into the air all over, and at times is reminiscent of a really giddy game of volleyball. So much fun!
Let It Go is the show stopper you'd expect, and without spoiling it for you, the point at which Elsa makes her entrance is absolutely spectacular, and raises the show to another level altogether. Snow falls, white smoke is fired into the air and after it's finished we all sing it again, with even Olaf back on stage from earlier. The performers give it their all, the affects are wonderful and with everyone joining in it makes it a moment that fills your heart with joy and gives you a smile that doesn't leave your face for the rest of the day.
Just a sing-along show, right? Yes, I said that, and I take those words back. We have a stage show back in Disneyland Park and not only is it one that looks incredible on stage but it's one that we as audience members can be a part of, and not just the kids. I never thought anything could live up to Tarzan, but walking out of that second performance yesterday I had that feeling of pure happiness I used to get when exiting The Chaparral Theater years ago. I've learned to out my faith in the creative team at Disneyland Paris, but I never for one minute thought they could achieve this level of quality with just a sing-along show. The Frozen Sing-along Show is the centerpiece that the Frozen Summer Fun season needed and the stage show Disneyland Paris deserves.