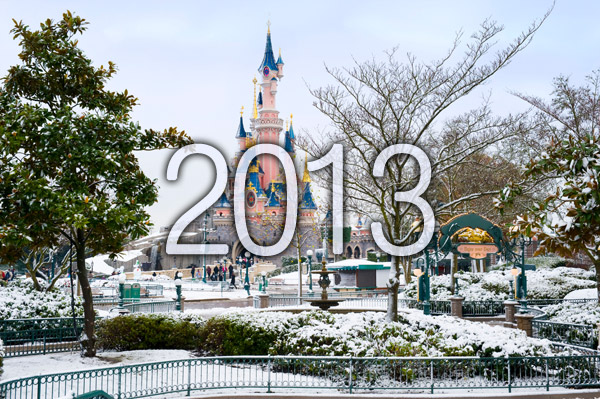 Disneyland Paris 2013 Year in Review
If you have 90 minutes to spare then listen to the podcast version of the Disneyland Paris 2013 Year in Review, otherwise, read on!
2013 has been a very interesting 12 months in Disneyland Paris, and as a fan of the resort. There have been some very exciting bits of news, some worrying rumours and some incredibly magical times in Europe's number one tourist destination. In this article I will take you on a month by month look back at some of the stories that got me interested. So strap in and join me on this trip back in time – we just need to hit 88mph.
January
Disneyland Paris Fan Results
Back in 2011 we all filled in the survey and more than a year on the results were published. One of the most revealing stats was that on average participants visit Disneyland Paris 10 times a year! But then you have to consider that this survey went to hardcore fans rather than casual visitors, and mainland European fans tend to go more often than us from the UK, due to that pesky 26 mile wide body of water in the way.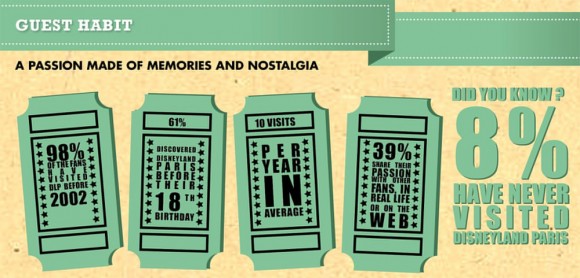 One of the things highlighted that fans want is a blog or webcam, both of which I have expressed a desire for on numerous occasions. I understand the logistical problems with a webcam, but a blog is almost a necessity in this day and age. I'd even be willing to run it for them – I'm all heart!
February
More Details About the Changes to Disney Dreams! in Disneyland Paris and Free WiFi
An almost bizarre combination of new pieces to come out that day, and 10 months on and we have Wi-Fi in almost all the hotels, though still nothing in Disney Village outside of McDonalds. The target was 2014, which was later on specified to be early 2014 – so just a month or so left to complete the designated Wi-Fi locations.
The news that Dreams! would have Brave and Lion King scenes replace the Mary Poppins and Jungle Book scenes was met with a mixed response, though it was good to see they were able to do, and were about to change things up in this landmark show. I didn't much like the Brave film, so I had pretty low expectations of that particular scene.
Valentine's Day debut for Berlioz and Toulouse, Aristocats
Though this didn't tickle my fancy, for the many character hunters out there it was somewhat of a coup to have these new Aristocat characters in the park. The whole Valentine's Day celebration was full of characters and the decorations seemed to be much more plentiful than in previous years. I was lucky enough to get photos from Bert Snyers to use, from one of his many trips to Disneyland Paris.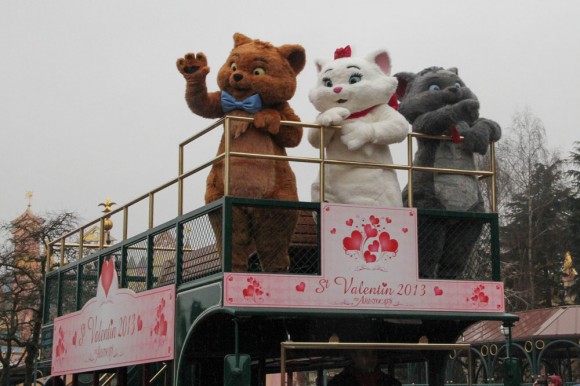 March
New Dreams! scenes leaks on YouTube
Just one month on from the news that there would be two new scenes in Dreams!, we had footage of this new scenes. They are actually still online for your viewing pleasure.
httpvh://www.youtube.com/watch?v=qJkzo3jwDjQ
httpvh://www.youtube.com/watch?v=mwY27yBkyws
I always advise people not watch videos before seeing any type of Dreams! show in the park, and I went on to ignore my own advice. From these I was unexpectedly more with impressed the Brave scene, citing that it used the technology better than the new Lion King scene.
April
Light'Ears trialed but not on sale yet
We saw these when some sites such as DLRPToday and magicforum reported from a fansite invited event to celebrate the 21st Anniversary of Disneyland Paris. The Light'Ears were given out to those who attended and were in full working order for Dreams! that night. This video from Chronique Disney shows them in use with the new scenes.
httpvh://www.youtube.com/watch?v=wdzXsDu_cvA
After hearing of their lack of success in Disneyland California I, and everyone else, had my doubts they would be successful in Disneyland Paris, especially when it was announced they would cost €20 each.
Dreams! CD to be released in Summer
As a huge fan of the Disneyland Paris CD releases this was very exciting news. Unfortunately it's now 2014, and summer 2013 has long since gone, and we still have no Dreams! CD. I can only think that it's rights issues blocking the release of this CD, and let us hope they get resolved very soon.
Latest advert – no Dreams! from October?
It was the wording on a Disneyland Paris TV advert saying Daily show until the end of September 2013 that had us all wondering if the opportunity to see Dreams! daily, or God forbid at all, was about to end. Much discussion ensued.
May
No more daily Dreams! and new Dreams! Christmas scene to come?
It was the Disneyland Paris brochure which next had us speculating about the future of Dreams! saying that we would have to contact them directly for show news from 1st October onward.
Also Dreams! related was the photo later on in the brochure which depicted a Christmas scene.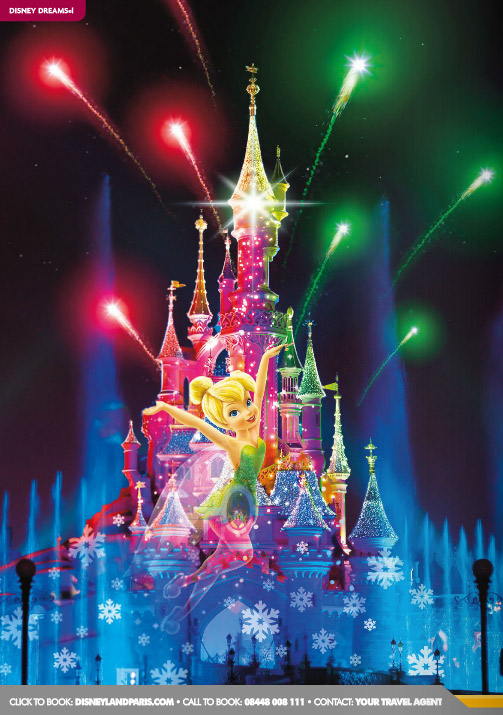 I theorised that we could be seeing a new scene in Dreams! for the Christmas season, which given the two new scenes we spoke about earlier, seemed entirely reasonable. Either that or it was just marketing – time would tell.
Still on Dreams!, I saw version 2.0 in May and thought both scenes worked really well. There has been some criticism of the Brave scene but I still, after multiple live viewings, believe it uses all the different mediums and technology really very well.
June
Dreams! daily until at least September 2014
I got a scoop which was later confirmed by Disneyland Paris and put an end to two months of worry and speculation – Dreams! was to carry on daily until at least September 2014. In reality I think we can expect Dreams! to be as big a part of the daily entertainment in Disneyland Paris as the parades and cavalcades are and I'd be surprised if it lasts any less than a decade.
July
Jake & Sofia coming to Disneyland Paris
Disneyland Paris wasn't going to get the show overhaul like in America, but Playhouse Disney Live on Stage was to change its name to Disney Junior Live on Stage. Also Jake (of the Neverland pirates) and Sofia The First would be a part of the pre-show where children would be able to play with them, and get photos too.
August
Save Disneyland Paris
Started by fans, this was a petition aiming to gain 5,000 signatures, at which point it would be sent to The Walt Disney Company (TWDC) CEO Bob Iger. It said that Disneyland Paris needed saving by TWDC due to the lack of maintenance, budget cuts, declining food standards and Walt Disney Studios being the main areas of concern. This started out being tweeted here and there but very quickly gained momentum and was soon picked up by the national press all over the world and sensationalised, telling tales of doom and gloom for Disneyland Paris. I chose not to sign, and my reasons for not doing so were detailed in the article I wrote at the time.
LEGO Store opening in September
The rumours of this store had been running for months, but now we had an official opening date. Unfortunately the ceiling collapsed just weeks before it was due to open and has been delayed until reportedly mid January of this year. It will bring some much needed life to Disney Village, so let us hope it does now open without any more setbacks.
Winter Dreams! and new parade characters for Christmas
The evening this news all came out had the online Disneyland Paris community getting pretty excited. Not only would we be getting brand the new Disney Dreams! of Christmas show, but we'd also be getting new parade characters too.
We also found out there would be a new tree, following on from the plans to replace the 20 year old Christmas Tree back in 2012.
September
No New Attractions Until 2022
We still don't know how much truth there is in this, but at the time it was said that Ratatouille would be the last new attraction in Disneyland Paris for almost 10 years. This sent shockwaves through the fanbase, but would it really be as bad as we first thought? The resort has had a few years of many attractions being added to Walt Disney Studios, and if it meant they would instead concentrate on keeping what they had looking great then that would be pretty good, right?
The other two opinions that surfaced were that The Walt Disney Company had a long term plan and the other that there was no truth in these rumours what so ever. As I said earlier, we are still none the wiser!
Captain EO To Close in February 2014
We have no official word from Disneyland Paris on this, not confirmation nor denial, but if true then the Michael Jackson spectacular will close next month. A second source close to Disneyland Paris has said that the space will not be reused, and will just close. I still hope it's for the future development of Star Wars Land, but that would contradict the previous news item and also the recent news from TWDC that Star Wars Land will come to other parks first, and probably Paris later on.
Ratatouille name and artwork
This was the first of two hugely exciting things to come to light in September, and that being the name of the brand new Ratatouille attraction. It is to be called Ratatouille : L'Aventure Totalement Toquée de Rémy, which roughly translates to Ratatouille: The Totally Crazy Adventure of Remy, though there are apparently no plans for an official English translation. This came from the official Disneyland Paris Twitter, along with the first piece of artwork for the attraction.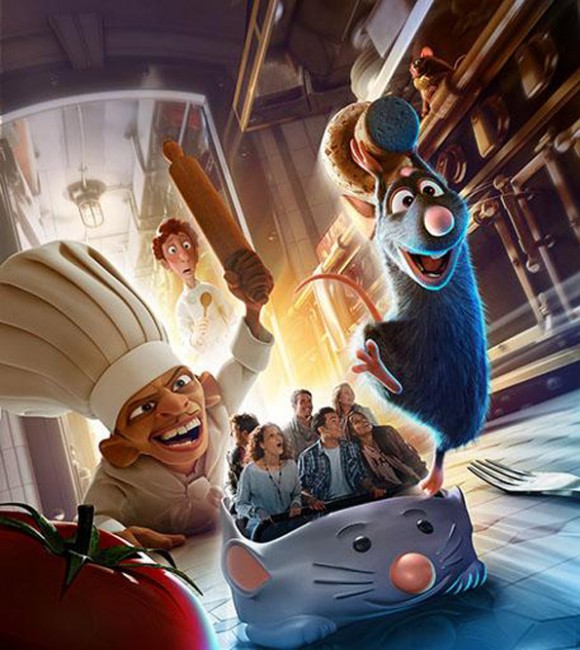 After months of speculation and some negativity, these two bits of information turned the tide of fan feeling and there was positivity and excitement oozing from all corners of the globe. This one visual told us so much, and the prospect of riding this brand new attraction seemed that much more real.
What's New, What's Next: Huge Refurbishments Planned
Another fansite event, wonderfully reported on by magicforum and Designing Disney gave us the news that there was a multi-year plan for resort development that included all the hotels, Main Street, U.S.A. and Indiana Jones to name but a few. It was a landmark event that saw Disneyland Paris communicating with the fans and giving far more information about the future than we'd ever seen, or likely expected to see.
The Art of Disney on Demand
That wasn't it though, as The Art of Disney on Demand was announced on the second day of the two day event. This is a service housed in The Disney Gallery in Disney Village that allowed guests to choose pieces of Disney artwork and have it delivered to their home address. It could be on paper or canvas, and more importantly, the choice included Disneyland Paris attraction posters. That last bit was a lot of Disneyland Paris fan dreams come true – mine included.
October
Halloween Decorations and Cavalcade
The new Halloween cavalcade split opinion, but not equally. The vast majority loved the new cavalcade and parade song, but there were some that declared it was too harvest oriented and that the accompanying song wasn't in the vein of the Halloween they knew and loved. What couldn't be denied was the amazing detail of the new floats and the fantastic decoration around the park. 2013 saw a new style of Halloween in Disneyland Paris and one which seemed to get a positive response from almost everyone who actually experienced it. I for one loved the look of it and am keen to get over to Disneyland Paris to see Halloween 2014.
httpvh://www.youtube.com/watch?v=ilq0fh8NBl8
New Disneyland Paris Website
It works on iOS devices – yes, we now have an official Disneyland Paris website that we can view and use on iPads and iPhones. I particularly like the interactive map but still believe it needs fleshing out with more information.
November
Christmas 2013 Launch
I won't go into too much detail here as all of this will still be very fresh on all your minds. But let me just say that Disney Dreams! of Christmas is the most spectacular piece of entertainment I have ever seen, and along with Magical Christmas Wishes, Christmas Cavalcade, Frozen/Tangled Float and tree it produced the most stunning and magical Christmas season ever seen in Disneyland Paris. Browse though all my articles from the Christmas 2013 Press Launch to see all the parts in more detail – absolutely amazing.
httpvh://www.youtube.com/watch?v=Ep08S7sQUEs
December
Ratatouille Restaurant and shop
Today a new press release about Ratatouille : L'Aventure Totalement Toquée de Rémy was published by us all, and confirmed the restaurant would be called Bistrot Chez Rémy and the shop Chez Marianne Souvenirs de Paris. From information I was given previous to this, I also understand that it will be a one main course option menu, that being entrecote of beef with ratatouille, with a vegetarian and children's options also available.
At first I was resistant to the idea, being a non beef eater, but I've softened somewhat, to the point where I may even try it, or at the very least the vegetarian option. I look forward to seeing what kind of reaction it gets, and the first reports of the food and decor.
2014 and beyond!
So that was 2013, and now into 2014 we have the opening of the Ratatouille attraction and area, La Place de Rémy to look forward to in the summer. We don't know when in the summer, though rumours point towards the end. It will be interesting to see how the redevelopments go and also what new things the seasonal celebrations have to offer. With the Christmas season almost at an end, I'm intrigued to see how the resort will be marketed, as they usually rely on some kind of anniversary, festival or celebration. Here's to 2014 – the year of Ratatouille…and more!