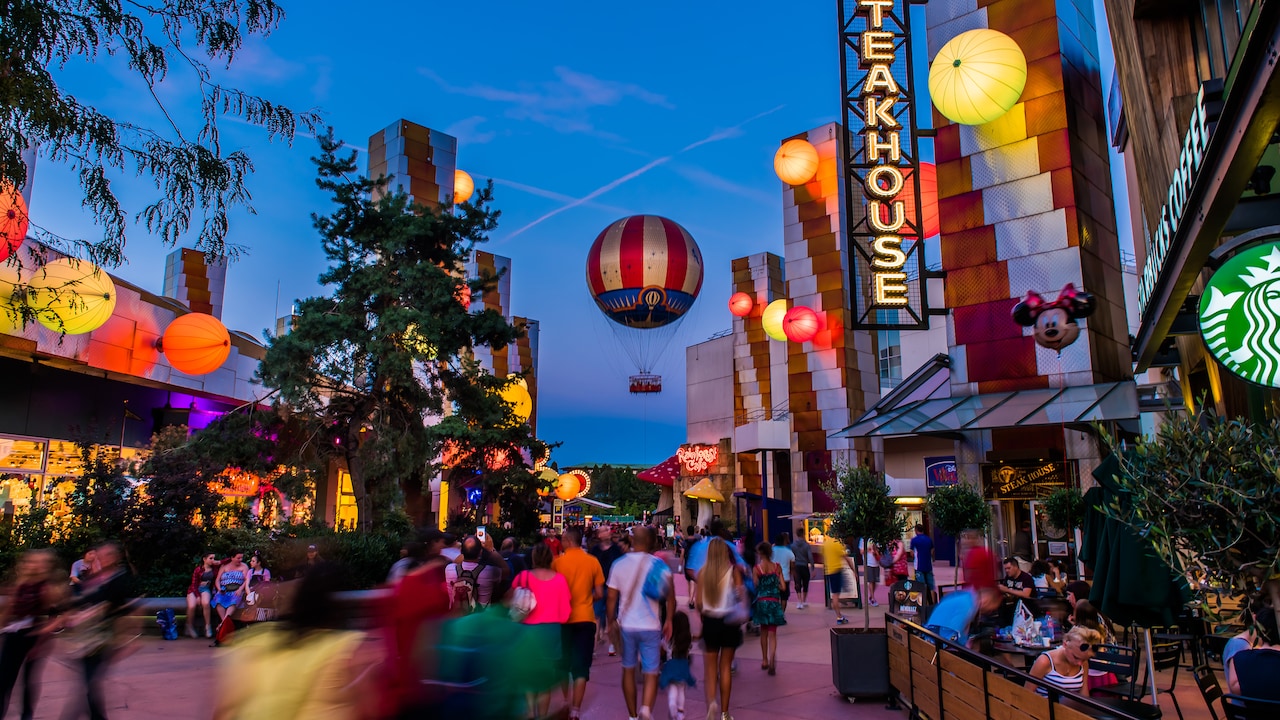 Big Things Are Coming to Disney Village – Changes and New Ideas
For me, the most exciting thing to come out of the InsidEars event was finally confirming that a big redevelopment of Disney Village is planned. A few years ago I noticed someone with the job title of VP of Disney Village Development, or something like that, so ever since I've been hoping that wasn't just a vanity title and big things were being planned. Adding Five Guys and Vapiano does nothing for me, and having them hidden around the corner from the main strip does little to change the atmosphere of the Village, so I want a lot more than just that. So just what will this big project bring to Disney Village and what does it need?
My first instinct on writing this article was to see what they have at the American Parks, but we were told explicitly at InsidEars NOT to compare Disney Village with its American counterparts, and with that I'm guessing we shouldn't see what they offer and think that's what we'll be getting in Disneyland Paris. So with that in mind I won't, and I shall come up with some ideas and desires of mine, of how I would change Disney Village.
Restaurants
If you listen to the podcast, which you should, then you'll have heard me talk of my wish for a greater variety of eateries in Disney Village, and Disneyland Paris in general, but that's another discussion for another time. In Disney Village you can eat burgers, pizzas and pasta aplenty, but very little else, unless you want to open your wallet a lot wider for the likes of the newly updated menu of Cafe Mickey or the well hidden Steakhouse. Even with those we still don't have a huge number of styles on offer.
So with the new Disney Village (as I'm now calling it and will for the remainder of this article) I'd like more than anything, to see some Asian food introduced. Imagine coming out of the Parks and being able to choose from Indian, Thai, Chinese or Japanese food, either in separate establishments (that may be wishful thinking) or at the very least an Asian buffet style restaurant. Not only would it be a welcome change for Disneyland Paris guests, but it would bring people in from the neighbouring areas, something Disney Village was meant to do from the very start.
When you look at the aforementioned Five Guys and Vapiano, plus the not too ancient additions of Earl of Sandwich and The LEGO Store, it does seem like brands are the way forward in Disney Village. As much as I'd like uniquely themed restaurants like Captain Jacks and Auberge du Cendrillon, I do think the brands will continue, and let's face it, those are all part of the Disney brand anyway. So maybe we could see the like of Wagamama in Disney Village, which would make a very happy boy indeed, and have a Teriyaki Duck Donburi ready for me please. I'd also relish the opportunity to try cuisines I'm not familiar with, or dishes that I've never tried before. As much as Fuento del Oro does it's best to represent Mexican cuisine, I'm sure a Chiquito would be more than welcome in the New Disney Village. See, I told you I'd be using that name.
So in conclusion, variety is the spice of life, and absolutely the key to improving the dining experience in the New Disney Village. As much as I feel existing brands is their intended direction, I'd love them to surprise me with some immersive and completely originally themed restaurants. The challenge is yours New Disney Village, do you accept?
Shops
Disneyland Paris is a business, and as such the name of the game is to make money, so it makes sense to build upon the shopping experience already in Disney Village and improve it. World of Disney, which opened a few years ago, is great for all the Disneyland Paris mementoes, and there is no need for the Disney Store around the corner around the corner which sells a lot of the same ranges. With the introduction of The LEGO Store it seems that non Disney brand shops being brought in is almost a certainty. Though I have always been vocal about not wanting anything but Disney in Disneyland Paris, that's not going to happen, so what shops can we have that would fit in and not stick out like a sore thumb.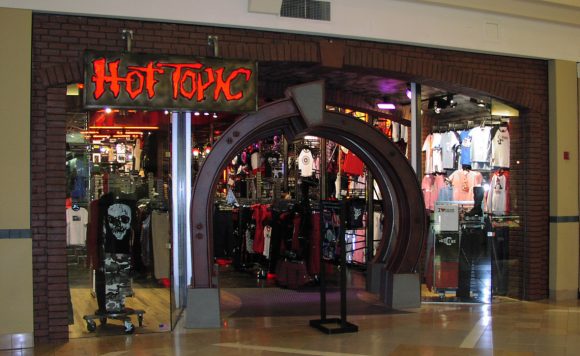 An entertainment shop would be top of my list, one that sold books, DVDs/Blu-rays, music (and release the latest Disneyland Paris too – we haven't had a new album in 6 years and there have been MANY great songs and pieces of music that guests have money just waiting to be paid over to the resort) and maybe even Funko Pops and posters. I guess an HMV type offering is what I'm thinking, but one that sold Disney and Disney related items only. I'd love a Hot Topic style shop to be added, as not only do they sell a huge range of Disney clothing, but it's exclusive to them and shipping to the UK is very high. Her Universe likewise sells a great range of Disney clothing, but even worse than Hot Topic, their licensing agreement means they can't even ship their amazing Star Wars and Marvel ranges to the UK. So sort out said agreement, if it's prohibiting business in France too, and open a shop in the New Disney Village.
I'm not sure if this should come under shops or restaurants, but a cake shop could be a viable addition. Imagine one that sold a whole bunch of Disney and Disneyland Paris themed cupcakes, which the resort does love to release for their special seasons. One look at the Marvel Summer of Super Heroes shows the great range of cakes and snacks they could offer, and that's just the tip of the iceberg. Throw in the summer snacks they used to sell during Frozen Summer of Fun, and winter favourites such as Hot Chocolate, and variations thereof, and you have a shop that would cater for sweet tooth desires all year round.
Entertainment
Even more so than the food, for me this is the biggest downside of Disney Village at the moment, the lack of anything to do except eat and buy souvenirs that are largely the same as in all the other shops around the resort. Sure there is the Wild West Show but that's not something you'd want to do on every trip, not even close. We last went in 2003 and while we enjoyed the show itself, I thought the food was pretty awful. It wasn't to my taste, and that's one thing, but the quality was pretty dire too. I'd hope things have improved in the last 15 years and I would like to go again as my son has never seen it, plus they have characters now, so it's a slightly different show. That said, I think it's had its day, and it's a big building that could be replaced with something different.
Some years ago, a friend suggested housing Disney on Ice there, which I still think is a fantastic idea. It's a show that guests would love, as indicated by the multi arena multi date shows that sell out in the UK year after year. Much like these arena shows, the new Disney Village Disney on Ice could change theme from time to time, adding in new characters and franchises as new properties get released by Disney. It would also be a huge attraction for non Disneyland Paris guests, bringing business into Disney Village. It could still be a meal show if they really wanted to go down that road, but such a show wouldn't need food to justify the ticket price, and hopefully, restaurants would be much better if this rolled out in the New Disney Village, as discussed earlier.
Keeping with the food and show idea, when I first visited Disneyland Paris back in 2002, my wife and I ate in an establishment called Rock n Roll America which is now the home of King Ludwig's Castle.. This was a sit down restaurant but with one difference, all tables were pointing towards a stage at the end, where acts would perform while you ate. For the life of me I can't remember what style of entertainment we saw, but I'm having flash backs of dancing and maybe even a magician. Theme aside, it was a great idea and made dinner something a bit different and made us actually want to dine in Disney Village, not a notion we get too much these days.
Another idea I had, and this was said in passing on Twitter, but I've grown to like it more, is to have a Roller Disco. I know what you're thinking, that the 80s called and they want your idea back Steve, but I think it would be a lot of fun. It's something that would get people off their feet and having fun, with a soundtrack of great music, that would of course include Disney songs. Imagine also having the characters joining in from time to time, which I'm sure they could, given they can ice skate! I think it would be a great activity for all ages, and something a bit different from the usual sitting down and watching a show style entertainment.
Atmosphere
This goes beyond just the shops, restaurants and entertainment, and is the glue that will bind everything together. There needs to be an energy to the New Disney Village, and not just a bunch of random buildings like we have now. How this is achieved is up to the creative geniuses of Disneyland Paris to decide, but music is a must, and not just the piped in over the speakers type affair, but live music and streetmosphe. Live music has started to appear more and more over in Disneyland Park and it's something that should definitely be carried through to the New Disney Village.
Personally, and I don't know if this is possible given what they have planned or how much space they have, but I'd like to see some greenery. I'd like trees, and if possible even a park area, where people can sit and relax, and kids can play, running off that boundless energy they all have. But definitely trees and plants, to break up the concrete jungle that you inevitably get when shop and restaurant areas are developed.
I'd like the New Disney Village to feel like a destination in itself, and not somewhere to walk through from Hotel to Parks and vice versa, or somewhere to eat and shop when the Parks close early. Don't get me wrong, the eating and shopping is an integral part of the guest experience and the bottom line of Disneyland Paris, but I want to feel the urge to be in the New Disney Village because what they offer is unmissable, not just because it's the only option. I want it to have an identity and a vibrancy, and be somewhere that people want to be just like they do Disneyland Park. I realise that's a big ask as not even Walt Disney Studios has that kind of magnetism yet, but dreaming big was something Walt always did and it's what I'm doing now.
I think the New Disney Village could be something really special if done right, and could be the thing that bonds the resort together and makes it feel whole, rather than the fragmented zone feel it has now. Imagine not needing to visit the Parks for a morning or afternoon because there was so much to do in the New Disney Village. Or not wanting to stay offsite because you wanted to spend every minute of the evening in the New Disney Village and then know you only have a quick walk to your hotel. That'd be great for the Disneyland Paris accountants and great for guests, who would have so much more to experience, at all times of the day and during all seasons, than they have now. As I'm sure you can tell, I'm really very excited at the prospect of this New Disney Village, what it could offer and what it could mean to Disneyland Paris. Now we just have to wait and see what they actually do. I have faith Disneyland Paris, deliver us the Disney Village we've all wanted for so long, and the resort so richly deserves.