So much of the fun of a DLP holiday comes from planning it: deciding on dining plans, park itineraries and, very importantly, choosing between the many options for lodging!
That is why we here at D2DLP aim to create a series of hotel reviews to help you decide which one will best suit your needs and tastes.
First up is Hotel Cheyenne, located on the Rio Grande River just across from Hotel Santa Fe. This relatively budget-friendly, on-site hotel is very popular with families and is much beloved for its unique theming. All of the room blocks of this hotel are designed to look like the facades of an Old West town in a vintage film.
On our most recent stay, we were immediately impressed by the rapid and friendly check-in. This was despite the fact that literally half the desks were closed, so they really had to make an effort to keep up with the demand. It was indeed a very busy time, as both French and British schools were on school term holidays.
We found the reception hall very impressive, with a soaring ceiling that makes it seem very spacious and grand. The theme of a Hollywood version of the American West is carried out well in this area and also the restaurant, as all is decorated with retro Western movie posters and much of the music loop played is from the films. It really gives the feeling of being somewhere special. That said, there is little overt Disney theming here, which may disappoint some.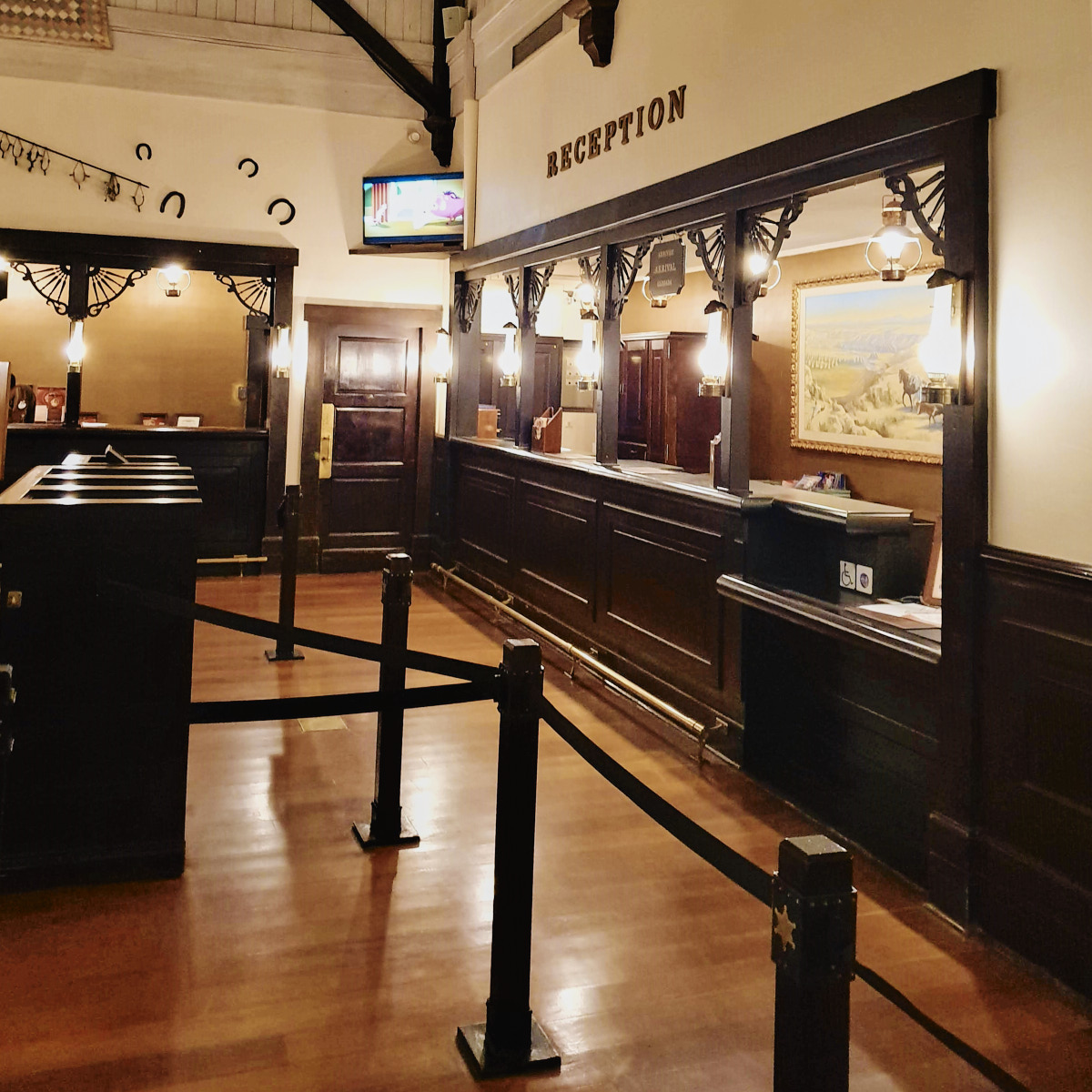 During check in, we asked for a boiling kettle, as they do not come standard with the room. Sadly, there were none to be had (no doubt due to all the tea-loving Brits on holiday). We were able to snag one the next day, but had to leave a €30 deposit and were warned that we would only get our deposit back if we returned it directly to the front desk upon departure. So, no leaving it in the room on check-out day, which is a pity, as it could definitely be a burden on busy families juggling lots of little ones and baggage as they check out.
We took possession of our room that evening, after a full day at the Studios. There were still no boiling kettles to be had at the front desk, so we just got our key cards and continued on to a Texas Room in the Annie Oakley building. This is a very pretty blue building, right in front of the laundry facilities. This could be a real convenience for families travelling with children, so offering this option is quite nice.
There was no elevator, so we had to carry all our bags up the stairs, as there are no lifts. The buildings are only one story, but it could be a real problem for those with small children, lots of bags and/or a pram to deal with, not to mention people with mobility issues.
We could see that the hallway carpets were new and unworn- but they were badly in need of a good cleaning. We had an opportunity to observe the dirt levels at close quarters, as one of our party accidentally locked all three key cards in the room as we struggled to get the luggage inside. This meant the rest of us had plenty of leisure to examine the carpet while he ran back to the reception building to ask for yet another key card.
After a nice rest and thorough carpet inspection, we finally got into the room. The 2017 refurb of Hotel Cheyenne was very evident! The whole felt spacious and charming. We immediately noticed the spiffy stratified flooring which ran throughout the bedroom and into the bathroom for a very clean and unified look.
The theme is, of course, Toy Story, specifically Woody's Round-up. We could see this room really appealing to children and fans of the franchise, as DLP went all-out on the theming. The wallpaper border and wall art featuring Woody, Jessie and their friends is particularly cute. The mirror is themed, the curtains echo Woody's shirt and the bed throw is patterned like his vest.
Fans of old-school Hotel Cheyenne can rest easy that their beloved boot lamp is reassuringly present. However, the bunk beds are gone. Instead, besides the main double bed, there is now a daybed/couch with a second single bed that slides out when needed. Disney has stated that this was done because the bunk beds were difficult for Housekeeping to deal with and the upper berths were not suitable for young children or people with physical limitations on climbing. They also cited space-saving aims. In short, the new bed arrangement seems to tick all the boxes for being family friendly!
The next morning found us eating breakfast at the hotel restaurant: the Chuckwagon Café. At the time of our visit (pre-Covid), it was a buffet. That will no doubt change at reopening, but that said, the breakfast was quite nice and there were plenty of tables in the huge space to accommodate the flow of the morning crowd.
After breakfast, we headed to the parks. Like its sister hotel, the Santa Fe, Hotel Cheyenne is located on DLP property. You have easy access to a pleasant, shady riverside footpath that takes you to Disney Village in approximately 15/20 minutes.
One of our favourite things about the resort was the presence of Starbucks! This is controversial, as some fans were afraid it would negatively impact the Disney Magic of the hotel grounds. But in fact, the popular coffee shop is very well-themed and blends in seamlessly. And with the changes to the Disney dining plan which include the elimination of free breakfast with your hotel stay, the Starbucks is a good option for saving time and money.
Another plus is the fun Red Garter Saloon, where you can kick back in the evening with a drink and listen to some country music. It's family-friendly and a great place to relax a bit after a long day in the parks.
Our verdict
Well-themed and charming, Hotel Cheyenne has a lot going for it. That said, your stay could go wrong unless you are careful. If you have a lot of baggage, a pram, young children and/or are dealing with mobility issues, you definitely need to request a ground-floor room. We cannot stress this enough! Of course, DLP is not obliged to fulfil your demand, but they make an effort whenever possible.
Also- bring your own boiling kettle, if that is a must-have item for you.
All that in mind, if you are looking for a family-friendly hotel with a modest price-point and want the convenience and magic of staying on DLP property, Hotel Cheyenne just may be for you!