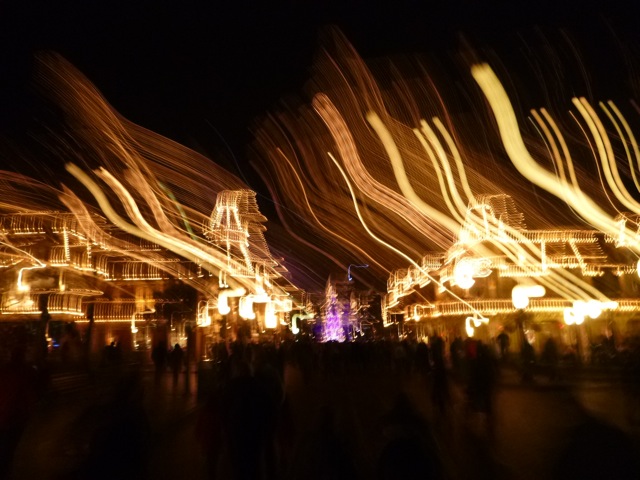 Sven's Disneyland Paris Trip Reports: December 2012 / January 2013
Monday December 31st 2012
5 am at hometown Izegem. The last visit to Disneyland Paris in 2012! It wasn't just any visit, it was my 20th visit! Next to that, it was my second New Year's Celebration in the resort. Together with three friends, I was ready for a new and crazy adventure. We took the TGV en direction de Marne La Vallée and arrived at the gates at 8am30. Have a look by the way at this guy hanging on the ceiling of la Gare de Lille Europe!
Before going to hotel, one of my friends went to renew his passport annuel. The hotel we booked was Elysée Val d'Europe, a partner hotel very close to the metro station. After dropping of our luggages (quite some bags because of our New Year's presents!), we took the bus to enter the magical world. The Christmas decoration on the Main Street USA station was beautiful and we had immediate fortune! The Christmas Cavalcade was about to run through Main Street so we quickly found ourselves a nice spot to view this great little parade!
I really like the parade, it gives that extra touch of Christmas, especially when it starts snowing as the parade passed by. After getting a full passeport annuel for my friend, we went to grab a ticket for the Princess Pavilion and started our day with Meet Mickey! It was quite busy in the park, but we did quite some rides nevertheless. We definitely wanted to do Pirates of the Caribbean before the big update. (We'll have to wait and see if Captain Jack Sparrow will be joining the crew soon but I'm afraid not!)
We stayed close to the Pavilion and did quite some rides in Fantasyland: Peter Pan's Flight, The Carrousel, Le Pays des Contés de Fées and Casey Jr.! When it was finally time to meet our Princess, we were very curious and it turned out to be… Aurore!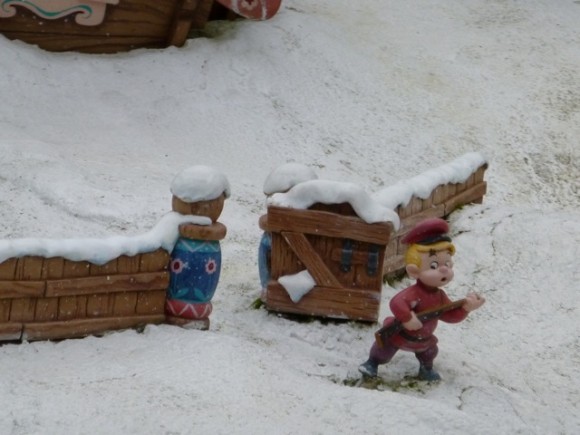 After eating a delicious lunch in Hakuna Matata, we decided to go for a quick visit to the Studios and on our way, I took some pics of the new iconic snowmen!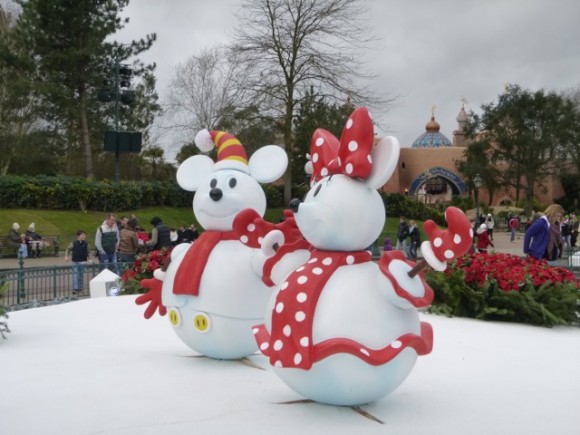 In the Studios, Mickey was about to meet his stars!
We went for a quick walk through the Lots and noticed that the stage for tonight was already there! We did some thrills: Tower of Terror, Rock 'n' Rollercoaster and even Crush's Coaster. There was one big downside in Rock 'n' Roller… There's no music! Some of you may already have heard, but they tried to install new pieces and the problem keeps occurring. This has also an effect on the loading time, which is much slower than usual…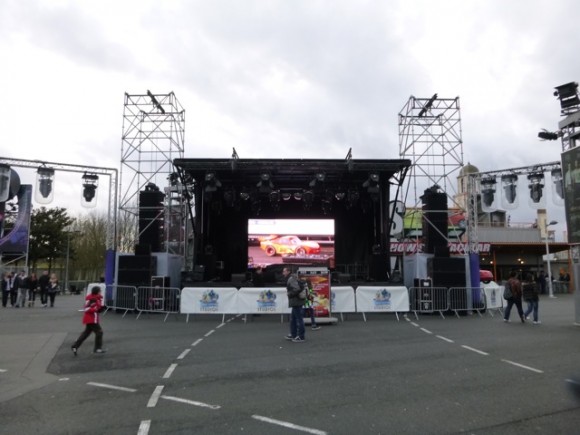 After going for a quick free hot drink in Studio 1, we went back to Disneyland Park. We still had to do some E-tickets! But first, it was time for the tree lighting ceremony! A very fun show for the kids and a nice magical moment for that one lucky child that can light up the tree.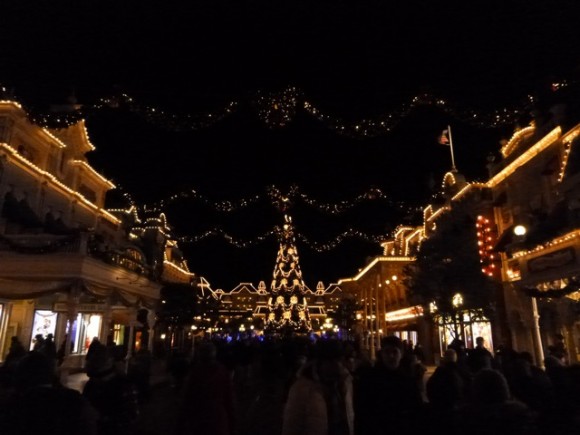 Then it was time for something familiar on Central Plaza. At 6 pm, we experienced Disney Dreams! There was a lot of wind, so some of the projections weren't clearly visible. Still, how can you not enjoy this show! After the show, something weird happened though. We tried to go towards Discoveryland but there were so many people that the guest flow blocked the road! So we stood still near the Discoveryland statue for about 20 minutes until they finally let us go through. It was very annoying, and I can't imagine having a pram in that crowd…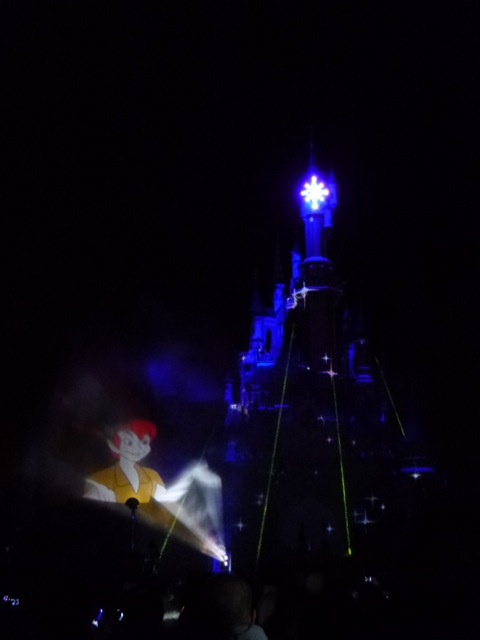 When we regained our freedom, we did some rides in Discoveryland such as Buzz Lightyear, Space Mountain and Star Tours. After those, we went to the Disneyland Railroad for a complete tour of the park. It had been while since I done that, and especially in the dark.
So we got of back in Discoveryland and walked through Fantasyland to Adventureland for a ride in Indiana Jones. It was almost 11 pm, so we went to Central Plaza to wait for the end of the year. After seeing the castle being lit up once again, it started raining… And we were wondering… Waiting for an hour, with no dj like last year to watch 5 minutes of crappy fireworks and Disney Dreams that we had already seen that day… Or, going to the Studios where there was a dj, also crappy fireworks but then free time left to start the year in Tower of Terror for example… After a chat at City Hall, we went for plan B at the Studios and we didn't regret it.
Arriving there, we noticed immediately how calm it was. Almost everyone was in the Backlot near the entrainment. On stage was a French dance instructor who taught us the several modern dances such as Waka Waka, Gangnam Style… It was a lot of fun, even though it was raining heavily! The final minutes of 2012 came closer and the countdown began followed by surprisingly good fireworks! They used modern versions of classic Disney songs which wasn't that bad!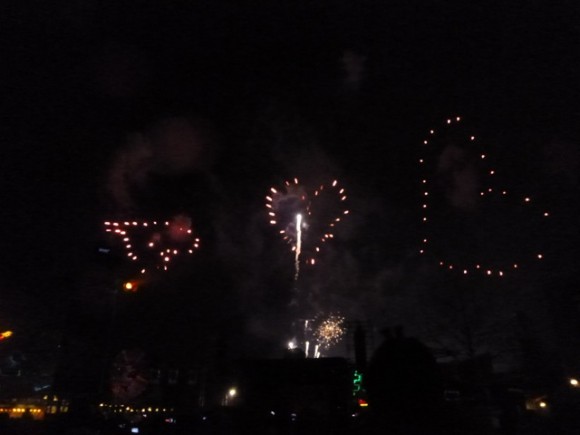 Our first ride of the year was Tower of Terror, where we (for once) filled it with party atmosphere! Same with Crush (only had to wait 5 minutes!) and RC Racer! At 1 am, we left the park and took the metro to our hotel to open up our New Years presents and celebrated all night long!
Tuesday January 1st 2013
Day 2 started quite late due to the late night sleep :p Still, at noon, we were back in the park and started our day in Discoveryland. Still had some rides to such as Orbitron & Autopia.
In Fantasyland we got ourselves a new Princess Pavilion ticket and went for a ride with Dumbo! It had been a while since I went on it, so didn't know about the Dumbo'rding pass! Clever system!
Next up were the Mad Hatter Tea Cups and It's A Small World Celebration. We ate at Toad Hall and well… We weren't satisfied. The fish and chips were rather tasteless and it was way too busy… In the Princess Pavilion we had the honour to meet the one and only Rapunzel!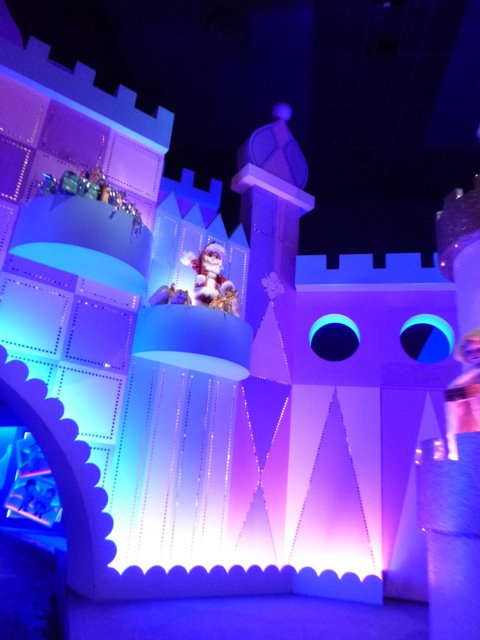 The sun started to go down, so it was a perfect opportunity to have a ride on the Molly Brown. Big Thunder Mountain had broken down once again, so we had a quiet mountain in our view.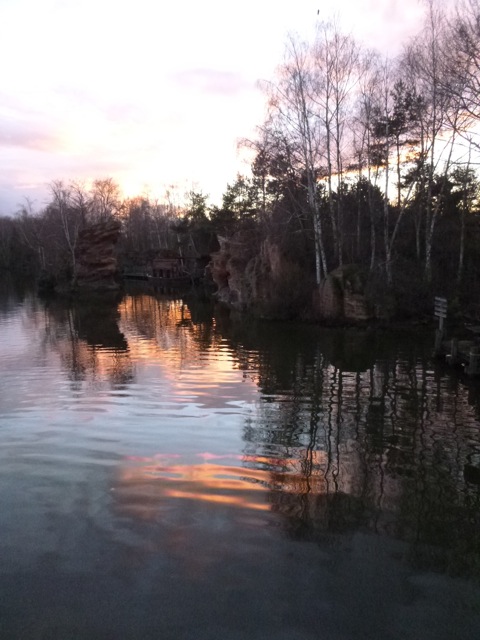 At 7, we went for a delicious buffet at Plaza Gardens, the perfect New Year's Day dinner! I just love those potatoes there, the delicious meat and the desserts of course! We did some rides to call it a day and enjoyed Disney Dreams once again… I can't help it, but with the big finale, I always get tears in my eyes!
But the day wasn't finished yet! We went to the Disneyland Hotel to have a look at the Gingerbread House and then we went to the World of Disney Store for our souvenirs!
Back in Val d'Europe, the weather was much better than the day before, so we decided to be like Rapunzel and let two sky lanterns float in the sky! Not to worry, we were near a field 😉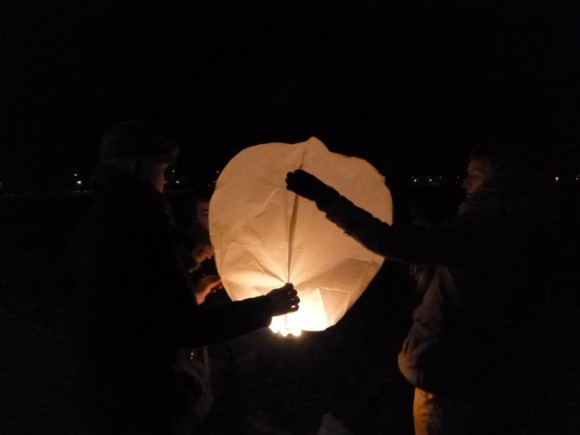 Wednesday January 2nd 2013
The final day of our New Year's trip… Today was going to be a Studios day and indeed it was.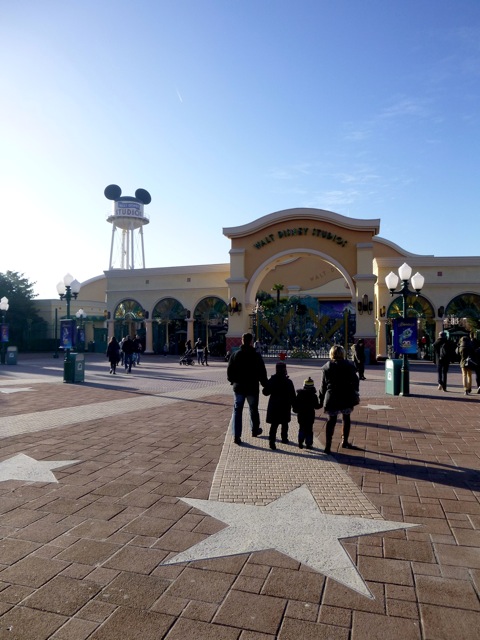 We started with a ride that I had never done before: Disney Playhouse Live on Stage! As I was sitting on the floor in the waiting room, a young boy came to sit very close. It was so cute! But then his mom came and said: "That's not daddy!" The little boy was startled, but waved as his mother laughed and we were allowed to go in. The shows is really cool for young children and I'm glad I've seen it now. Still, once for me will do 🙂
But before we went in, we met some of the Stars 'n' Cars characters such as Mulan, Mushu, Jessie, Emile and Mickey!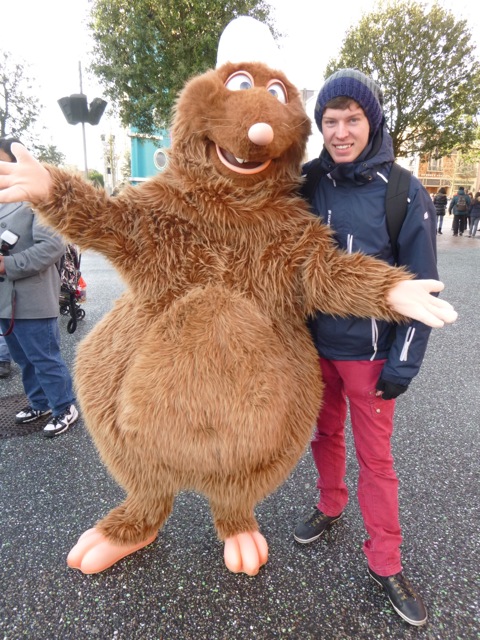 Then, we went flying with Genie in les Tapis Volants so we did all three mills in the parks! One of my friends had never seen Moteurs…Action! Stunt Show Spectacular so we went and enjoyed the show. It wasn't as good as usual since some of the scenes were cut short. But we saw the one and only Lightning McQueen of course!
At 4 pm, it was time for our guided tour! In April 2012, we had done the one in Disneyland Park, so now it was time for the Studios. I learned a lot about the background story that I didn't know. So it really is worth taking it. The highlights were the changing of the colours in Studio 1, the links with the original studios of Walt Disney and the smaller details which you otherwise don't notice.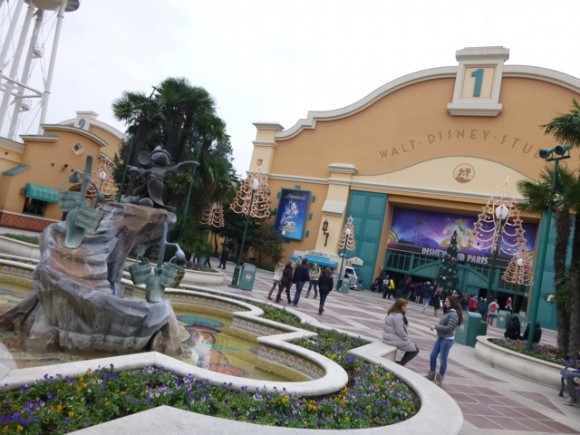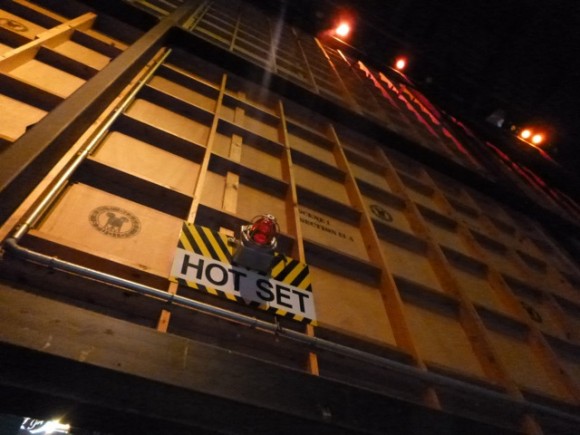 For example, have a look at this license plate!
After the tour, we concluded our day at the Studios with Tower of Terror and enjoyed the rest of our time in the park with Big Thunder Mountain, Phantom Manor, Indiana Jones, Pirates of the Caribbean and Space Mountain. We had to take the train back home at 9 pm so unfortunately no Dreams to end our day. But I think we couldn't complain since we had once again an amazing time! The Christmas decoration is beautiful, the new entertainment is excellent and the parks looked great. Can't wait to go back and enjoy it even more in 2013!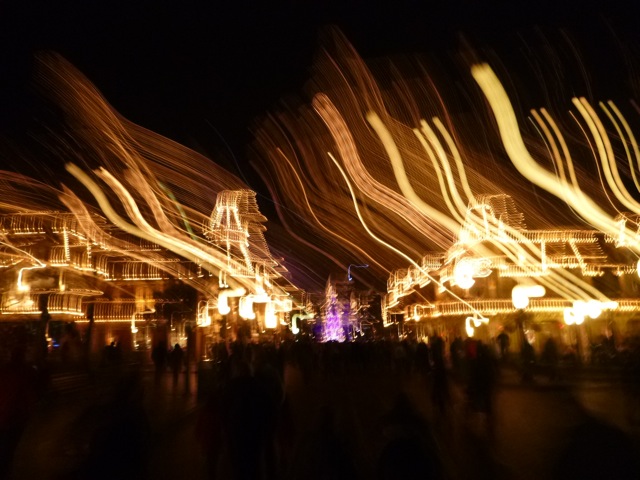 This time, I also have an extra! I didn't only take pictures, but filmed as well! So enjoy this small video to experience even more what I experienced! Hope you all have an excellent 2013!
httpvh://youtu.be/vyzlr-ajF1Y