Sven's Disneyland Paris 20th Anniversary Trip Report Day 1
Our Disneyland Paris reporter Sven Popelier was in Disneyland Paris for the 20th Anniversary at the beginning of the month and here is Sven's report from day 1 of his trip.
Sunday 1st April 2012
6.30am, time to leave my hometown for my fifteenth trip to Disneyland Paris! I started driving with three friends of mine to be one of the first to discover the 20th anniversary celebration. There was one thing all four of us looked forward the most: "Disney Dreams." After a two-hour drive with Disney music, we arrived in Chessy to check-in the Relais Spa Chessy Hotel. We were immediately impressed by how fancy the lobby was. Because we were to early to put everything in our room, we left everything in the car. We drove to the park and were ready for some Disney magic!
Passing by the World of Disney Store, you can see that the world is now on top of the roof!
We started our visit in Main Street and with the beautiful sunny sky; it looked stunning in its golden colours. When we looked around, we saw that one of the Main Street Vehicles was waiting for visitors, so we went for a quick drive through the golden street. Our stop was of course Central Plaza and the castle looked amazing as usual.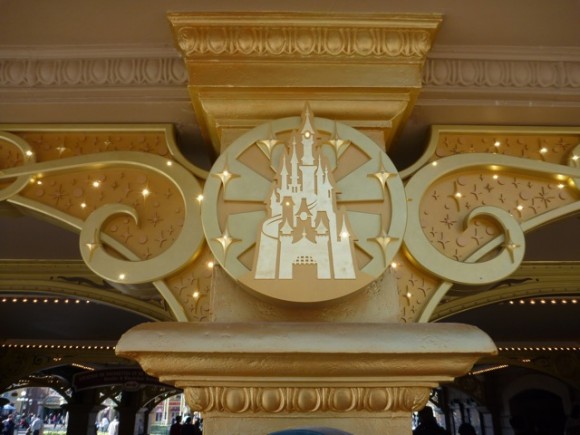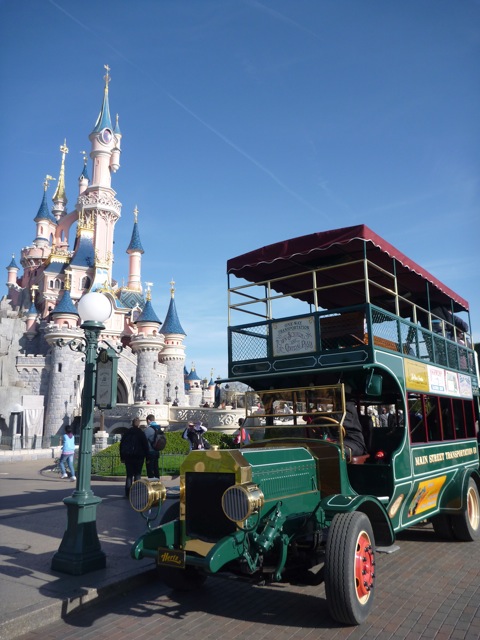 We decided to grab a fast pass for Big Thunder Mountain, even though the waiting time was only 30 minutes. Our first ride of the day was Indiana Jones et le Temple de Pèril. I was a bit scared at first that it would be too shaky for me since they just took away my wisdom teeth two days before, but luckily there was no problem at all.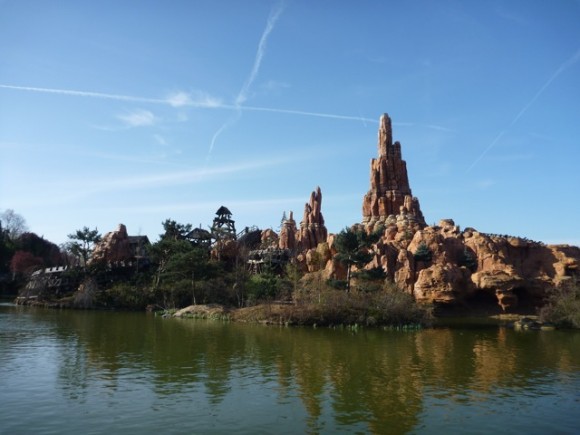 We still had some time left before we could go on BTM, so a quick visit to Phantom Manor. There was one little default in the manor: the skeletons on the Doom Buggies were missing in the final scene… After the wildest ride in the wilderness, we decided that we would eat in Plaza Gardens in the evening, so we went through Liberty Arcade to City Hall. I saw a beautiful lamppost that I had never noticed before. On our way, we also saw a character: the one and only Duffy…
When our reservations was made, we headed over to Discoveryland: A fast pass for Buzz Lightyear, a shot into space with Space Mountain and a quick visit to the octopus of Nautilus. In Buzz Lightyear, I wasn't very successful in shooting the targets this time, so unfortunately no attempt to reach the maximum score…
What's missing here? 😉
The Nautilus and its blue water looked very clean and it was tempting to go for a swim!
Our tummies started to rumble, so we went to Pizza Planet for cheap food! I had my sandwiches with me, since I wasn't able to bite a lot yet and fortunately they let me accompany my friends in the ugly tent.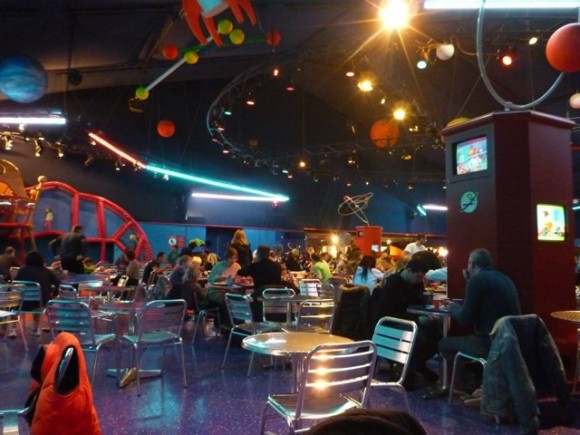 Next up: the Walt Disney Studios! It was the first visit to Disneyland for one of my friends, so we were excited for his first ride on the Tower of Terror. He really enjoyed and it remains one of my favourite rides I've ever done. We weren't done with thrilling rides just yet, so we listened to some Rock 'n' Roll! When I came outside of the coaster, I noticed that Marvel has made his way into the parks once again! There were several posters of the Avengers.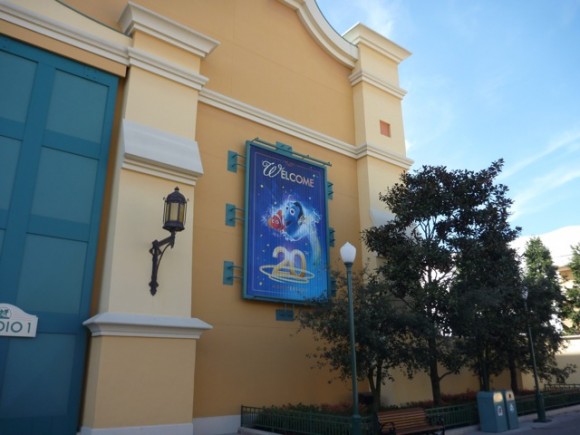 After Armageddon, we went back to the park. The friend that had never been to the parks before, had bought a passport annual and since the desk in the Studios wasn't open, we had to make sure he had his pass. Unfortunately there was a huge waiting line. While he was queuing, I went to the Gibson Girl for some ice cream. The weather was still very sunny, so many guests had the same idea. After twenty minutes, I was back with some delicious but expensive ice cream.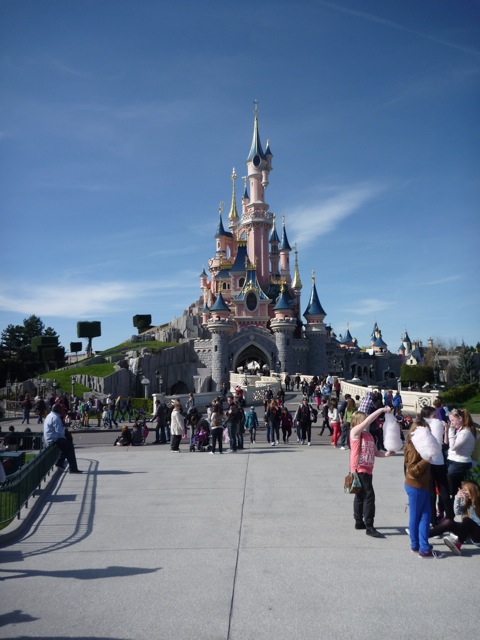 When he finally came back with a 20th anniversary pass, we searched for a good spot to see the new Magic on Parade! I have to say that I quite like the 'new' parade. The first float was better than I expected, but the tower could have been a bit bigger. The floating effect of the fairies is very cool, I was quite jealous since it would be a good way to tour around the park!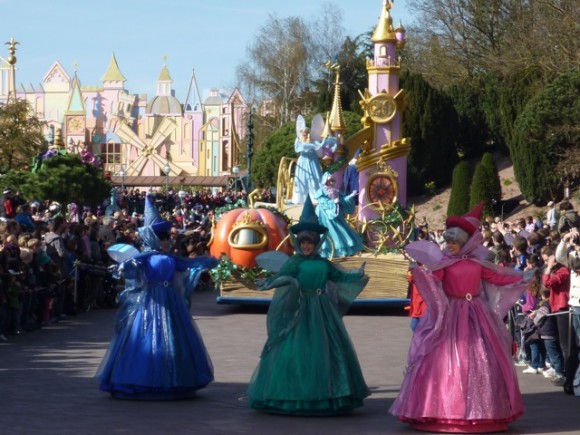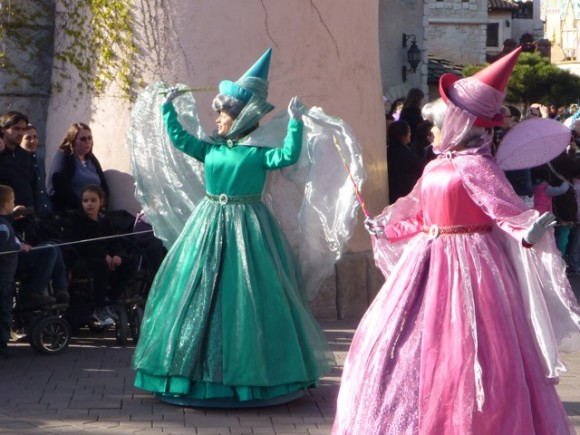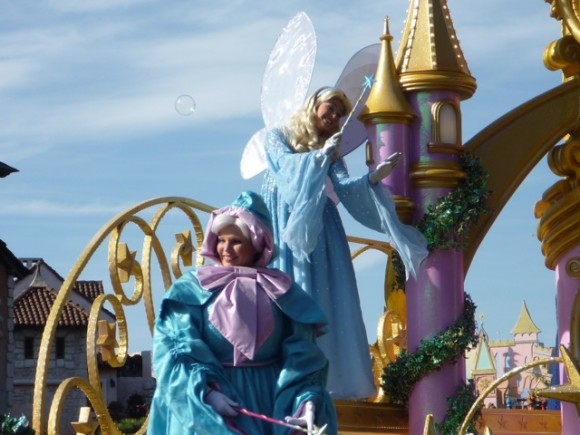 The carriages are well done as well, but it would have been better if they weren't driving so closely together. I really missed Aladdin, Jasmine, Belle and Adam (Beast) but the swing fits Rapunzel perfectly.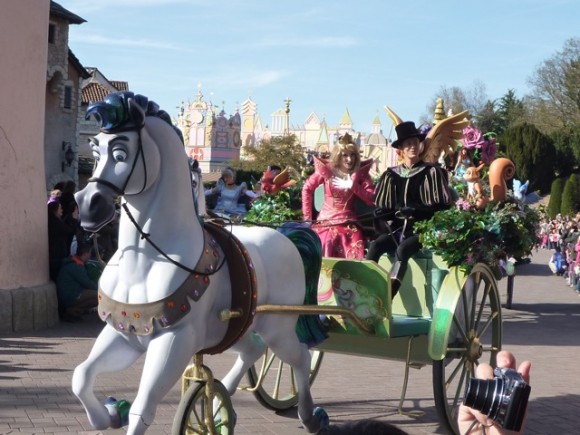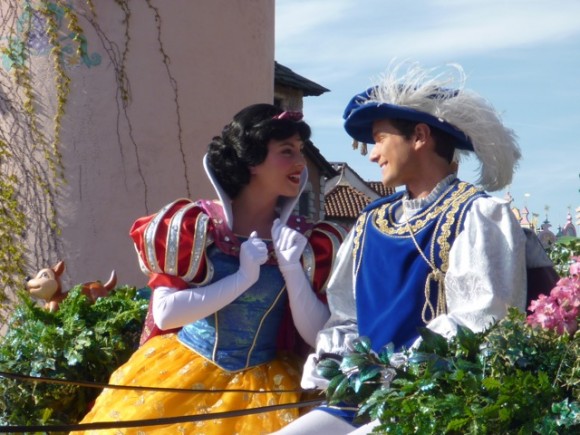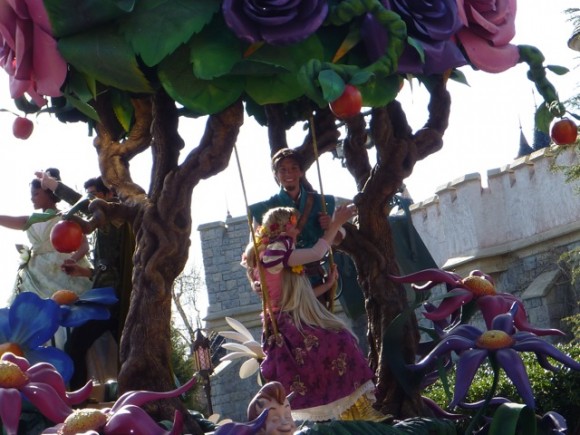 The other floats were looking great and they are all nicely adjusted to the new song. Some people don't like the fact that there isn't any individual music anymore and that the characters no longer talk. I, however, wasn't really bothered but I was impressed on how intensive the new dance moves are for some characters.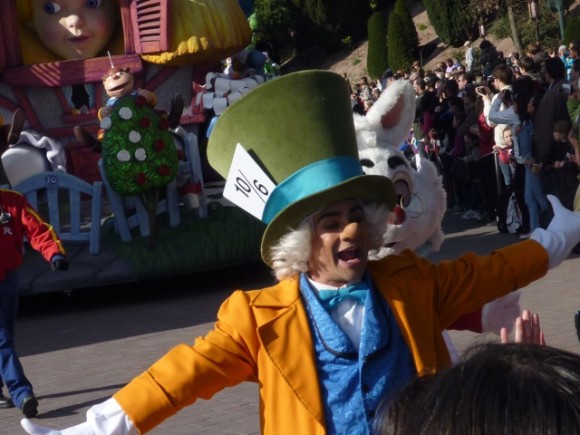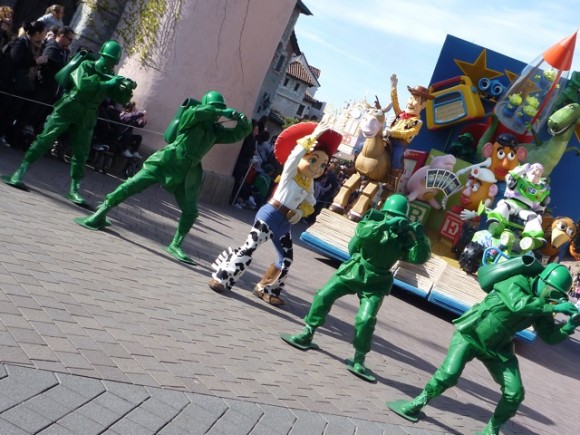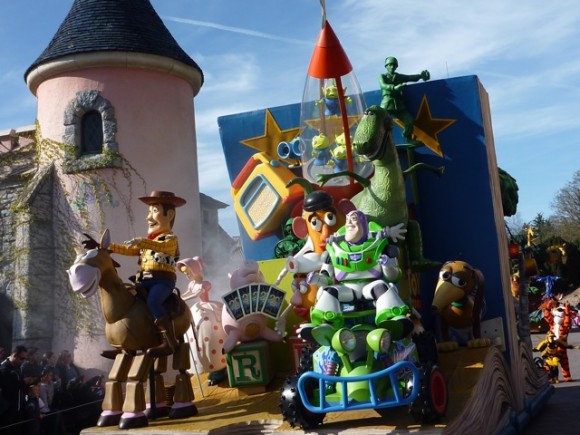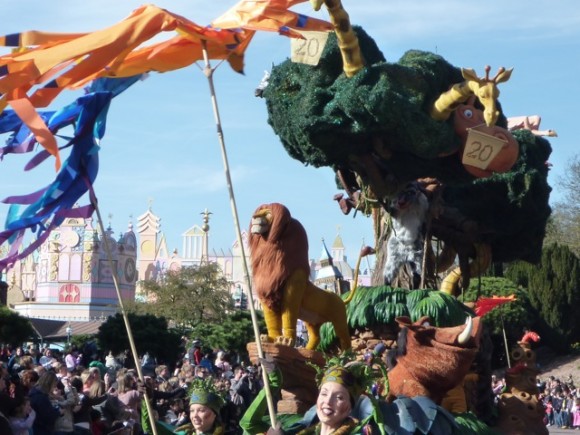 Finally, Mickey and his friends arrived in the stunning final float. The characters look great except for one: Duffy. It's very odd to see him there. Pluto would have been a better choice. At the end, no Tinkerbell but Donald, who was waving at the guests. Overall, it was better than I expected. It's a very energetic parade and Mickey on top of the mountain looks amazing. I wasn't a big fan of the song at first but now I'm starting to appreciate it!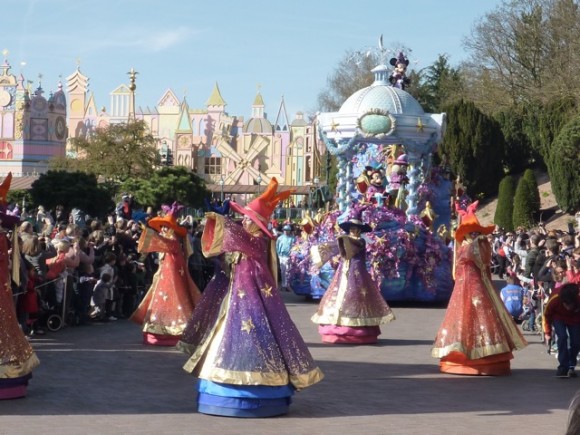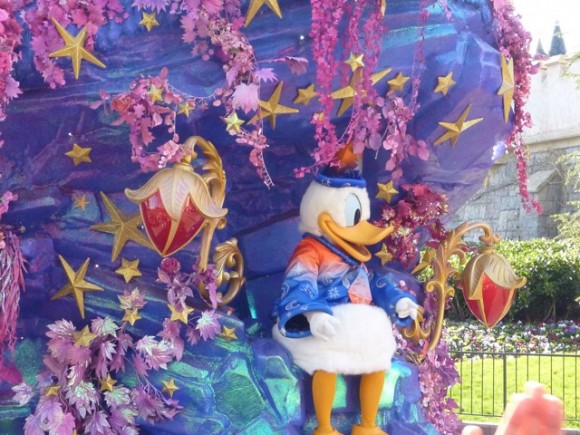 There was one very important ride that we hadn't done yet: Pirates of the Caribbean. Also in Adventureland, we noticed that the deck of Captain Hook's Ship was open again! There was even a Cast Member on board, but we didn't really see any use why he was there.
In Fantasyland we visited Pinnochio and took the tour of Sleeping Beauty Castle. Outside on the first floor, we noticed the equipment for Dreams! Also on the front side, you see that some of the equipment still needs some theming.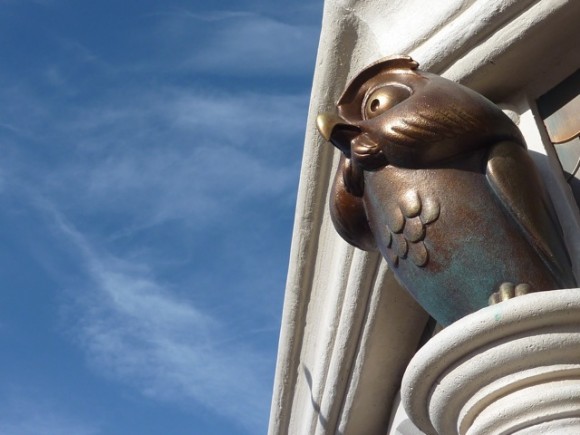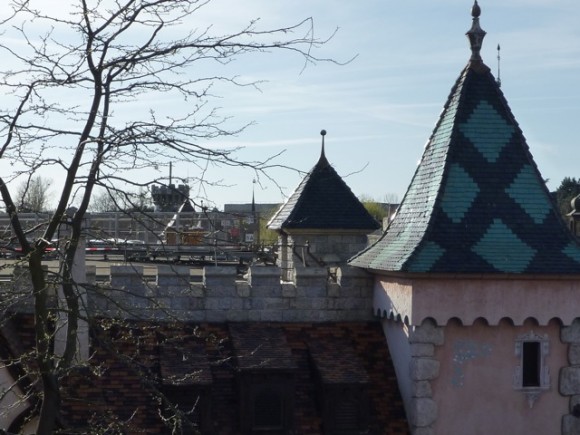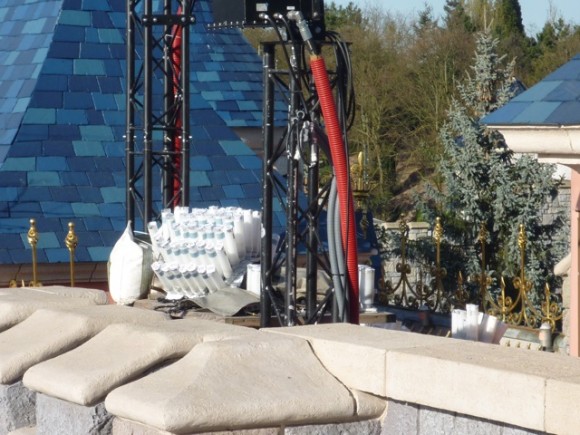 There was another dark ride on the list: It's A Small World. It was the first time that I noticed that there was a boat for disabled persons.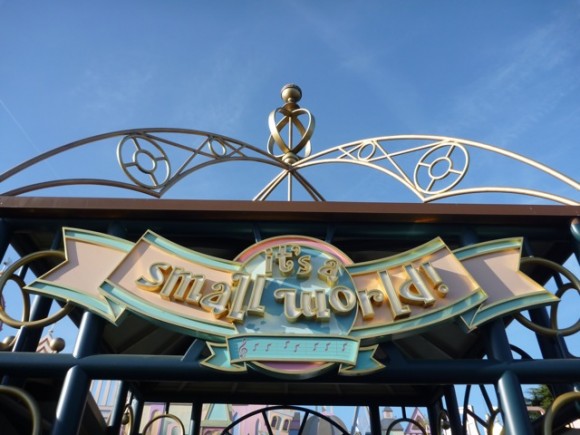 We were too early at Plaza Gardens for our reservation, so we sat down outside and enjoyed the atmosphere. All of a sudden, the music changed and it was as we hoped for. The fountains started dancing! We ran to the castle to see it and it must have been pretty funny to see us running. Short teaser but it got us even more excited to see Dreams!
After enjoying an excellent buffet, even though I had some trouble eating, time to go the center of Central Plaza. The star came out of the castle like a flower and it got us even more pumped! We were half an hour on advance there, but there were already a lot of people. "In five minutes, you can enjoy Disney Dreams!" The new Dutch voice by the way is much better. Now you can clearly understand every word since it's a native speaker.
The lights went out and the magic started… I didn't film or take pictures as I had promised myself. One word: amazing. The song choice is excellent and it's breathtaking what they can do with the castle. The fountains were a great addition and the fire was quite hot! The story was clear but I was most impressed by the ending! Spectacular!
We liked it so much, that we stayed for the second show and this time with an even better spot: very close the 'VIP room'. I couldn't resist taking pictures and even this second time, I was blown away once more.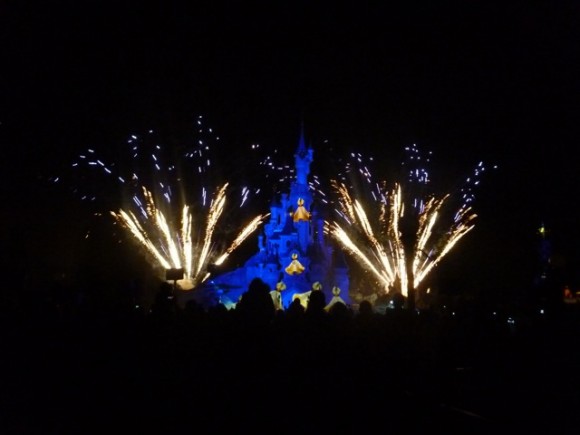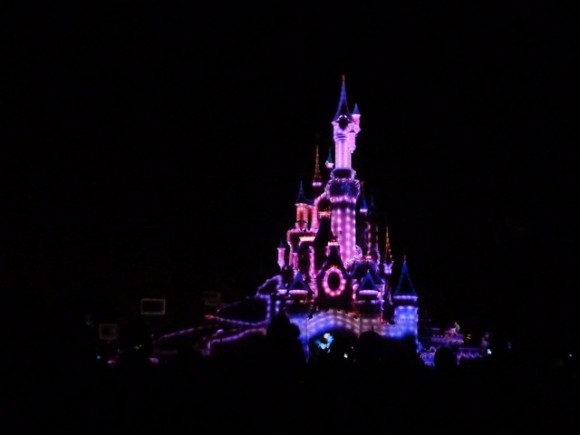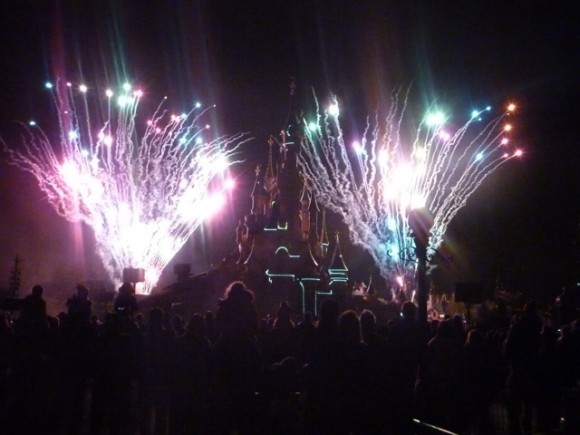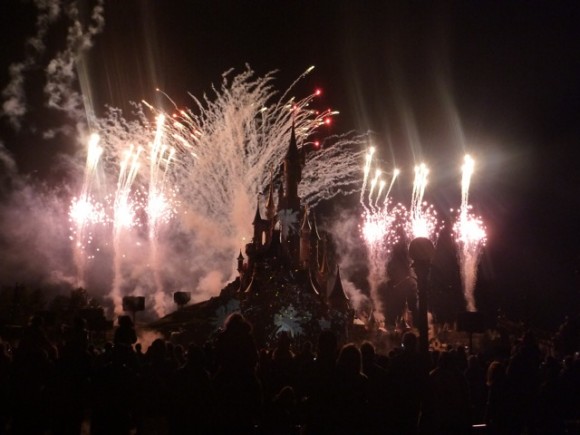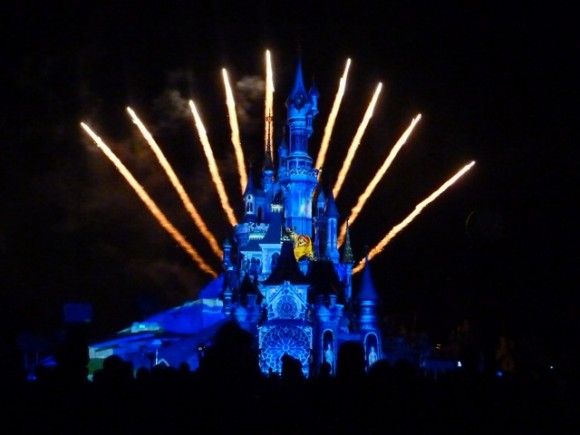 Our energy level was very low, so when we were quite glad to arrive in our hotel room. It was a shame that we were only there for one night, because the room was very luxurious: A living room, a kitchen, a beautiful bedroom, a bathroom with an excellent shower, a separate toilet in the hall and huge balcony. When I looked out of the window, I could even see the Eifel Tower! Still, we were very tired, so we didn't wait too long to dream about Dreams.