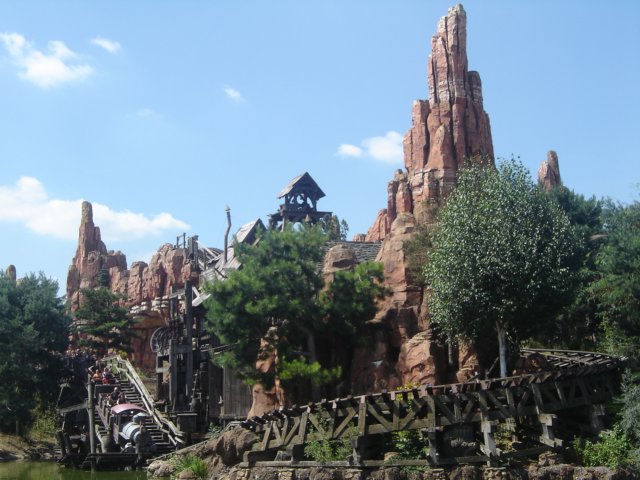 I'm finally going to ride Big Thunder Mountain at Disneyland Paris…I think!
In our ten trips to Disneyland Paris I have never been on any of the thrill rides, Big Thunder Mountain included. I've never liked these kind of rides, not from a young age and not now. However, I have been thinking about Big Thunder Mountain recently and how great it looks.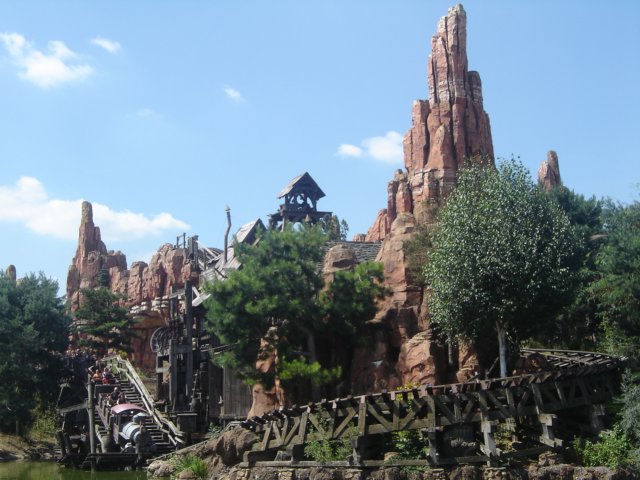 When I look at rides like Space Mountain 2 or Indiana Jones I don't ever, not even for one minute, wonder what they would be like. The mere thought of going on a ride such as those fills me with dread. It's not the same with Big Thunder Mountain – it looks a lot tamer than those other thrill rides, and maybe at a level that would be ok for the big chicken that is yours truly. It was a comment by Alan on a previous post I made about Indiana Jones that made me think even more seriously about the possibility of actually experiencing Big Thunder Mountain. He said:
Big Thunder Mountain is tremendous fun and a truly mind-blowing experience.

But whatever you do, don't miss Big Thunder Mountain. It's such such a cool experience that goes beyond a typical roller coaster. In fact, I don't really think of it as a roller coaster; it's so well themed that it feels more like a some sort of adventure. It won't terrify you, and you'll have so much fun that you'll want to do it again and again. It's probably the most fun family ride in the whole World, particularly the Paris version.
Those words resonated with me and I really began to believe that I wanted to go on Big Thunder Mountain, and that I was possibly missing out on something I would enjoy. The motion of the ride is one thing that I'd need to get over, but to miss out on all the wonderful theming was something I don't want to do. I then went to YouTube and found this on-ride video from DLRP Magic.
httpv://www.youtube.com/watch?v=a6_AuOzPrAg
Watching the bits where the train goes fast and downhill and round corners does look scary and sends a little shiver down my spine. In fact I'll admit to you that I am a bit more daunted by the prospect of going on Big Thunder Mountain after just now watching that video again. So much so that I have just added "…I think" to the end of the title of this post! It's a ride that I really do want to go on and I know that I will be my limit, you'll just never get me on the likes of Space Mountain 2 for all the tea in China, and not just because I don't like tea.
There are 262 days until our proposed trip back to Disneyland Paris, and in that time I have to build up the courage to go on. My son is currently just 89 cm tall and he'll have to grow to 104 cm to be tall enough to go on Big Thunder Mountain. If he isn't big enough then this is all immaterial as I won't go on anything he can't go on. That's not a cop out, I just don't want him to feel like he's missing out on anything. If he is tall enough by next June and he wants to ride Big Thunder Mountain then I'll have no excuses. I really hope I do manage to ride it, more than any other ride that I pass on, I feel that Big Thunder Mountain is one of the truly iconic Disneyland Paris rides.