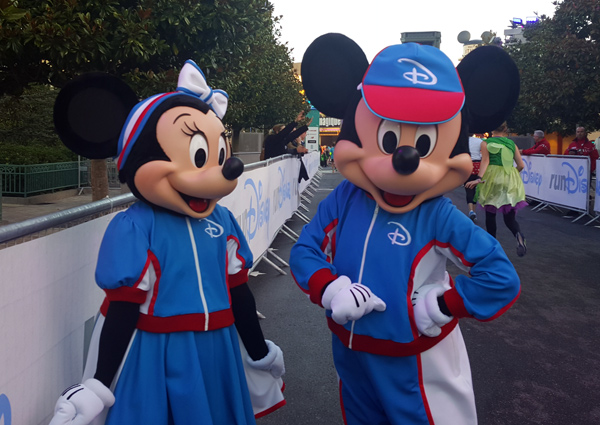 Disneyland Paris runDisney 2017 Diary Day 2 – The runDisney 10K
A 4:30am alarm?! Must be a runDisney race day. Getting up and motivated at this time in the morning was never going to be easy, but I just kept the thought of my second shiny medal in mind. Entering the events arena just before 6am, runners were divided into their corrals A, B or C, all leading out back on to Avenue Paul Seramy and up towards the roundabout where a stage had been set up and a DJ was waiting to entertain us for the next hour. Big screens showed DLP promotional videos and after 15 minutes it was getting rather cold, good time to bring on the hosts for the pre race entertainment.
After half an hour of crowd interaction, an interview with Paula Radcliffe, plenty of loud music and a warm up it was time to move to the start line. The race started on time at 7am with runners realeased in delayed groups each getting their own count down and fireworks. The 10K course was to take us through both parks this time starting with Walt Disney Studios.
Following the same route into the park as the 5K we proceeded through Studio 1 to find the first characters en route, the 3 pigs waiting outside Art of Disney Animation. Passing through Place de Remy, Toy Story Playland and then Tower of Terror, the route led us onto the Studio Tram Tour, again. With no other characters in sight we carried on out into a backstage area and to what appeared to be the landing spot for rogue service elevators from Tower of Terror.
We then looped out of the Studios exiting onto Fantasia Gardens and into Disneyland Park. By this time the only characters I'd seen were the 3 pigs so another character was surely just round the corner. My motivation was already dwindling as we ran down Main St, lined with cheering supporters and Cast Members, towards the Castle, beautifully lit in the morning sunrise with the fountains decorated in the memorable Dreams! colours. Stunning.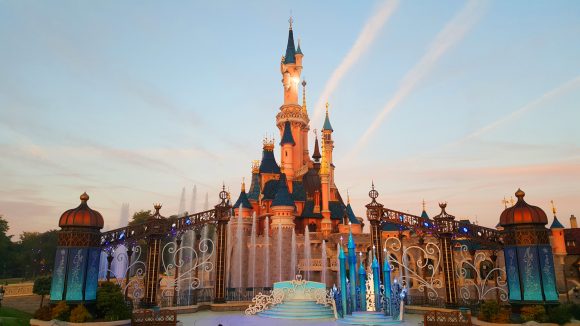 Entering Frontierland and passing the 3K marker my need for some character interaction was getting to desperate levels now, but still none to be seen. If it wasn't for the cheering Cast Members I would have been quite bored. Into Adventureland and passing Agrabah finally I spotted characters, Aladdin and the Genie. Then round the corner to Fantasyland where Pinocchio and Jimminy Cricket were just arriving in to place in front of Le Carrousel de
Lancelot.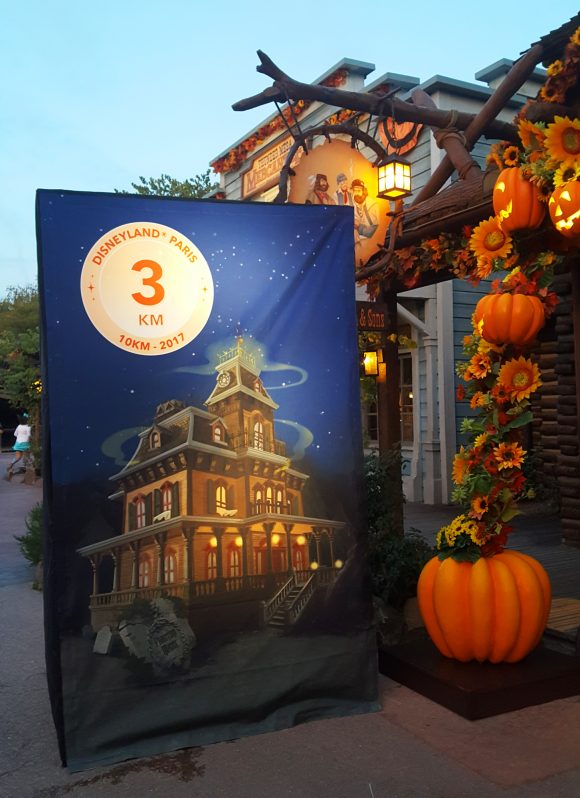 Through the castle and past the Castle Stage the most impressive character experience awaited us. Aurora, Prince Phillip, the 3 fairies ( all sporting rather plastic new faces, sorry ladies but does nothing for you, you were gorgeous the way you were!) and the most breathtaking part, the 25th Anniversary Maleficent Dragon float, moving, with eyes lit. I took my time to get close to this float and see all the inner working as when would I get the chance again!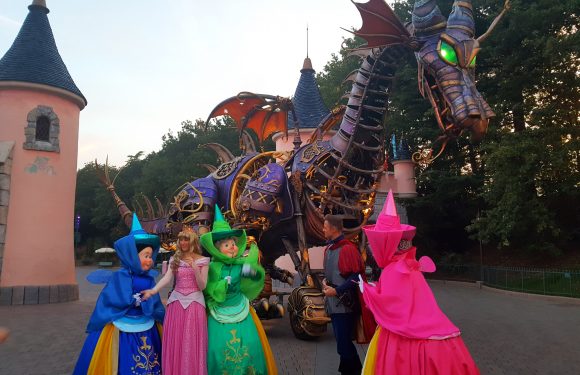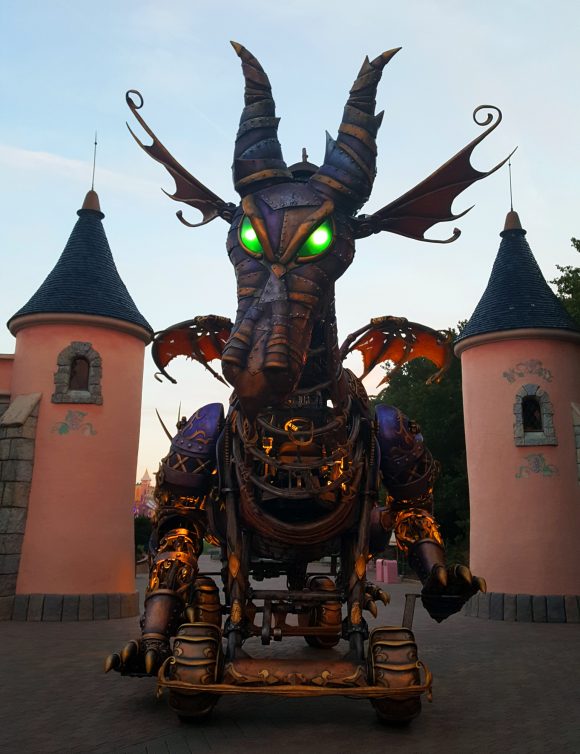 Next the route took us through Discoveryland to find Stitch and Angel. The route lopped us round Hyperspace Mountain and passed Star Tours. Following the back route into Fantasyland again where the Fairy Godmother (looking au naturale, good for you girl), Merlin and their float from Magic on Parade were waiting. Was so nice to see this float again as I do miss this parade. Now singing "Magic Everywhere" to myself and motivation levels back, we carried on into the backstage areas of Disneyland. Nothing of too much of interest to see here apart from the odd Le Pays des Contes de Fees boat in a parking lot. Back into Fantasyland to find Cheshire Cat and the White Rabbit complaining we were late. In to the back areas of Adventureland we went, coming across Kuzco, Kronk and Yzma, passing the 6K marker and into the backstage areas again. Sirens and blue lights flashing indicated the fire staff cheering us on, one of the most heart warming sights.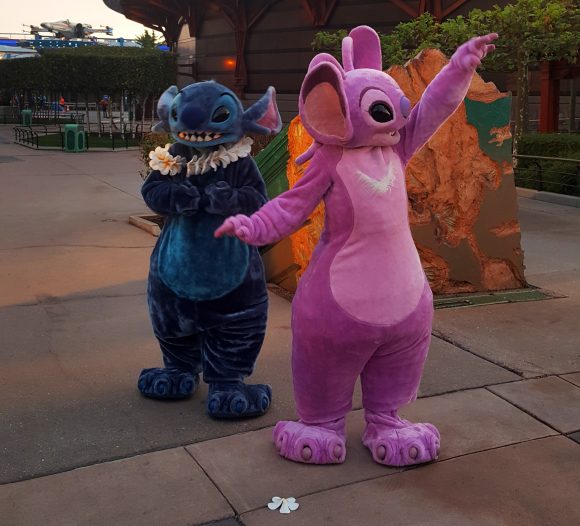 Back into Disneyland Park again this time via Frontierland we passed The Chaparral Theater and headed towards Big Thunder Mountain where I spotted Woody and…..BULLSEYE. No one could feel the pain of running with characters like these to distract you. Towards Phantom Manor and the next characters Jack and Sally. The good characters really were coming thick and fast now, I was excited to see who might be next! Unfortunately things then went quiet again as we exited Disneyland Park, past the 8K marker, back to the Studios and you guessed it, back to the Studio Tram Tour. Taking a very familiar route now we ran onto the Stunt Show stage and past Remy and Emile again. Near the end now, I was desperate for a banana and to see the finish line as we rounded the corner onto the final stretch. Time for a quick photo with Donald and Daisy, then Mickey and Minnie, and across the finish line we went!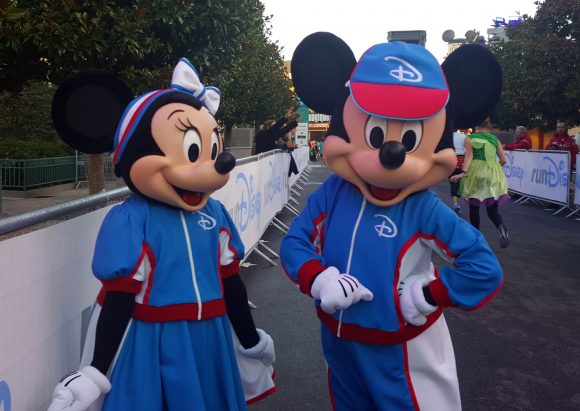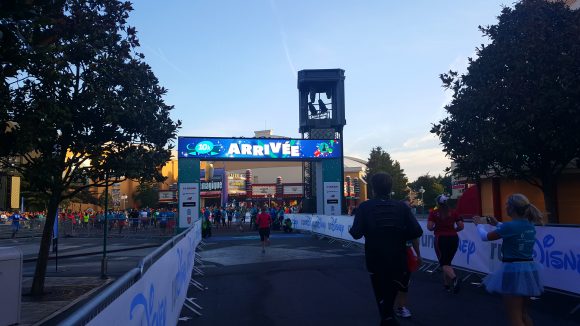 After collecting our medals there was some confusion for the Bibbidi-Bobbidi-Boo challenge runners as we were now meant to collect a wrist band to prove we had completed the 10K. This seemed to have been changed at the last minute as no band was needed just our bib. Feeling a little uneasy and wondering how they would be able to prove I'd completed this race we continued to collect out drinks and snack packs including a banana – YES!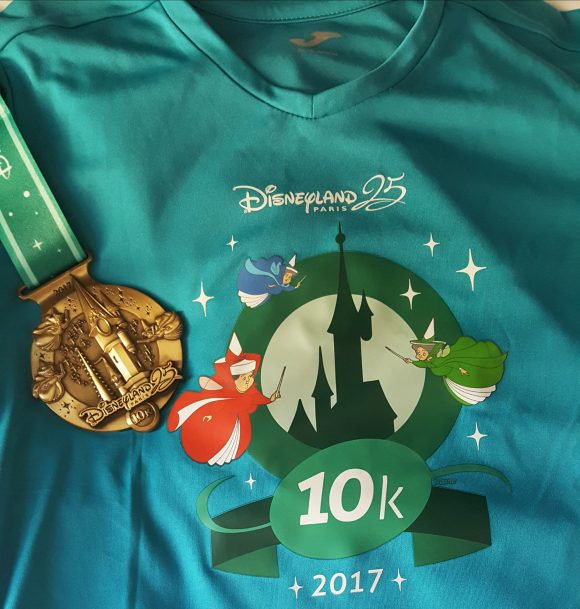 Medal two down, two to go. Not sure my legs can handle this but after the brilliant range of rare characters in the middle of the route today, I was excited to see what was in store tomorrow for the half marathon. Bed and rest was seriously needed before then though!