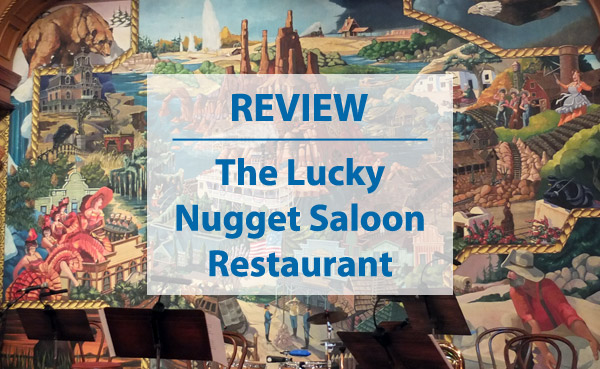 Disneyland Paris Restaurant Review: The Lucky Nugget Saloon

You may remember from my previous post about The Lucky Nugget Saloon that I've never even entered this building, let alone eaten there, so this was an absolute first for me…as opposed to a partial one?! Inside it's absolutely gorgeous, and nicer than any saloon I've ever seen in films, which is my only reference for saloons other than the Red Garter Saloon over at Hotel Cheyenne. On the wall behind the stage is the most incredible mural of Thunder Mesa depicting a thriving community, pre-earthquake. There is a gorgeous display of carved wood on display and some great over hanging balconies on the first floor. There are also some quite exquisite chandeliers, which the light appreciator in me enjoyed.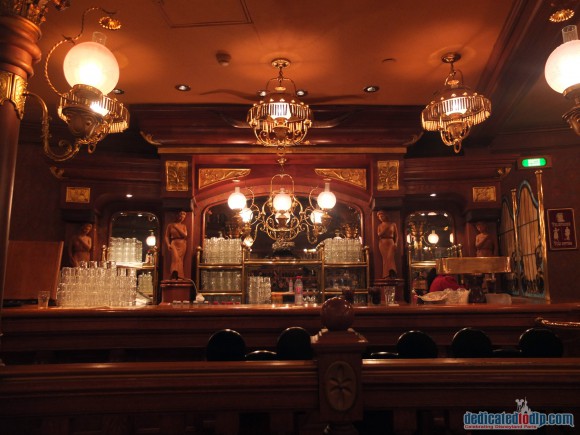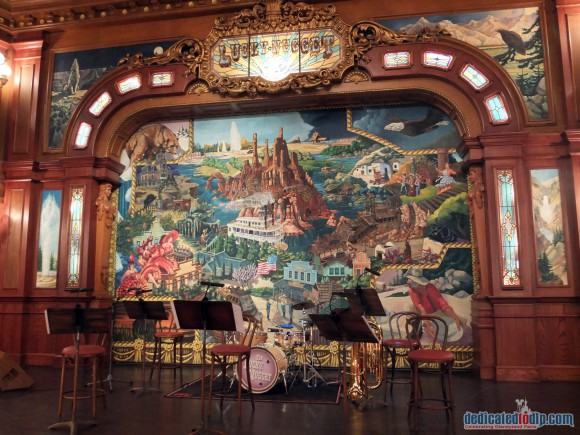 When we entered there was a band playing, but they stopped soon after. They played on the same stage which is rumoured to see a puppet show coming some time soon, but there has been no further news on that. One thing to note is that whilst there is a comprehensive menu on the wall outside The Lucky Nugget Saloon, once inside you are given a menu with just a few meal options. If like myself you wanted, for example, the chicken burger, don't be put off by it not being on the menu you get given, just ask for it when you get to the till.
Speaking of the till, that's where you queue up to order, just like a counter service restaurant. However, it then takes a bit of a classier turn, as you go to your table and your food gets brought over to you. They wait until they have taken the order for everyone in your party, and then when all the meals are ready they are brought over to your table all together. The food itself was fantastic, with my chicken burger actually turning out out be a proper chicken fillet, which was cooked to perfection. It didn't stop there though, as it was a chicken cheese burger! For someone who would usually ask for cheese to be added, this was a rare treat and very very welcome. It keeps coming, for it wasn't mere fries that came with the burger, but curly fries. Beautifully seasoned, crispy on the outside and fluffy on the inside curly fries.
Throw in an ice cream that looked freshly scooped and presented in a glass ice cream vessel (what do you call the glass an ice cream comes in – is it simply a glass? My mind has gone blank!) rather than a pre-packaged and sealed offering that I had suggested it would be, and this was bordering on fine fast food dining at an affordable price. Did I mention our waiter? Well he added to the whole experience, in a very positive way, being supper friendly and just a lot of fun. He didn't know, but we were tired after a hectic 3 days and just 90 minutes from leaving Disneyland Paris. That period in time, as anyone who has visited will know, can be pretty emotional – who wants to leave the happiest place on earth? So having a Cast Member adding that final bit of magic was exactly what we needed, and very much appreciated – thank you Farid.
You might be getting an idea that I enjoyed the food in The Lucky Nugget Saloon, and you'd be right. I'd even go as far as saying it is the best food of this type in Disneyland Paris, especially when you take into account the setting. I'd intended to check it out when I return in the summer anyway, but after eating there it's an absolute must, on every trip back to Disneyland Paris. I'll be especially intrigued to dine there if this puppet show rumour comes to fruition, but for now The Lucky Nugget Saloon gets a massive double Mickey thumbs up.