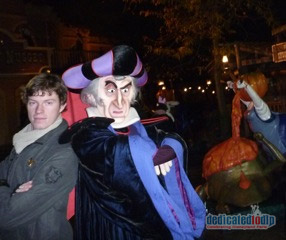 20 Questions with a Disneyland Paris Fan – Sven Popeiler
1. When did you first visit Disneyland Paris?
9 & 10 May 1998 when I was 8 years old!
2. How many times have you been in total?
14 times (07/02/2012)
3. What's your first memory of Disneyland Paris?
Standing in line for Autopia when I was 8 years old! My first Disney ride ever!
4. What's your favourite attraction and why?
This is such a hard question! I love several rides but if I had to pick one to put in my backyard, I think I'd go for Tower of Terror. I love the thrill, the atmosphere, the story and the cast members! (If they do there job well!)
5. Where do you stay when you visit Disneyland Paris?
I have stayed at Novotel, Santa Fe, Cheyenne, New Port Bay and Adagio. I usually only go for a one day trip since it's only a two hour and a half drive for me.
6. Where's your favourite place to eat?
I always eat at Colonel Hathi's Pizza Outpost! Love it there!
7. What you do first when you get to Disneyland Paris?
Take loads of pictures! 😀
8. Pins, Vinylmations or neither?
Pins! I collect Tower of Terror pins, pins of my favourite characters and some of the sets!
9. Do you want to see the Captain Jack Sparrow brought to the Disneyland Paris Pirates of the Caribbean like they have in Walt Disney World and Disneyland?
Yes, as long as they don't change the music!
10. Is there anything in Disneyland Paris you have never done that still would like to do?
I've never visited the park with the person I love the most in the world, once that I've found that person.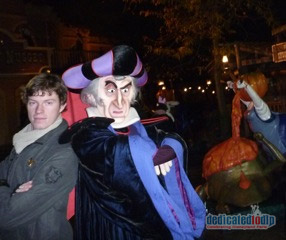 11. Before you do you plan yours days or just see what happens when you are there?
I plan a bit for the parades and shows. I plan the rides that I want to do when I had a look at the waiting times.
12. What piece of music or song do you most associate with Disneyland Paris and why?
Dancin' (A Catchy Rhythm)! Because it makes me think of the parade when I was younger which I enjoyed so much!
13. If you had to make someone a fan of Disneyland Paris by showing them 5 attractions/buildings/shows – what would they be?
Rock 'n' Rollercoaster, Big Thunder Mountain, Pirates of the Caribbean, Phantom Manor and Tower of Terror!
14. If you could add one new attraction to Disneyland Paris what would it be and where would you put it?
Splash Mountain with a Princess and the Frog theme in Frontierland! Because there really has to be a water ride!
15. If you could spend one night anywhere in Disneyland Paris, except the hotels, where would it be?
In Frontierland and Adventureland! Those two are my favourite lands and I could spend hours there!
16. Are you planning to visit Disneyland Paris during the 20th Anniversary Celebrations, if so when?
Yes, I will be there on April 1st and 2nd to be one of the first to see Disney Dreams!
17. If you could be a Cast Member for a day in Disneyland Paris, where would you work?
Either Tower of Terror or Phantom Manor. I love the costumes and I would love play a mysterious character!
18. Is there anything you dislike about Disneyland Paris or would change?
Studio Tram Tour… Two possibilities: bye bye ride or a very big update!
19. What's your single greatest memory of Disneyland Paris?
Stitch Live! during my 13th visit. He said I escaped from space prison and that I had an ugly face! Unfortunately I couldn't ask for a new one to Santa since I had been bad!
20. In no more than 20 words I love Disneyland Paris because…
It's one of the few places in the world where I have no worries and enjoy life the most!
Want to be featured in 20 Questions with a Disneyland Paris Fan? Just email the answers to the questions, which can be found here, to dlp@dedicatedtodlp.com and let everyone know what you love about Disneyland Paris and why it's the happiest place on Earth.