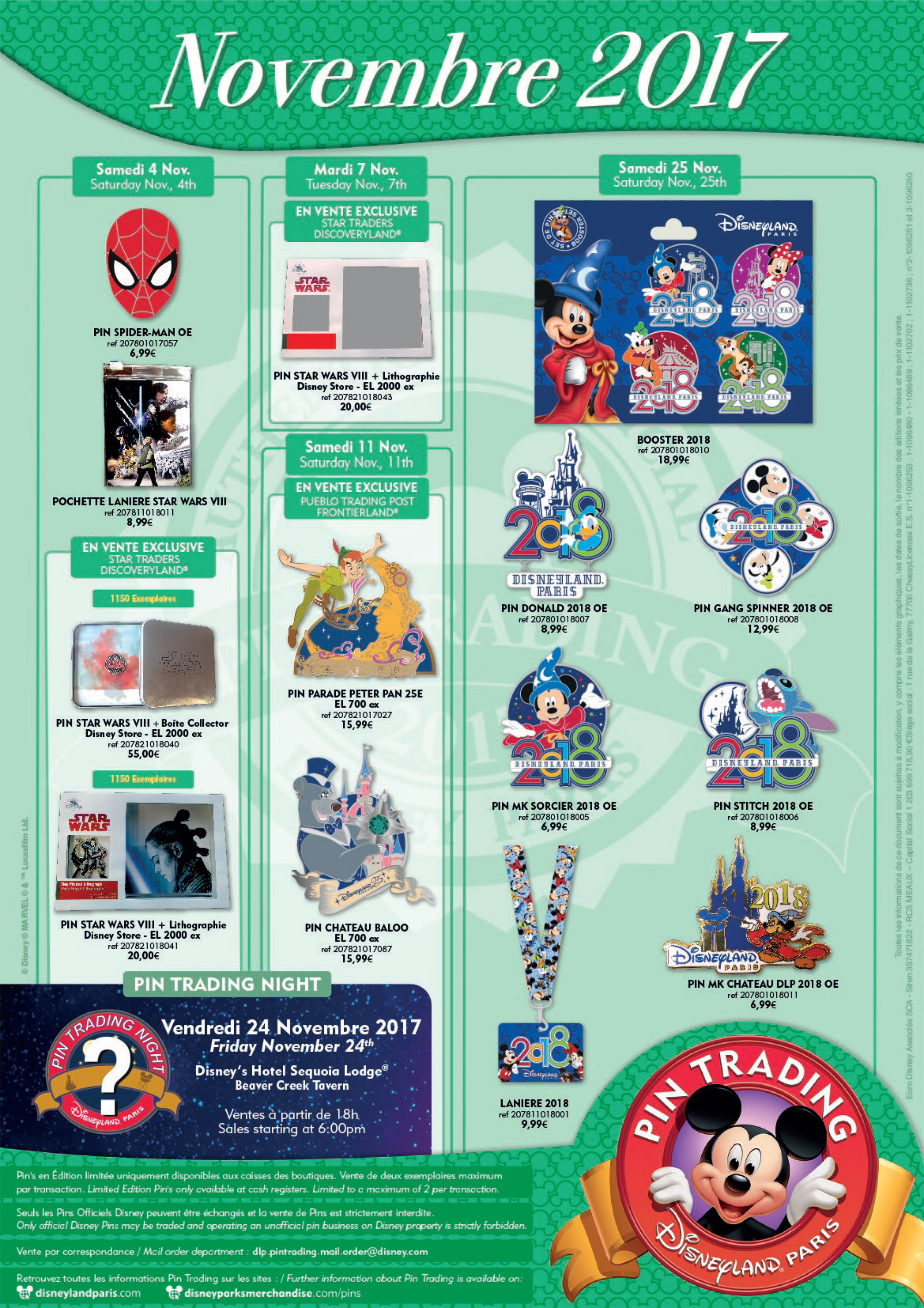 Disneyland Paris Pins For November 2017 – Star Wars, New Year, Mysteries & A Fidget Spinner!
I know I know, it's been months since I talked about pins, but I'm back, and talking little enamel badges once again. Are pins a class of badge, or are they two entirely different entities? Anyway, you think about that while I show you the pin poster for Disneyland Paris' November 2017 pins.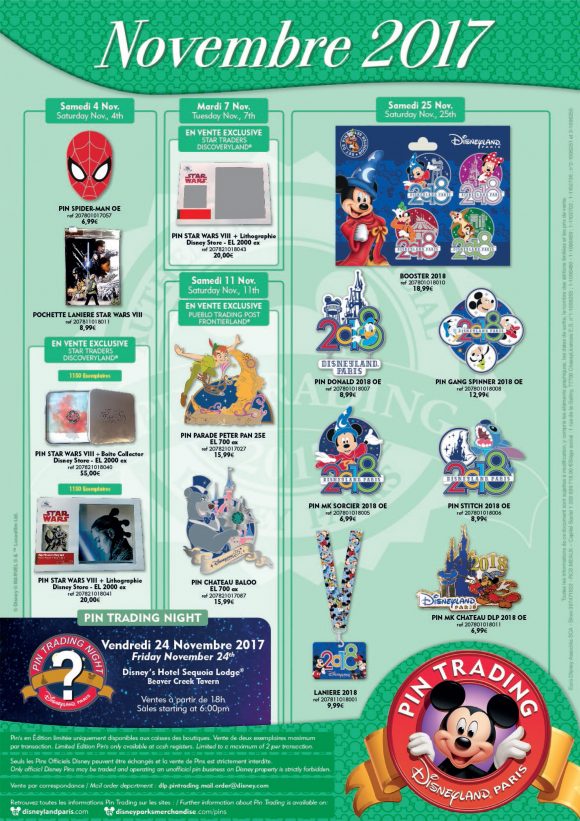 For some reason the poster is not as good quality as we are used to, so the close ups may not help as much as previously, but I'll go with them anyway.
Disneyland Paris Pins For November 4th 2017
Glass half empty would point out that these have already been released and therefore I'm late, but I like to think of the glass as being half full, so yes these have already been released, but you don't have to wait for them, you can go buy them now! The Spider-man mask pin is as generic as they come, so let's move straight on to the Star Wars Episode VIII lanyard pouch, which I may actually consider buying in December when I'm back in Disneyland Paris. For years I've preferred to keep everything in my wallet, but on my last trip I got so fed up of reaching into my wallet for my annual pass, or my fast past tickets, or my PhotoPass card that I have had a lanyard and pouch epiphany, and they will be mine. Pity there is not a lanyard to go with it, but I have plenty at home anyway.
The poor quality of the poster comes into play with the Disney Store Star Wars pin and I can't actually see what the design is. At €55 I'll not be bothering anyway – that's a lot of money for what looks like a small round pin, no matter how limited it is. I like the Lithograph and pin set, and at €20 it seems like a veritable bargain compared to the aforementioned pin. I'm a huge fan of Rey's character so this is something I'd genuinely like to own and display. Tough luck Steve, it'll probably be sold out 3 times over by the time you arrive on December 1st.
Disneyland Paris Pins For November 7th 2017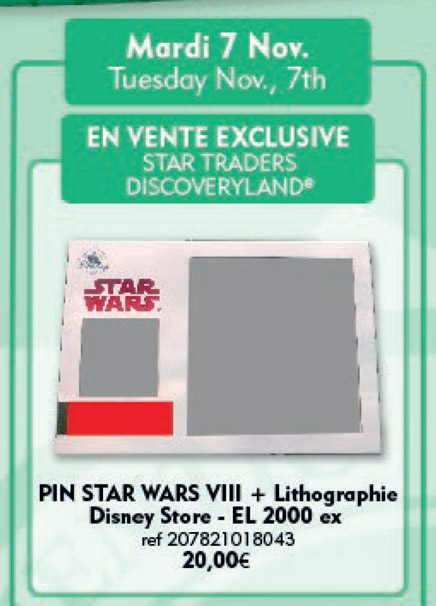 Well this is odd, another pin and lithograph set which looks very similar to the one released 3 days previous, but with grayed out areas where we should see the content. I guess we'll find out tomorrow when it's released, exclusively in Star Traders.
Disneyland Paris Pins For November 11th 2017

The continuation of 2 ongoing sets, the parade float and stylish character 25th Anniversary set. I made up that last set name – can you tell? Castle Baloo looks rather swanky, especially if you like jewels. The Peter Pan parade float pin is wonderful, and every bit as artistic, though not identical, to the parade it's representing. Good luck getting hold of these after Saturday – queues for the Pueblo Trading Post will start early and snake far.
Disneyland Paris Pins For November 25th 2017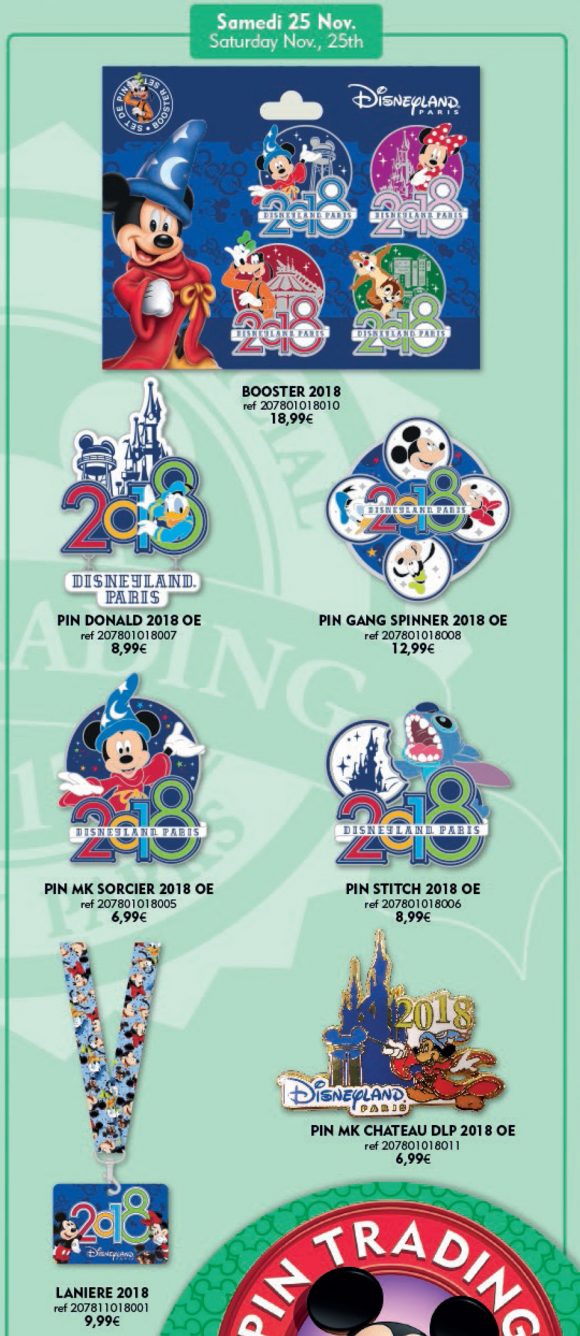 No pins for 2 weeks and then a whole bucket load of Disneyland Paris 2018 pins. I quite like the design for this range, with the colorful number and characters, contrasted with the more formal writing of Disneyland Paris. The Stitch one is the one I'd buy, given that Stitch is the best Disney character, right? There's also a fidget spinner! Nothing like being 2 years behind the trends, but better late than never, or is it? I know my son would want one, but at €12,99 he's not getting it, as it is too pricely for an outdated, mediocre item. There were much better spinners being sold in Great Yarmouth for just £3!
Of course there's the standard Fantasia Mickey next to the Castle pin whose design hasn't changed in over a decade. You either love or hate the fact that this design hasn't changed in so long. I'm the latter – boring!
The Star Wars pin and lithograph sets would be top of my wish list, with Stitch coming in a close second. I'd like the Patare Pan parade pin too, but I won't be there on the day, so no chance. Now, when are we getting a new Adventure Isle series Disneyland Paris?