Disneyland Paris Pins For July 2018 – The Best Scrooge Pirates of the Caribbean Pin, Cute Characters and So Many Mickey Pins
I realise I've missed a few months (more than a few Steve!) of pin releases and I do apologise for that. I have managed to keep a lid on my on my pin buying and on my trip last month only bought one Marvel Summer of Super Heroes pin. As much as they do inevitably end up in my pin bag in the cupboard, I still like to get one from each trip, and try to choose one that means something and is a memory of that particular visit to Disneyland Paris. I was particularly drawn to the July pin releases by one certain pin, and I wonder if you can guess which it is? Here's the whole poster, then we'll go through each week's releases.
Saturday 7th July 2018 Disneyland Paris Pin Releases
July 2018 breaks the record for the number of pins released in a month, so obviously this coming Saturday breaks the record for the most Disneyland Paris pins released in one day, and then some! There a group of 6 mini pins featuring characters such as Pluto, which as cute as they are, don't appeal to me. They'll have a market, and a big one at that, it just doesn't include me!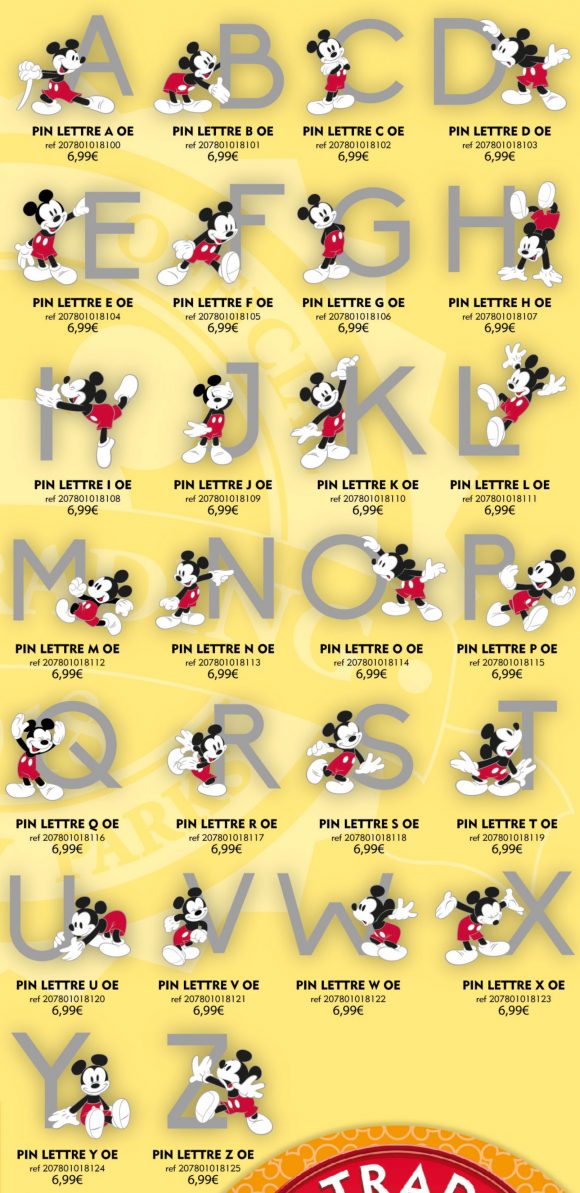 Then we have 26 Mickey Mouse pins, all in different poses and with each letter of the alphabet. These are very cool, and an easy way to get something that's personal to you. But the big question is how many do you buy? One for your first name is obvious, maybe even one for your surname, but would you get one for every letter and spell your name? That would actually look really good in a frame, maybe with all the names of the family spelled out in Mickey letters. It won't be cheap, but it will be very unique and look fab on the wall. Hmmm, now I'm tempted!
Saturday 14th July 2018 Disneyland Paris Pin Releases
I'm jumping straight to that Scrooge pin, which sees Mr Moneybags riding Pirates of the Caribbean! I love this idea for pins and it's something they used to do years ago, but we haven't seen a great deal of in recent years. It's very fitting to have Scrooge going past the part of the ride where there is a big pile of coins, and the gold coin hanging below is a big bonus too. Top marks. Of course it being a limited edition of just 700 means I have absolutely no chance of getting one for myself, but I still applaud the design of the pin. If you look closely you can even see a lamp hanging off the sign, and you know how much I love lights ❤️
The 14th July Bastille Day pin featuring Lumiere is very nice. Not something I'd buy but a decent design all the same. The My Cat collection is similar to the My Dog collection from years gone by, and this time features Felicia, Professor Ratigan's cat from Basil the Great Mouse Detective. Great if you like them, but again not for me. Much like the other three pins released on 14th July with startlingly low runs of just 400 each! Those 3 on the right are inspired by The Cherry Blossom Girl, whatever that is. The more inquisitive among you can tell me who this mysterious Girl of the Cherry Blossom is.
There's a pin trading night on Friday 27th July, 2 days before my birthday, at an undetermined location somewhere in Disneyland Paris! Really it's all about the Scrooge Pirates of the Caribbean pin, with a side of Mickey letter pins. Good work Disneyland Paris, a veritable smorgasbord of pins for July 2018, with something for everyone.