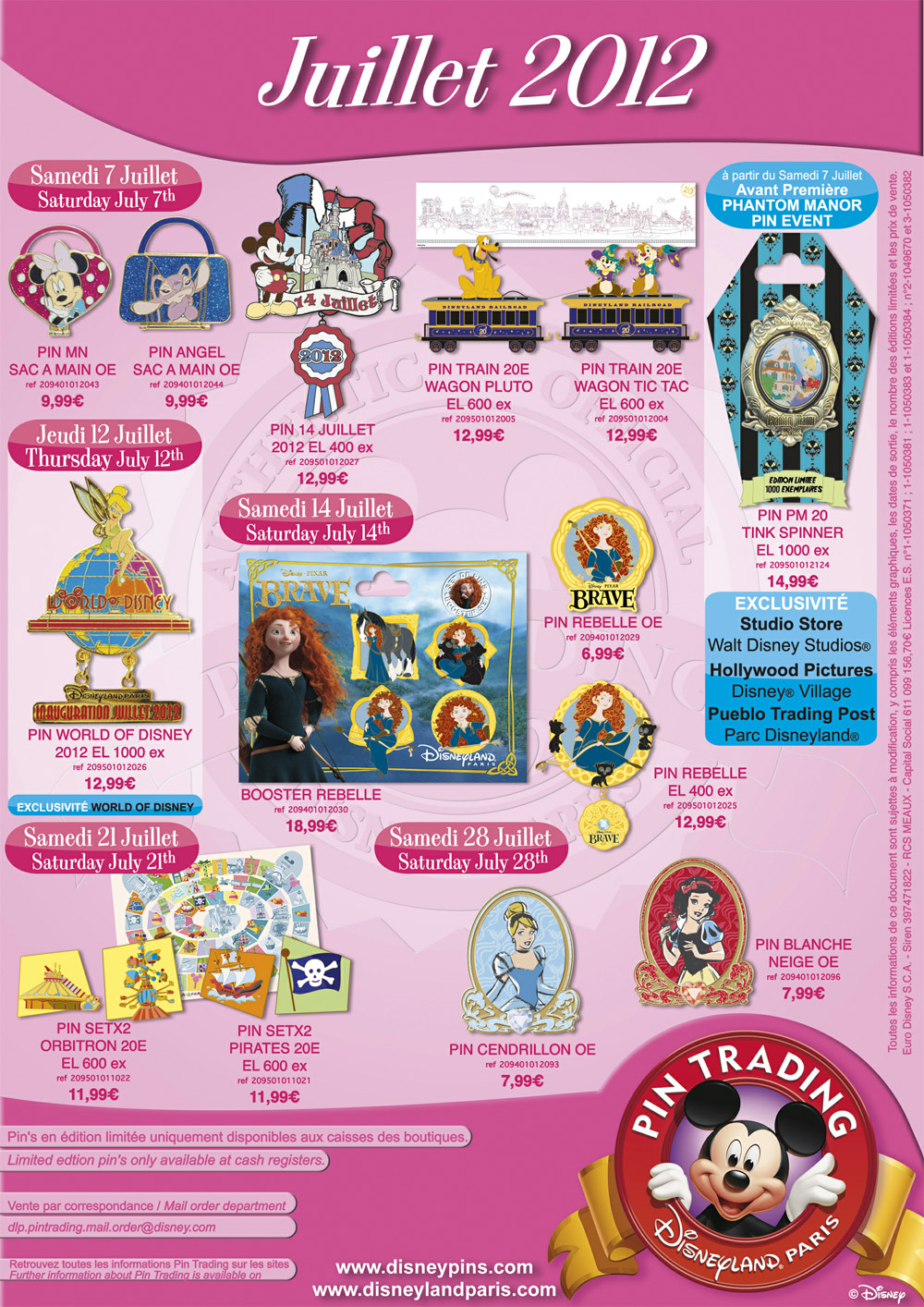 Disneyland Paris Pins for July 2012 – Brave arrives with World of Disney & Phantom Manor
A massive 19 pins are being released in July, which must be some kind of record? Without further a do, here they are in all their glory.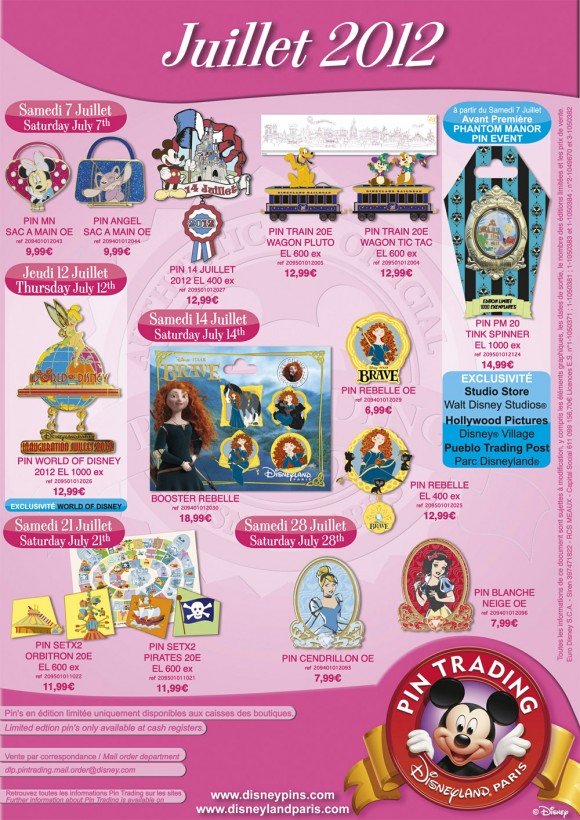 I'm not keen on the handbag pins, but then I have a feeling I'm not the target demographic for these two releases. There are two more of the slightly over-priced 20th Anniversary train pins, this time featuring Goofy and Chip & Dale. If you collect all of these then they would very nice in a long frame with a decent background. The white picture above the pins looks like a good background – I wonder if this will be available to purchase or whether it's just for decoration?
The two limited edition pins are fantastic. The World of Disney pin will be sold the day World of Disney opens on July 12th, and if previous 20th Anniversary limited edition pins are anything to go by, will sell out almost instantly. Anyone who reads my monthly pin posts will know I'm a fan of pins with two parts connected with chains, so thumbs up there for me. It's just a shame I won't be in the park to buy one. The Phantom Manor pin is released on July 7th, exactly one week before the pin trading event at Phantom Manor, which is on Friday 13th – spooky! The picture detail of the pin is in the great retro style of some of the merchandise in the parks, a few items of which can be bought on the Disney Store website
. It's that retro styled notebook that I bought in Disneyland Paris in which I write my journal – soon to be made into a major blockbuster film 😉
Disneyland Paris obviously think Brave will be popular as they are releasing no less than 6 Merida pins in July: 4 in a pack for 18,99€ and then two more at 6,99€. They are all very similar but at least they are well priced. With the two Princess pins of Cinderella and Snow White, the pins have a definite feminine feel to them this month.
Finishing off this huge set of pin releases are 4 more from the as yet unknown pin game, featuring Space Mountain, Orbitron, Hook's ship and a pirate flag. If anyone has more details as to what this game is about then please do leave a comment or email me as I'd love to know more.
It's a case of quantity over quality for me this month. I like the limited edition pins, am intrigued by the game pins, but the rest leave me feeling a bit indifferent. I am encouraged at the constant flow of pins though – pin collecting and trading obviously isn't going anywhere in Disneyland Paris, in spite of some people's assertions that Vinylmation would take over.