Disneyland Paris Pins February 2017 – Beauty and the Beast, Parisienne Minnie & Star Wars
With all the talk and excitement of the 25th Anniversary I'd almost forgotten about new Disneyland Paris pins, but here they are, in abundance for February 2017.
Thanks to a timely high definition file landing on my inbox today, we can look a bit closer at each weeks releases.
Disneyland Paris Pins February 4th 2017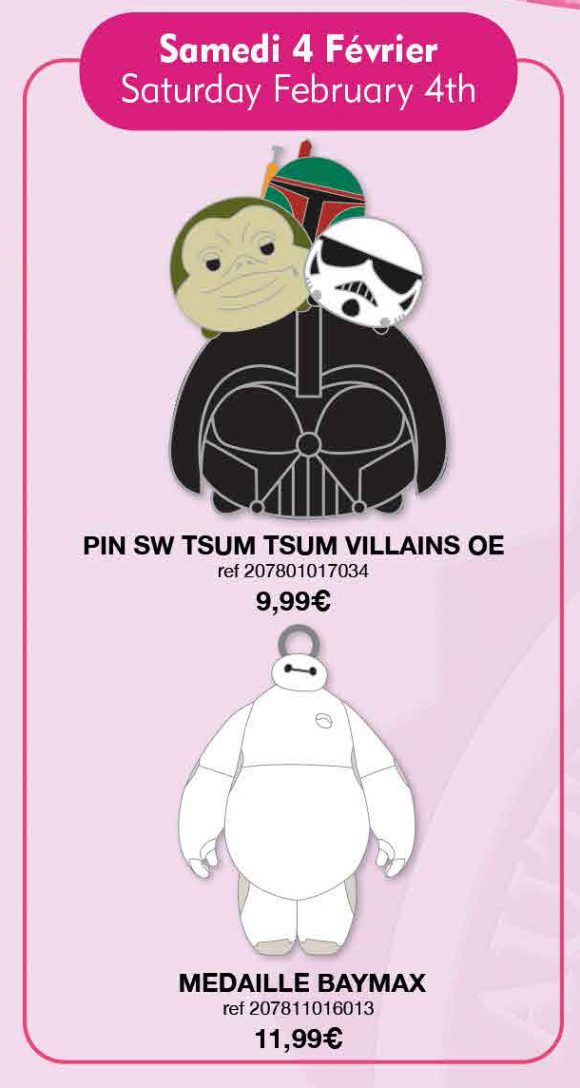 A modest offering this coming Saturday, but only because there are lots arriving in the shops of Disneyland Paris next Saturday and the Saturday after that too. We have a Star Wars Tsum Tsum pin showing classic trilogy villains. In fact, given the characters included, it could be a Return of the Jedi pin. The Tsum Tsum wagon left me many months ago, but they are still widely popular and this is released during Star Wars Season of the Force, so gold star for timing with this pin merchandise department. The Baymax pin is very generic, but can be hung from a necklace, I'm guessing? Just hope the back doesn't come off and you subsequently get stabbed in the chest!
Disneyland Paris Pins February 11th 2017
Lots of pink, lots of polka dots and lots of Minnie looking chic. I like the sketch design but these generally do nothing for me. Putting aside my own preferences, I can see these being wildly popular with some Disneyland Paris guests. As with any range of pins like this, I do wish they'd make them themed to Disneyland Paris itself, rather than a bunch of pins that would and could be sold in any Disney Store in France.
Oh look, there IS a set that is sold in The Disney Store! It seems that this Minnie Mouse signature set will be sold as an exclusive limited edition range in The Disney Store, but with 300 being made available in Disneyland Paris, specifically in the Pueblo Trading Post. Setting you back a cool €64,99, I'd be surprised not to see some of these still on sale when I go back next, whenever that may be. The Limited Edition Little Mermaid Valentine's Day pin on the other hand will sell out in hours, so if you want that then you'd be better be queuing at Pueblo Trading Post when it opens in Saturday 11th!
Disneyland Paris Pins February 18th 2017
The new Beauty and the Beast live action film comes out in March, so there are many Beauty and the Beast pins being released in just over 2 weeks in Disneyland Paris. While I can't condemn them cashing on on this, for the most part those pins are pretty uninspiring. I actually think the booster set contains much nicer pins than the individual releases, and cheaper too. The Disney Store exclusive, but available in Disneyland Paris set, features new live action pins, but is very pricey at €69,99. Given the popularity of Beauty and the Beast, the anticipation for the new film and eBay traders, I can see this set selling out.
Completing the Disneyland Paris pins for February 2017 we have the 15th Anniversary countdown to the 25th Anniversary pin, which looks the same as all the others, just with a different number and a different outfit for Mickey. The next Pin Trading Night is on February 24th and at the time of printing the poster has an unknown theme.
No doubt there are many pins that will appeal to many people, but for me, this month contains a grand total of zero pins that I want. That's good for the bank account though, and I eagerly await some 25th Anniversary pins in next months releases.