Disneyland Paris Pins for February 2014 – Paris, Tower, Dreams!, Hearts & What?
It's that time of the month when we look at the new pins coming out in Disneyland Paris, and this is what we have for February 2014…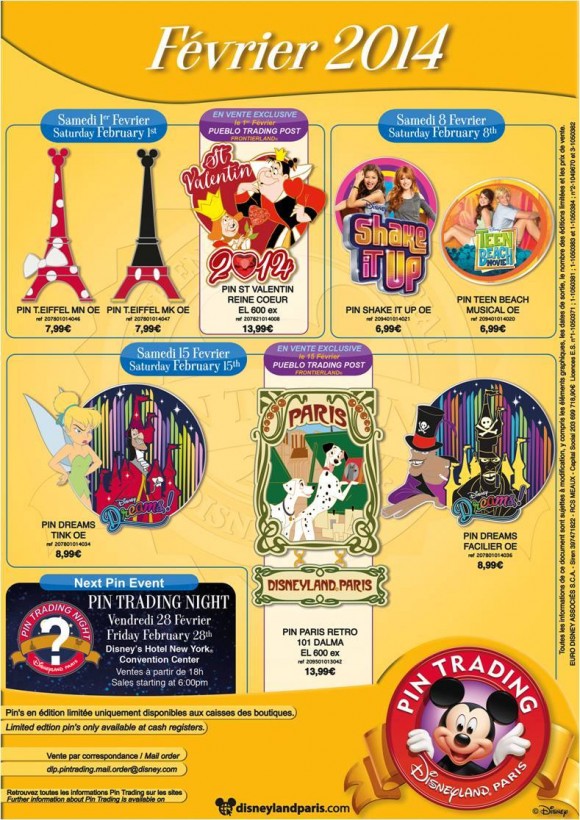 Eiffel Tower and Valnetine's Day
Just two days away, Saturday February 1st, is when we get the first 3 new pins of the month. Two of these are Eiffel Towers with Mickey and Minnie Mouse branding. Absolutely nothing to do with Disneyland Paris, but then this whole Paris branding that we see across the resort doesn't either. Yes, I know Disneyland Paris is in Paris, but the Eiffel Tower is 40 miles away and has nothing to do with the resort. There are enough great landmarks and wonderful structures within Disneyland Paris that could be used, so why not leave generic Paris pins for the Disney Store in Paris itself.
The Valentine's Day pin is a Pueblo Trading Post exclusive and features the Queen of Hearts from Alice in Wonderland. Nice that they haven't gone down the obvious cutesy Mickey/Minnie or Lady/Tramp kind of route. Only 600 of these though, do dont expect there to be any left by February 14th.
Shake It Up on the Teen Beach
Disney Channel films, right? That's my guess anyway. These are available on Saturday 8th February and I very much doubt these will be selling out any time soon. Films like High School Musical, and even Camp Rock, registered on my radar, but not these. Anyone got an opinion on them?
Dreams! of Paris
The two Dreams! pins are not in the same style as the two released last month which is a shame, as I much prefer the pins that feature photo scenes from the actual show. On the Facilier pin they could have at least featured the great steampunk scene rather than just a black image of the character, right next to a colour image of the same character.
We also have another limited edition Pueblo Trading Post exclusive released on February 15th and it's a 101 Dalmations dangle pin. Not a huge fan of the film, but I do like pins with dangle bits, and at least the Paris at the top is evened out by Disneyland Paris at the bottom, though one might say that the latter somewhat nullifies the need for the former. This is a series that started last month with The Hunchback of Notre Dame, and like that one, is also limited to 600 pieces.
No Attraction Pins
last month we had the reintroduction of the fabulous Attraction series, with Pirates of the Caribbean and Crush's Coaster pins. This month we get none. Come on Disneyland Paris merchandising department – you haven't even released that many this month, and most have little do with the resort – bring out more attraction pins, please!
Pin Trading Night
The next pin trading night is on the very last day of the month, as the convention centre in Hotel New York is the host of this event on Friday 28th February. It starts at 6pm and is good place to try to get your hands on limited edition pins that you missed out on.
Not a great month for Disneyland Paris pins, and really quite disappointing after such a strong set of releases in January. I hope it's a glitch and we are back on track with some great releases (psst – attraction pins) in March – time will tell.