Disneyland Paris Photo Friday: Christmas & Beyond with Kris Van de Sande

I've always been interested in photography and every now and then I take a photo that I'm really proud of. I'm lucky enough to have lots of friends in the Disneyland Paris community who take it to the next level, and produce some absolutely remarkable shots of the happiest place on Earth. This past week a few of us have discovered an amazing photographer by the name of Kris Van de Sande, and to say he takes good photos would be under-selling his ability to almost criminal levels.
Kris was in Disneyland Paris last weekend when I was there, for the launch of Disney's Enchanted Christmas for the 2013 season. The images he has published on his flickr stream bring back every bit of the magic that I experienced and are as good as any photos I have ever seen taken in the resort, maybe better. Kris has very kindly allowed me to publish a few, so without further ado, let's get on with the show. Please do click on the images to enlarge them – there is so much detail in each photo.
If I ever get around to completing this book about Disneyland Paris that I've been pondering for a few years, then I'll be approaching Kris to use this photo. It looks out of the door of the Castle Club Lounge and onto Main Street, U.S.A. with the Christmas Tree and Le Château de la Belle au Bois Dormant, side by side at the back. It's a picture that tells a thousand stories.
If you read my earlier article then you'll know just how much I loved watching Disney Dreams! of Christmas, and what a beautiful shot of the new show this is. The fireworks soaring through the sky, the lasers beaming over the crowds and the little girl so engrossed in the show she hasn't noticed her Light'Ears are about to fall from her head. A photo as breathtaking as the spectacle it's showcasing.
This longer exposure photograph shows the sea of people, and the waves of Light'Ears coming down Main Street, U.S.A. I love the contrast between the statuesque buildings and Christmas tree, and then the flow of people surging onward below them.
You can consider my mind absolutely blown by this photo, which looks like nothing I've ever seen in Disneyland Paris. That is until you realise this is what it looks like from inside one of the Orbitron rockets, at night. This image could be a still from a science fiction film, maybe even a Tron type feature, if we want to keep it strictly Disney. Photos like this always get me – it's the reversal of movement, with the rockets seeming stationary and the world that appears to be spinning.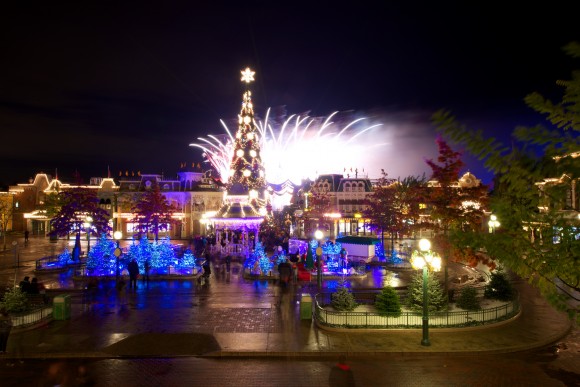 This photo is actually from last year's Christmas launch, and as much as I've talked about contrast (not of the colour variety) in this article a few times, it's epitomised in this stunning image. While Town Square sits in quiet serenity, there is an explosion of magical proportions taking place far off behind it. I find myself drawn to the guy to the left of the photo standing just before one of the smaller Christmas Trees and I'm wondering if he's even noticed Dreams! in the distance, or whether the relatively modest display on Town Square is sufficient to grab his attention.
This is just a small selection of Kris' wonderful collection of photos, and I urge you, as a matter of high importance, to check out the rest of his glorious Disneyland Paris photos. I also ask Disneyland Paris, to please get Kris on your payroll and have him as a PhotoPass photographer in the resort. I'd pay lots of money to have photos taken by this guy in the Parks, and imagine how much money you'd make adding his images to Disney Art on Demand?
You can follow Kris on Twitter (@krisvandesande) where you can see what he's up to and tell him how much you enjoy his work, as I have done.