The Disneyland Paris 25th Anniversary Officially Announced – Is It Good Enough?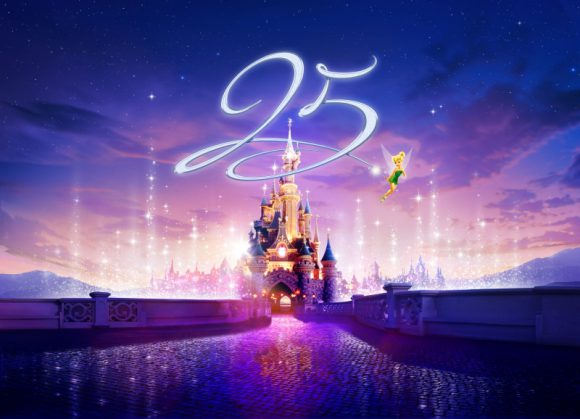 One week after Disneyland Paris teased something on Twitter they have today made that big announcement and as many of us speculated it's all about the Disneyland Paris 25th Anniversary. There's a press release, so let's take a look at that and break it down into parts we can then chat about.
Disneyland Paris 25th Anniversary – It's Time to Sparkle
It's official: Disneyland Paris 25th Anniversary Coming in 2017 – It's Time to Sparkle

Disneyland Paris will celebrate its 25th Anniversary starting from 26th March 2017.

New Guest experiences to include sensational new attractions, a grand celebration with the beloved Disney Characters, a brand new Parade and a breathtaking new night time spectacular. Extra surprises and features to be announced. Join the celebration with a multitude of new shows from morning through to night where Guests are sure to be amazed! A brilliant anniversary celebration beyond your imagination awaits you during the 25th Anniversary of Disneyland Paris.
That's just the preamble and I almost didn't include it due to spoilers, but I wanted to post the whole press release. I'm going to discuss each part in the order of the press release, so no skipping ahead to the more exciting parts! Two things of note here, I like the It's Time to Sparkle tag line – goes very well with the silver 25th logo we see in the artwork above, and ties in nicely with all the refurbishments which will have Disneyland Paris looking as new again.
Secondly, the celebrations kick off in late March, so time it right and you can have a few days in Disneyland Paris to experience both Star Wars Season of the Force AND the Disneyland Paris 25th Anniversary – that right there could be the greatest stay in Disneyland Paris yet.
Star Tours: The Adventures Continue
Beginning March 26th 2017, Guests at Disneyland Park will experience Star Tours: The Adventures Continue. The new attraction will take Guests on an all-new, action-packed intergalactic voyage, all in 3D… Epic. Based on the Star Wars™ films, Star Tours will take Guests to multiple Star Wars destinations where they will interact with characters from throughout the Saga.

Every destination will offer unique surprises with journeys through the worlds of Jakku, Hoth, Tatooine, the Death Star and more! Guests will be able to enjoy the attraction multiple times without knowing where the Force may take them. And all of the storyline's twists and turns will be random, affording Guests the chance to ride the attraction multiple times.
This contradicts rumours from last week that Star Tours: The Adventures Continue would open on March 18th in Disneyland Paris, is not a surprise in anyway, but still fantastic to see it officially, in writing. The inclusion of Jakku indicates that we'll have The Force Awakens scenes – time will tell if we are to get updates for Rogue One and Episodes 8 and 9 of the Star Ears film series. So let's add riding the new Star Tours with the aforementioned Season of the Force and everything else that the 25th Anniversary will offer – that late March trip to Disneyland Paris is looking better with passing paragraph.
Star Wars Hyperspace Mountain
Guests will also be able to join the Rebel Alliance by becoming the drivers of Star Wars Hyperspace Mountain (Disneyland Park). The Force will be strong with this attraction, which hurtles through the Star Wars galaxy, following the twists and turns of TIE fighters and an intimidating Star Destroyer.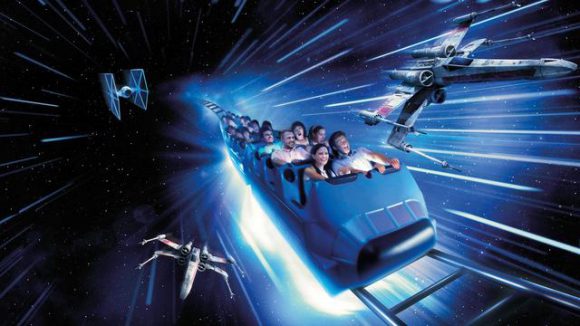 If you've listened to the podcast or watched my weekly videos you'll already know my thoughts on having Star Wars inside this wonderful steampunk structure so I won't dwell on that more. In all honesty, I'll never ride it, so I can just admire the exterior as I have done every other trip. It would be hypercritical of me to completely look down on this change, given how much I have always wanted them to include more Star Wars in Disneyland Paris given the incredible popularity of the franchise, so for that I applaud them. I also think us Space Mountain purists are probably in the minority and most probably don't care for Jules Verne, which is much a shame as it is true. Plus there's the possibility it could fit perfectly and we'll be sharing a big humble pie together.
Disney Stars on Parade
Also arriving in spectacular style in 2017, Disneyland Park's new Parade Disney Stars on Parade, where favourite Disney Stars, together with stunning new floats, create magic and happiness for all.
This got a bit of stick on social media when announced earlier, and it's not the most inspiring name I'll admit, especially given the current parade is just one word different at Disney's Magic on Parade. But really, as long as the content of the parade is good, and it has a great new song, I'm not bothered what they call it. Let's be honest, whatever incarnation it happens to be, we always have and will always refer to it as the parade. The image circulated with the press release of the Steampunk dragon is confirmation of the previous rumour that this beauty would be included in our new parade, and that alone, with its fire breathing, is enough to have me salivating at the thought of standing on Main Street watching it next year.
Happy Anniversary Disneyland Paris and The Starlit Princess Waltz Shows
Guests will also be able to discover a new show Mickey presents "Happy Anniversary Disneyland Paris" at Disneyland Park where Mickey Mouse will start the celebration by assembling as many of his famous Friends as possible for a huge anniversary party. This festive show will take place daily for all guests to enjoy. In addition, fans of the Disney Princesses will be able to witness some of their most beloved Princesses as they host their own sparkling show The Starlit Princess Waltz at Royal Castle Stage (Disneyland Park)
Not one, but two new shows coming to Disneyland Paris for the 25th Anniversary. Very intrigued by the Happy Birthday show and I wonder if it will include parts of the resort's 25 year history? In what way I'm not sure, but that's why the entertainments team are paid the big bucks and I'm just writing about it here. It doesn't say where this show will take place, but I seem to recall previous rumours alluding to a Central Plaza location for one of the upcoming celebrations. The The Starlit Princess Waltz sounds fun and anything on the Castle Stage gets the thumbs up from me, and Starlit – does that indicate a nighttime show?
Disney Illuminations
Finally, as night falls, there will be another spectacular new event: Disney Illuminations. This new show, with dazzling lights, projections and breath-taking special effects, will be conducted by Mickey Mouse onto Sleeping Beauty Castle (Disneyland Park). It will transport Guests to a location where the stories of Disney's The Little Mermaid, Frozen and the motion pictures of Disney's Beauty and the Beast, Star Wars and Pirates of the Caribbean will come to life before guest's astonished eyes.
This Disney Illuminations spectacular is the one I am looking forward to the most. It's no secret that I'm more of a fan of the live action films than the animation, and having two of my absolute favourites, Star Wars and Pirates of the Caribbean, snaking their way all over the beautiful Sleeping Beauty Castle sounds quite incredible. Having Beauty and the Beast footage will be very timely as the film may well still be in cinemas. As far as the included animations, Frozen is of my favourites and still ridiculously popular worldwide, not to mention with a sequel on the way. Likewise The Little Mermaid is still very popular and will work very well with the fountain and water spray screens that they have shown they can use to great effect.
I love Disney Dreams! and always enjoy watching watching it every time I visit Disneyland Paris. It was a landmark piece of entertainment at the time and with swapped out scenes and a Christmas variation it has shown its versatility. However, 5 years on and I think I'm ready for change. I haven't even spoken about Mickey Mouse being the conductor – sounds very much like Fantasia doesn't it? If so, then I'll be even more excited, with The Sorcerer's Apprentice being my favourite piece of Disney animation ever.
What do Mickey Mouse and his Friends hope to achieve during these Anniversary celebrations? To dazzle all guests with amazement! This will no doubt be an opportunity not to be missed! Disneyland Paris 25th Anniversary – It's Time to Sparkle.
So back to my original question, is it good enough? Disneyland Paris fans can sometimes be hard to please, to the extreme that had this press release included 4 times as many announcements, it still wouldn't have been good enough, and never would be. However, when you consider the financial position that the resort finds itself in, I truly believe the answer to the question is yes, the Disneyland Paris 25th Anniversary does look good enough, on paper (screen?) at least. Consider the big 10 attraction refurbishment project which is still ongoing, that will see Pirates of the Caribbean re-open in July next year and there is lot going on in the build up to the 25th Anniversary, as well as the quarter century celebrations themselves.
For the first time in quite a while Disneyland Paris will be able to boast a resort brim full of up to date attractions and a debut year of magical entertainment, guaranteed to dazzle guests both new and old. As celebrations go, this looks like one of the very best yet and has me wanting very much to hop on the Eurostar to experience the Disneyland Paris 25th Anniversary.