Disneyland Paris News: Characters Will Remain For Castle Club Breakfast
You may remember back in February, news broke that characters will no longer appear in the hotels. We later found out that they would be relocating to the Parks, and would be there to meet hotel guests (and Annual Pass holders) during Extra Magic Hours. Thanks to information given to my friend @keiko315 by Département Suites in Disneyland Paris, this is true except for on the Castle Club Floor (in Disneyland Hotel) where during breakfast time the Disney Characters will come to meet and greet guests.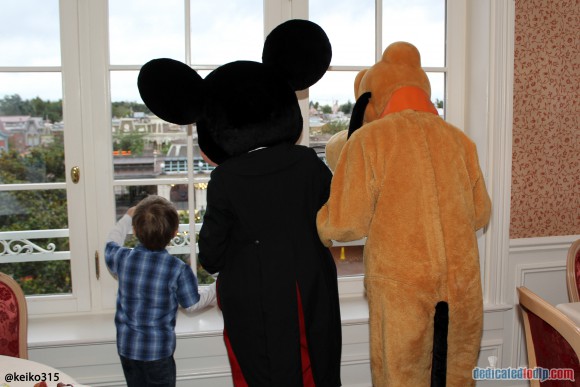 The above photo shows Martin's son Jake with Mickey and Pluto, looking out to the park. As I said on Twitter, this is the epitome of a picture is worth a thousand words and I absolutely love the moment it captures.
What we don't know yet is whether anything will replace the Descent of the Stairs (actually called Magic Moment, but Descent of the Stairs seems to be its adopted name to which it is more widely known) which will also be finishing soon. This is a particularly nice perk of staying in the Disneyland Hotel, though there is nothing to stop non hotel residents from enjoying it too, which is no doubt why they have put an end to it. Maybe they will have something elsewhere in the hotel where Disneyland Hotel guests will have to show proof that they are staying there.