Disneyland Paris Halloween 2018 Review
Halloween was never the main reason I was going to be in Disneyland Paris two weekends ago (I know it's taken me a while to do this review, but I am so glad I was there to experience it. I've been lucky enough to visit Disneyland Paris during the Halloween season for the past three years, but last year was quite different to the ones that preceded and followed it, as you can read about here. Going into Halloween 2018 in Disneyland Paris, we knew there would be some changes and additions, but due to a decreased presence on social media I'd managed to avoid any concept art, rumours or leaks. I knew there was going to be a new Phantom Manor inspired float, as that news came our way via the inaugural InsidEars presentation, but past that I knew nothing more. So, let's break this down, and get into the spooky happenings.
Halloween 2018 in Disneyland Paris – Decorations
This wasn't hugely different to last year, though there were more pumpkin and ghost characters on Main Street, at least it felt like that anyway. What we do have new for 2018 are Halloween garlands, much like the Christmas garlands that we'll see back in just over a month, but obviously themed for Halloween instead. These, with their gold and brown colours, lit up pumpkins and lanterns, added a lot to Main Street, and especially at night when they shone out in the dark. It felt like the final piece in the Halloween decoration puzzle that I never knew was missing in Disneyland Park.
Over in Frontierland, again, much the same as last year, which with a combination of the Día de Muertos and more traditional pumpkin characters, we have two wonderfully themed and visually stunning areas. There are more decorations than before in the area near Cowboy Cookout, with some strikingly painted Mickey and Minnie pumpkins. It really feels like we are back to the level of immersive and blanket Halloween decorations like we had in the days of Halloweenland a decade ago, and for that I am very grateful. The other lands don't celebrate Halloween, aside from the pirate pumpkins in Adventureland, and nor does Walt Disney Studios. The latter of which could really do with an injection of life after both Marvel Summer of Super Heroes AND Rendez-Vous Gourmand exited on the same day as soon as September made way for October.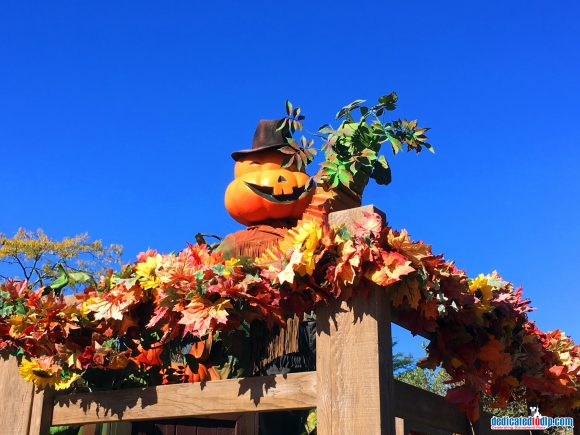 If you are visiting during Halloween 2018 in Disneyland Paris I'd advise you to leave extra time for taking photos, as there are so many opportunities for fun photos and so many things you'll want to get photos of. Some people have even christened one part of Frontierland the Coco Wall, in light of the ever-growing popularity of wall photos in Disney Parks.
Halloween 2018 in Disneyland Paris – Mickey's Halloween Celebration Parade
Last year we didn't have a Halloween paarade and in its place were the Goofy's Skeletoon Street Party in Frontierland and Mickey's Halloween Tricycle Gang on Main Street. I thoroughly enjoyed both of these, but it's not quite the same as having a parade, which both Halloween and Christmas have proven are a lot of fun, and often the highlights of their respective seasons. Well, this year the Halloween parade is back, under the name of Mickey's Halloween Celebration for 2018. Much of the parade was the same as in 2016, but this year they added a new float, a whole bunch of new characters and a show stop. I say show stop, but that's a description that really doesn't do it justice, but I'll get to that.
The new float is inspired by Phantom Manor, which is quite obvious on looking at it, but with a shot or ten of vibrant colours and stylings. Throw in what I assume to be Melanie Ravenswood and her groom, Mickey up top, and a supporting cast of undead performers, and it might well be the greatest float in the history of Disneyland Paris. That's a bold claim, but honestly this is quite an astonishing float, one that watching on video is not enough, you need to see it with your own eyes, and marvel at what those eyes are seeing! If merchandising were to make a replica version of this for guests to buy and take home, I'd drive over this weekend just to buy one – it's stunning.
Let's take another look at the new Phantom Manor inspired float in this year's Halloween cavalcade, Mickey's Halloween Celebration, in Disneyland Paris

? 02/10/2018 @ 11.34am pic.twitter.com/BtIKolCFR8

— Dedicated to DLP (@DedicatedToDLP) October 6, 2018
Now let's talk about the show stop, which concentrates on Central Plaza, utilising all 4 raised stage areas with 4 different sets of characters and performers. It's at this point that the music takes an eerie direction and we have a brand new song called Great Big Year by Scott Erickson. It's far rockier than anything we've had in Disneyland Paris in quite some time, and it's absolutely brilliant. The music is accompanied by some of the most energetic and thematically perfect dancing you'll see, with all four stages offering something different. My favourites were the ones with Melanie and groom, and the one with the three pigs, which was very Country Music in presentation with some absolutely superb performers, giving it their all, and then some. As has become a theme in Disneyland Paris, the costumes are top notch, especially Mickey's new Halloween outfit.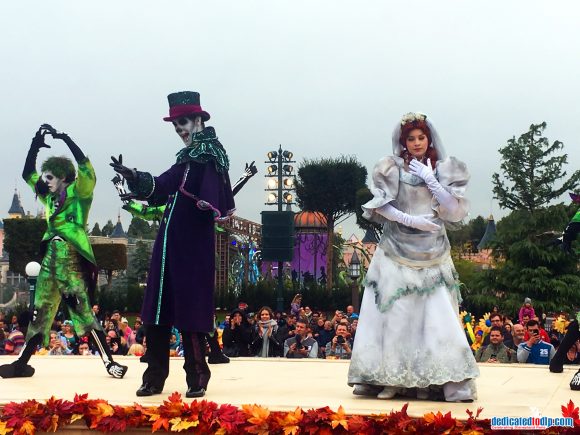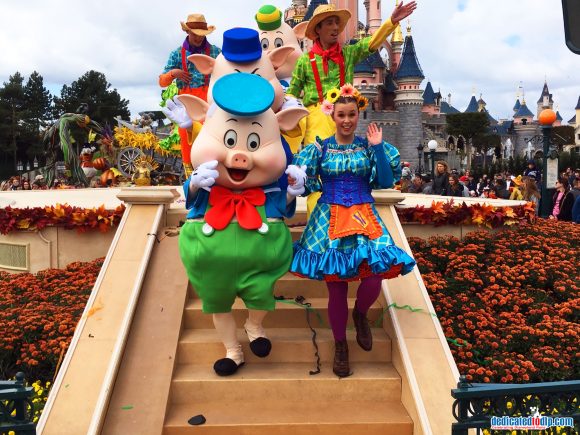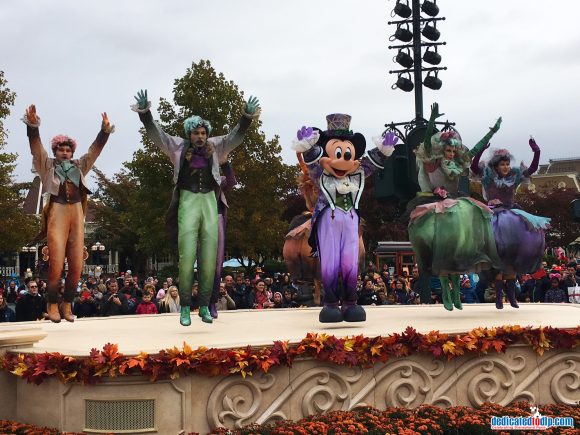 I watched it 4 times over 2 days, which is how many times it was on, and could quite happily have watched another 4 times, at least. I was in the Central Plaza area each time to catch the stage performances but would liked to have seen it from Main Street, to see all the floats properly. It really is one of the best parades Disneyland Paris have ever had, especially when the streamer guns go off and the wind carried them across Main Street and into the lights and trees!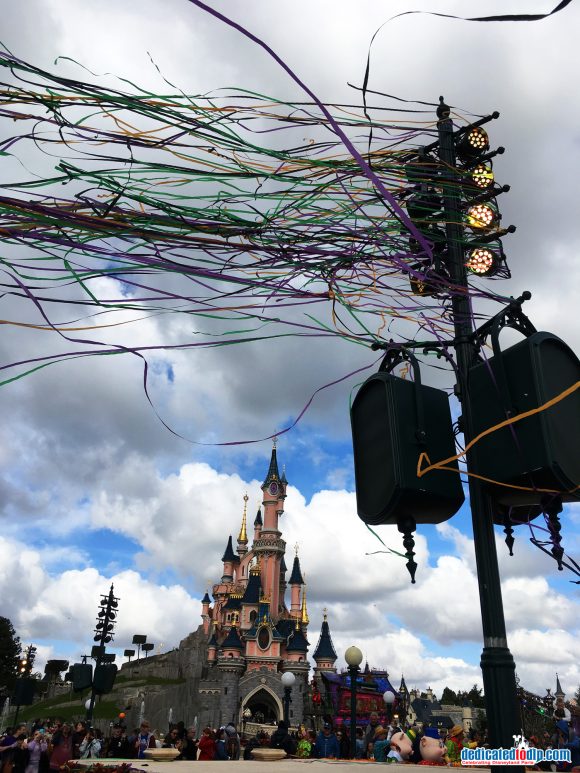 Halloween 2018 in Disneyland Paris – It's Good To Be Bad with the Disney Villains
I'm not that keen on this show, it just seems a bit odd. I can't put my finger on it, but it just feels like an excuse to put a bunch of villains on the stage for no particular reason, other than it's Hallloween. They also don't act that evil, what with all their singing, dancing and smiling. This year we have the addition of Donald Duck in his Maleficent costume that he wore whilst being part of the Tricycle gang last year. He's fun, and possibly the first character in drag in Disneyland Paris? There's a chance to meet characters afterwards, as long as you are in the right place, and get called forward by the Cast Member or character. I didn't bother meeting characters this way, give me an orderly queue any day.
Halloween 2018 in Disneyland Paris – Characters
I had only one character on my wish list for this trip, and that was Stitch. He's my favourite Disney character and I've not met him in over 8 years, for one reason or another. He was out for the Halloween season, to the left of Main Street near Casey's Corner, so I had Monday and Tuesday to make that happen. Well, Monday came and went, so that left Tuesday, the last day I was in Disneyland Paris, and only until 3pm, when I'd be leaving to go home. It was actually Jack Skellington that I ended up meeting first, as that was Martin from Holiday Hamster's (who I went with on this trip) number one pick, and he started meeting at 10am, whereas Stitch wasn't due out until 11am. Jack was a brilliant meet, as always, showing us his home and asking us about Halloween. As Jack Skellington or Sandy Claws at Christmas, Jack is definitely up there as one of the best meet and greet experiences in Disneyland Paris.
So then it was a short walk from Frontierland back to Main Street, and we joined the queue for Stitch, who was out by now, and had attracted quite a crowd. It was whilst I was in the queue, that I wondered if I should talk to Stitch in my Stitch voice. Now, I'm not claiming it to be the best Stitch voice in the world, but it's recognisable and people seem to like it. A bit of rain saw a few people leave the queue, and then in no time, it was my turn. I did end up chatting in my Stitch voice, which Stitch seemed to really like. After 8 years of waiting this was a fantastic meet, and well worth the queuing time it took. He was playful, cuddly and a bit mischievous too – just want you want from a meet with Experiment 626. The PhotoPass photographer said he liked my Stitch voice as I was leaving, so it must have been okay.
There were a lot more characters to meet, such as Mickey and Minnie in Mariachi outfits over in Frontierland, and Goofy over by his bonbon machine, but these ended up being the only two characters I met during this Halloween season in Disneyland Paris. You know what though, they were good enough for me, being as how great the interaction was, and how special, in particular Stitch, they were to me. I did meet Minnie in her brand new Parisienne outfit, but I'm not sure if she was part of the Halloween season, or just coincidentally meeting during the Halloween season, and possibly beyond?
Halloween 2018 in Disneyland Paris – Verdict
The parade alone is enough to make Halloween in Disneyland Paris great for 2018, so throw in the amazing theming and great character meets, and it's a wonderful season to experience. I'd personally change the show, but that's just down to my own taste, it seemed popular, and plenty of people were fine with the post-show meets. I'd like to see Halloween make its presence known over in Walt Disney Studios, much like Christmas has now, but I also love how much of Frontierland is now transformed into the Halloweenland of old, and Main Street has a Halloween version of the great Christmas decorations. Halloween is a really fun and colourful season, that seems to have been taken more seriously by Disneyland Paris in 2018 than it has for a long time, with great results.
I recorded a podcast live while I was in Disneyland Paris for Halloween, which you can listen to here.