A New Mobile Phone App For Disneyland Paris….But Not For Everyone
I thought I'd made the scoop of the year last night – how could Disneyland Paris have released a new mobile app, and yet nobody was talking about it yet? Though I have an Android phone, I actually discovered it in the iTunes store as I was going to the Dedicated to DLP Podcast page, as you do. A few clicks here and there and I was faced with this:
This app is aimed at people visiting Disneyland Paris before the 30th September 2013.

As your holiday arrival date gets closer, lots of useful content will be unlocked, like top tips, useful French phrases, Park maps and details on our special 20th Anniversary shows, events and attractions
Though some of this is contained in the already available Disneyland Paris app, the countdown seemed fun and the interface, at least from the accompanying images looked really fun.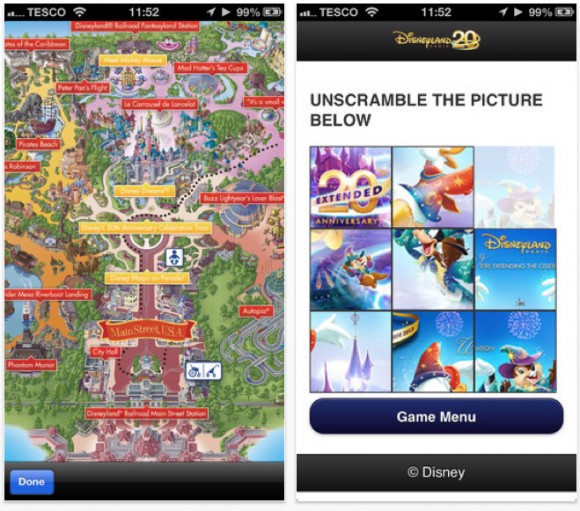 My first worry was that maybe it wasn't available for Android, but my fears were quelled when I found it on the Google Play Store and immediately downloaded and installed it on my phone. I was pretty excited to open it up and explore the app, and the prosepct of telling everyone about this great new Disneyland Paris App. It looked pretty cool sitting on my phone's home screen, 20th Anniversary themed Mickey looking out at me.
The loading screen had some nice detail, like the mini 20th Anniversary logos on the doors, which Mickey is opening to make way for Dreams!
That's when things started to go wrong and I was confronted with the following text:
This app is exclusive to customers booking a Disneyland® Paris Holiday with Thomson and First Choice before the 30th of September 2013.

Please enter your Thompson and First Choice user name: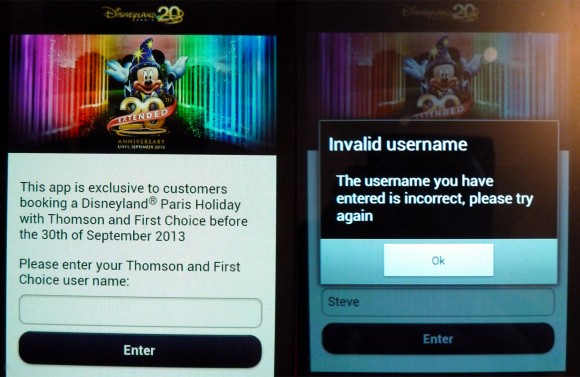 That was as far as I got, and my attempt to gain entry with Steve failed, unsurprisingly. Not having a holiday to Disneyland Paris booked with Thompson/First Choice I could go no further. So I have no idea what is inside the app, other than what I can see from the screen shots in the App Store. If anyone does have access, then please email me dlp@dedicatedtodlp.com with some more details about what the app contains and some screen shots if possible. Alternatively, if Disneyland Paris or Thompson/First Choice could send me access details so that I can review what is potentially a very appealing extra for Disneyland Paris visitors, then that would be great.
Ironically, when I looked at the description on the web based Google Play Store, it does include the Thompson/First Choice caveat, which is vitally lacking on the iTunes App Store description. If you follow the Support link on the iTunes App Store you do get directed to a page which tells you the conditions of use, but who is going to click that before downloading the app?
I hope that this app proves to be successful in it's intended use and it then gets rolled out to everyone making a trip to Disneyland Paris or thinking of doing so. Though it won't be much use after September 30th, they can easily redesign it for each new celebration.
UPDATE: Thanks to Dominik who has downloaded the app on his iPhone but had no restrictions and was able to get in fine, without having to enter his User Name. How every strange, but that would explain why the restriction notice is not there in the iTunes App Store, but not why it links you through to a page detailing those restrictions.
This then begs the question as to why Android users are locked out and iOS users are not? It could be as simple as the iOS app has not been properly updated. Martin also has downloaded it on his iPhone and says there is much in it at the moment except a 20th Anniversary video. Now I really feel hard done by for being an Android user!