20 Questions with a Disneyland Paris Fan – Christopher Cooper
1. When did you first visit Disneyland Paris?
In 1992 on a works day trip! Long day, early morning start, full coach enjoyed it though.
2. How many times have you been in total?
After long gap and renewed love of all things Disney and arrival of my daughter been four times in last three years. Five times total.
3. What's your first memory of Disneyland Paris?
Just how great Main Street is and the slow walk up towards the castle.
4. What's your favourite attraction and why?
Big Thunder Mountain because the whole family love it just enough thrills for my daughter and not too many for the wife.
5. Where do you stay when you visit Disneyland Paris?
Been to Sequoia Lodge twice, Santa Fe once and Cheyenne once. For the money Cheyenne is probably best but like breakfasts elsewhere away from the scrum (Cafe Mickey good for characters and cooked items, in the park breakfasts good also). The dream is to stay at Disneyland Hotel (about to be realised as have booked up to go in Feb 2013).
6. Where's your favourite place to eat?
Walt's – the standard of food excellent, service great and theming beautiful. Get the right table at right time and you can oversee a parade from your table. Did the Dreams! package this year themed dinner and reserved area to see Dreams! (in front of the control booth) was amazing and didn't have to wait for ages, just turned up before show for great views.
7. What you do first when you get to Disneyland Paris?
A walk up Main Street, stop off at Casey's as usually hungry from trip, then a Fast Pass to Big Thunder Mountain.
8. Pins, Vinylmations or neither?
Pins for me. Usually just get ones as mementos and reminders of certain Disney moments. Get the ones with the year on or the hotel ones for where we stayed. For the 20 year celebrations I am collecting the train and will frame it when complete. Have got pins from all trips to Paris and Florida.
9. Do you want to see the Captain Jack Sparrow brought to the Disneyland Paris Pirates of the Caribbean like they have in Walt Disney World and Disneyland?
Yes, adds a certain something. Jack appears several times in Walt Disney World and great for kids to see if they can see him hiding in a barrel (head pops up looks around and back down) etc. Most of scenes are still classic Pirates of the Caribbean, it just makes it more current.
10. Is there anything in Disneyland Paris you have never done that still would like to do?
Take part in a parade!!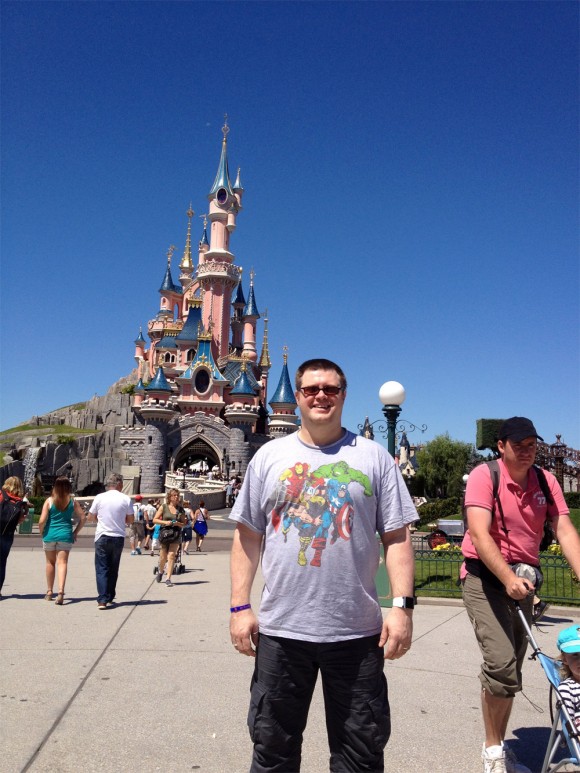 11. Before you do you plan yours days or just see what happens when you are there?
Usually just plan where we are eating and which park for which day, but in the parks just go with the flow and make most of Fast Passes – I have a system and maximise amount of rides per day. Breakfast in park best for extra magic hours.
12. What piece of music or song do you most associate with Disneyland Paris and why?
Animagique, nearly as catchy a hook as my favourite park music; it's a small world, but a Disneyland Paris exclusive.
13. If you had to make someone a fan of Disneyland Paris by showing them 5 attractions/buildings/shows – what would they be?
Big Thunder Mountain , Sleeping Beauty's Castle , RC Racer , Walt's for dinner, finished off by Dreams!
14. If you could add one new attraction to Disneyland Paris what would it be and where would you put it?
I would take Soarin' from Walt Disney World and put it in Walt Disney Studios in place of Armageddon or the Studio Tram Tour.
15. If you could spend one night anywhere in Disneyland Paris, except the hotels, where would it be?
Phantom Manor.
16. Are you planning to visit Disneyland Paris during the 20th Anniversary Celebrations, if so when?
Been there done that got the t-shirt and the pin… Had to be done, great to see refurbished park. Hook's ship and the castle looked great for it. Also most of the small world seemed to be in place and swinging pirates in Pirates of the Caribbean. 20 year celebrations will still be going on when I return in February 2013, so doing it all again.
17. If you could be a Cast Member for a day in Disneyland Paris, where would you work?
At control desk on Dreams! seeing it all happen.
18. Is there anything you dislike about Disneyland Paris or would change?
hey just need to maintain the upkeep and put more characters out into the park. Random encounters much better than structured meet and greet.
19. What's your single greatest memory of Disneyland Paris?
First time going on Space Mountain: Mission 2 with my daughter. She wasn't tall enough to enter, even with her Minnie Mouse ears on! So, socks off, rolled up her socks in her shoes under heel, tall enough to go onto ride – result! She was so happy and such a thrill seeker. She hopes to be tall enough for Indiana Jones in February.
20. In no more than 20 words I love Disneyland Paris because…
It's like being in another world, away from the real world in Walt's world, and what a world it is.
Want to be featured in 20 Questions with a Disneyland Paris Fan? Just email the answers to the questions, which can be found here, to dlp@dedicatedtodlp.com and let everyone know what you love about Disneyland Paris and why it's the happiest place on Earth.