DLP 30th Anniversary: Dreams, Designs & Drones!
Just over a month to go for the start of Disneyland Paris' 30th Anniversary celebrations, new details are dropping like phone cases from the Hollywood Tower Hotel. From a brand new song to world exclusive show elements, here's what you can expect this year at DLP!
The anticipation for the 30th Anniversary celebrations at Disneyland Paris is rising, and that's not just a catchy statement but a solid fact for all of us who have had two years of on-again / off-again experiences due to the pandemic. Especially UK fans have had a hard time even getting to France with various travel restrictions. Add to that the fact that there have been refurbishments, closures and constructions ongoing during this whole period, the parks never really felt up to full running mode. But it's 2022, and that means the 30th anniversary year is here, starting March 6th.
During a digital press presentation on January 25th, Disneyland Paris presented us with an extensive preview of the planned offerings for the celebrations, starting with a look back at how the resort became a hallmark of popular culture and Europe's prime tourism destination with over 375 million visits in the past 30 years.
Today's enduring attraction of Disneyland Paris is thanks to the dedicated role and talent of 16,000 Cast Members. Their attention to detail, creativity, quality of service and above all their passion help bring the resort's magic to life. Through the more than 200 shows which have been produced by the Entertainment department since 1992, the restaurants, shops, hotels, gardens, decors and of course the amazing attractions, more than 500 professions have contributed to shaping the resort's future every day.
"A new era will start on March 6, 2022. This era will be marked by transformation, limitless creativity, and new technology, for an always more immersive and unforgettable Guest experience. To reach this historic milestone, Disneyland Paris – which will shine as never before – will celebrate its bright future, in which Guests will dream bigger and laugh louder."

Disneyland Paris
Brand New Day Show
Starting on the 6th of March, a brand new daytime show entitled "Dream…And Shine Brighter!" will be performed every day – several times a day – on Central Plaza at Disneyland Park, in front of Sleeping Beauty's Castle following its 12-month refurbishment. David Duffy, Vice President of Entertainment at Disneyland Paris, introduces a sneak preview of this show in the video below.
The daytime show will run until the end of September, at which point it will make way for the Halloween and Christmas seasons, but may possibly return in 2023.
But it's not just the day that has the exclusives. At nightfall, before Disney Illuminations, a new "Sequence of Magic" will make its premiere that will have something no other Disney resort worldwide can lay claim to. Called Disney D-Light, this new pre-show around the castle will combine video projections, illuminated water jets, lighting effects, mist, famous Disney songs, and the first ever drone choreography at a Disney park. As you can see in the following video, this special feature has secretly been undergoing trials in a remote field near Bordeaux.
Suit Up: Minnie Makes Headlines
We're used to seeing new costumes for upcoming seasons and anniversary and its always fun to discuss the colours and materials, but It's not often that a Disney character outfit makes news headlines. Once again, Disneyland Paris has an exclusive with a special creation by UK designer Stella McCartney (daughter of Paul) specifically for DLP's Minnie Mouse. The preliminary sketch of her 30th Anniversary edition pants suit, which will simultaneously celebrate Women's History Month when it first appears in March, made waves throughout social media for its bold choice, even getting a thumbs up from Hillary Clinton who called it "Trés Chic". A very positive move to see a Disney character personify female empowerment, and a wholly European effort at that. We'd like to see more makeovers in collaboration with established and upcoming couturiers, for Paris is the place to make fashion statements, and we're certain there's a market for character-inspired couture in the boutiques of Main Street and beyond.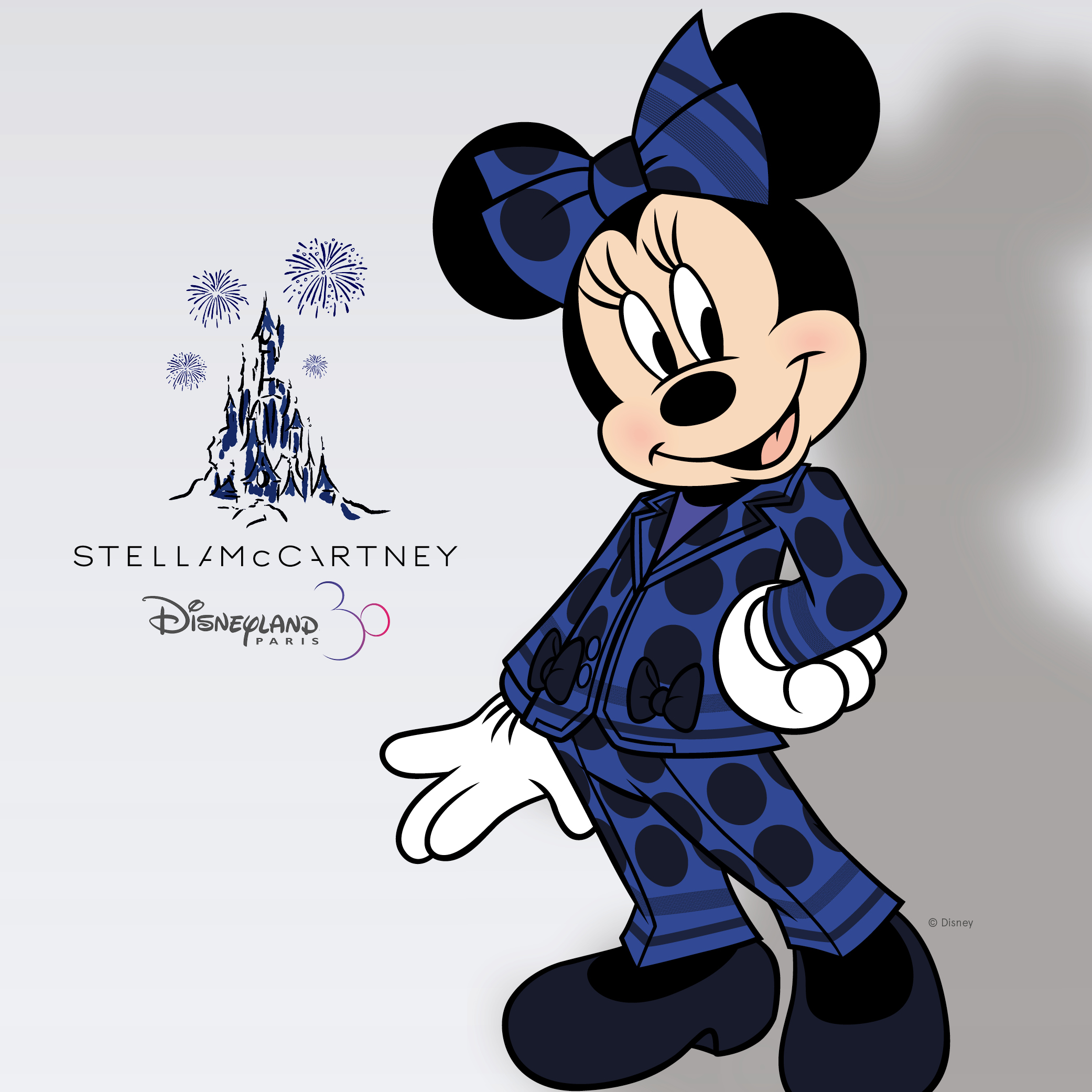 Of course Minnie isn't the only one to get a new outfit, the 30th Anniversary celebrations will bring out a whole host of characters in gleaming colours. Iridescent Bubble Pop would be a good way to describe the mouse-chipmunk-duck-and-dog catwalk, more of which you can see in the images and video below. Still no pants for Donald and Daisy though… somebody please call Stella again.
Proper 30th Merch
If you were holding out for the real 30th anniversary merchandise to load, wait no more! following a much-hyped announcement that had hopes towering high, the first DLP 30 related merch dropped hard with the reveal of a 4-year cooperation between the resort and device case maker RhinoShield, who will bringing out a mobile phone case with the 30th Anniversary logo. We'd tell you how good they are but we currently can't find them listed on their site or ShopDisney, so RhinoShield, if you're reading this, send us a couple to test!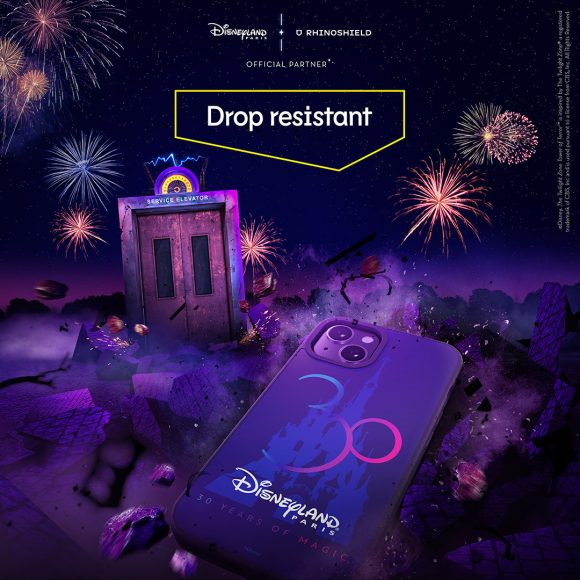 However, Disney wouldn't be Disney if they didn't have a whole plethora of merch to tie in with the 30th Anniversary of Disneyland Paris, so rest assured that you'll be able to find everything from keyrings to spirit jersey (without Loading bars) and scrumptious snacks. Say hello to the collection being previewed in this video, and yeas, the special Anniversary Wizard Ears hat is back, and this time it lights up!
And here's a look at some of the offerings in gallery format:
Gardens of Wonder
Last but not least in this 30th Anniversary preview, the exceptional horticulturalists have been getting creative with their concept for the celebrations. Gardens of Wonder is the metamorphosis of Disneyland Park's green areas around the castle into 10 little corners of magic. Disneyland Paris says the theme-based areas will feature 30 entirely new art pieces, kinetic Disney and Pixar sculptures which will "come to life", especially at night: "Each of these pieces has been imagined thanks to the expertise and creativity of our Landscaping and Entertainment teams, and is produced by local craftsmen whose know-how has contributed to Disneyland Paris experience for many years. Inspired by various sources of influences : from windmills for children to the world of Salvador Dali," as well as favoured Disney characters of course. Watch the video below to get an idea of the transformation, including that "woah" moment for us to see what is in store once night falls…
And that's it for this update on the 30th Anniversary, keep checking in because there's much more in store!