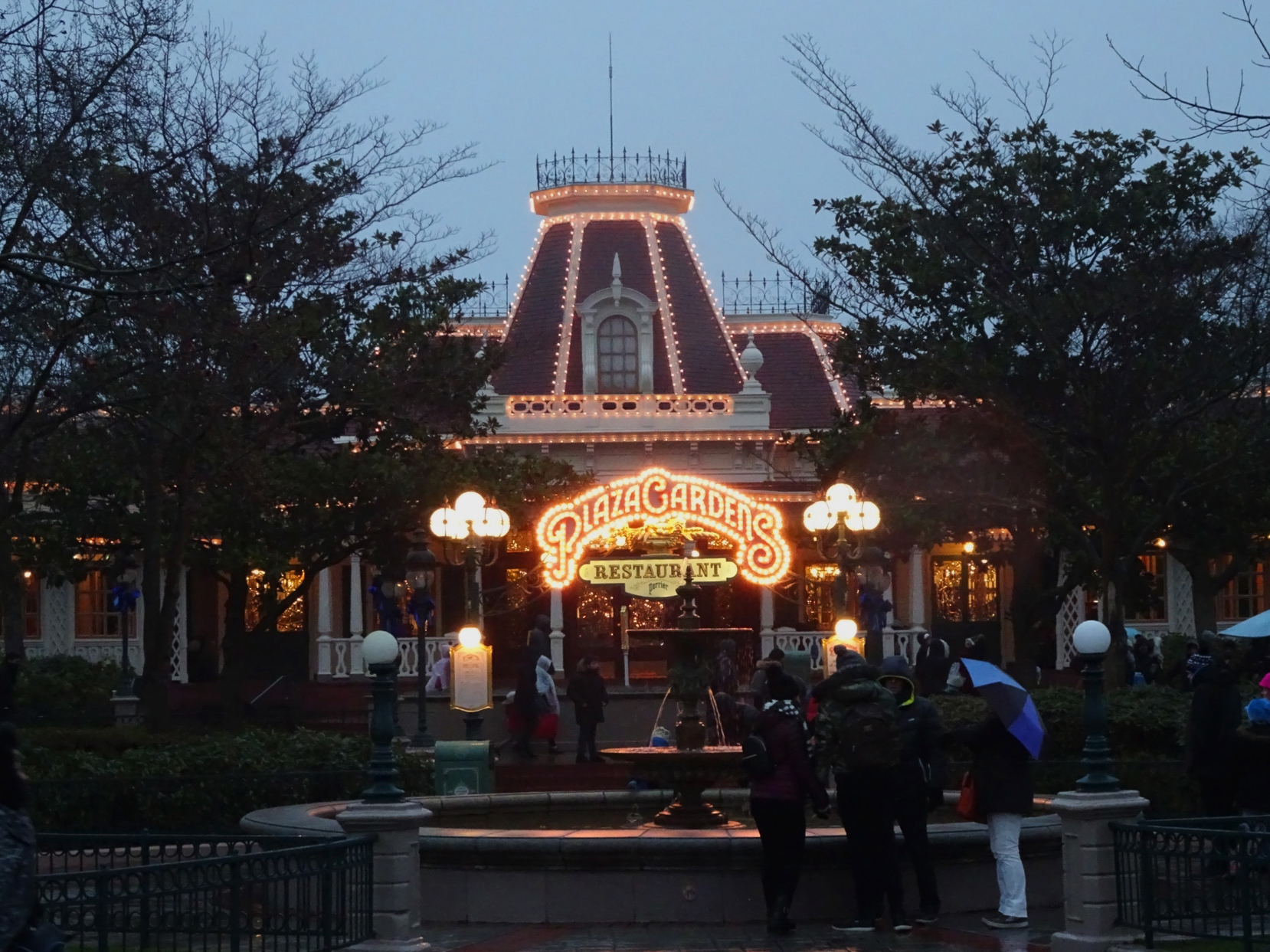 Disneyland Paris Restaurant Review: Plaza Gardens Restaurant
Given how many times I've visited Plaza Gardens Restaurant it's shocking that it's taken me this long to write a review, but better late than never. I'm a fussy eater, so a buffet is perfect for me, and whilst I love Inventions (read my review here), it's not affordable for every trip, not for us anyway. Inventions also requires a decent investment of time, if you want to make the most of the character interactions on offer. That's where Plaza Gardens comes into its own.
Inside it's a beautifully themed Victorian restaurant and its big. So, whilst I love Toad Hall, there's far more chance of getting a table at Plaza Gardens, with its huge dining areas and high ceilings, all ornately decorated. That doesn't stop me booking though, because the disappointment of not being able to get a table on a busy day would cut deep. Your drinks order is taken as you enter, then you are allocated and taken to your table, and then it's food time. You see, that's the great thing about a buffet restaurant, there's no waiting around for food to be ordered and cooked, you dive straight in. When you are in Disneyland Paris and time is of the essence, buffet meals are just perfect.
Come on Steve, enough with the generic benefits of any buffet! What specifically is the food like in Plaza Gardens? It was good before, but ever since the menu overhaul, maybe 18 months or so ago, it's even better. The addition of freshly cooked and carved meats is a revelation, and in addition to the meat and fish dishes already offer there's more than choice than anyone could ever want. I love vegetables – yes such people do exist. In Disneyland Paris, however, they are not easy to get, and certainly make rare to no appearances in the many fast food restaurants in both parks. That's where Plaza Gardens excels, with a plethora of vegetable dishes, plentiful in variety and presentation. Being able to stack my plate with broccoli, green beans and cauliflower makes me very happy indeed. I like a hot dog as much as the next guest, but not every day, or by the end of the trip my stomach will be revolting against such treatment.
It's not just the vegetables though, as I mentioned before, I'm a fussy eater, so I'm known to spend a while looking at menus, deciding if there is actually anything on offer I'd want. That's never a problem in Plaza Gardens as there are always plenty of fish/seafood and chicken dishes to keep me happy, and all cooked beautifully and tasting delicious. In fact, all the food in Plaza Gardens has that freshly prepared taste. It's also not overly complicated in its offerings, as I'm also not a fan of most fancy meals. Told you I was fussy! It's not just me, my whole family loves the food at Plaza Gardens, and I've known my son to get excited about the veggies. There are only so many chips a nine year old can consume!
I'll quite often have salmon and salad for starter, follow that up with chicken, fish and mountains of veg, some things I'll probably not recognise bit try, and enjoy. Plus there are proper potatoes, in various guises, not just the aforementioned, and omnipresent chips. Then it's on to desserts, which from my experience are not that different to those offer at the significantly more expensive Inventions. As much as all what I have talked about so far, and especially those veggies, is great, I always have to make room for some mini eclairs and petite fondant filled chocolate cakes. There's also fruit, which until a year or so ago was a rare thing in Disneyland Paris, just like the vegetables. Now we have the food cart in Adventureland which sells fruit, nuts, seeds, and the infamous Pineapple Whip. There are also sweets to be had in Plaza Gardens, and nothing finishes off a meal quite like a foam strawberry or three.
(Hint: click thunbnails to enlarge yummy food photos)
The cost, at the time of writing, is €34,99 for adults and €17,99 for kids, and that includes unlimited drinks. Add in Annual Pass discount if you have it, which with my Infinity Passport took 15% off the bill, then for the quality of food you get and the selection, it's superb value. Hey, did I mention it's a buffet? You can eat as you like! It's not as cheap as the counter service restaurants but the food is far superior, and well worth it, in my humble opinion.
The only slight criticism I can make is that the drinks do take their time to arrive at your table, and sometimes I've had to ask again before we've received them. Drink delivery aside though, I hold Plaza Gardens in the highest regard and it's the favourite restaurant for all three of us in Disneyland Paris. On our last trip In December 2017 we had a smaller than usual dining budget and at first Plaza Gardens wasn't part of our plans, but after a family discussion (more like my son saying it was his favourite restaurant and us changing those plans) it was back on the agenda, and once again, was the best meal of the whole trip. Going forward I can't imagine a trip to Disneyland Paris without at least one meal in Plaza Gardens, and if you've never tried it, I give it my highest recommendation and urge you to eat there in your next trip.
And look at those lights – gorgeous lights hanging from that high ceiling. If that is't enough, I'll leave you with with this photo of Plaza Gardens Restaurant looking stunning in the evening light of Disneyland Paris.