Disneyland Paris Pins for April 2012 – 20th Anniversary & Phineas & Ferb
Disneyland Paris are back with another set of pins for April 2012 and there are some stunners, and some others, but we'll get to those later!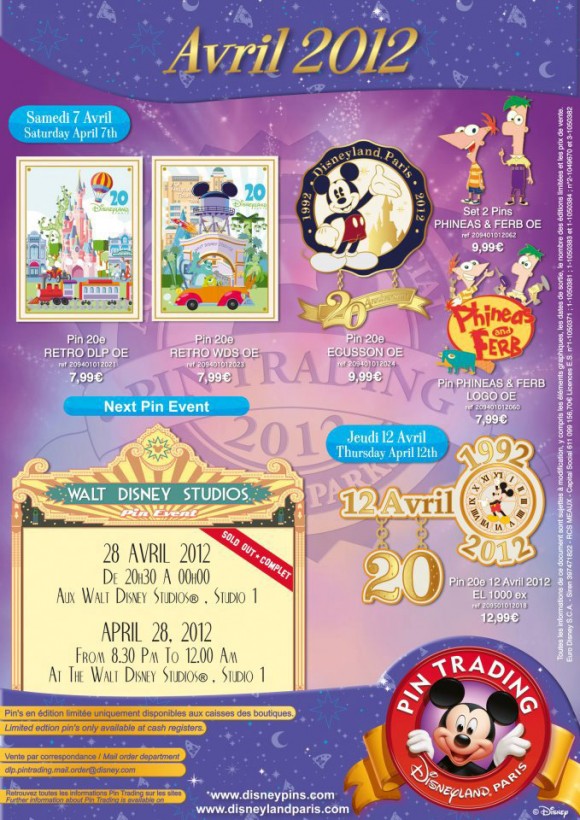 I absolutely adore the 2 retro pins and really hope that these become available on DisneyStore.co.uk with the other 20th Anniversary merchandise that will be sold from April 1st. The other two 20th Anniversary pins are great too, with the Mickey Mouse giving a nod to the 1992 imagery of when the park opened. The clock one features the clock which is on the front of the Disneyland Hotel as you walk under the hotel to get to Disneyland Park. That pin will be available to buy from 12th April – the actual 20th Anniversary of Disneyland Paris. So, if anyone will be there on that day and can help me get one, give me a shout…thanks!
Now, we have two more Phineas & Ferb pins to go with the one that was released this month, and I still have no idea about this show, having not watched it since last time they came up and I had people telling me I should watch it! This must be inductive of their intended inclusion in Disneyland Paris at some point, or are Phineas & Ferb just particularly popular at the moment?
Aside from pins there is also an advert for a pin trading event in Walt Disney Studios on the 28th April, that is sold out. Strange to use that space for an event that you can no longer actually get tickets for!
The four 20th Anniversary pins, and in particular the retro pins, are enough to get the Disneyland Paris April 2012 pin releases a big thumbs up from me.