Disneyland Paris Pins for December 2013 – Frozen Princess Christmas Dreams!
It seems like the pin releases for December have come around very quickly, but that could be because I only wrote about the November Disneyland Paris pins a few days ago!
Violetta
We start with a whole bunch of pins released this coming Saturday, including one featuring Violetta, which according to Wikipedia is this:
Violetta is a Argentinian tween-oriented musical telenovela developed by Disney Channel Latin America and Europe, Middle East and Africa (EMEA) and production company Pol-ka, first debuted in Latin America and Italy on May 14, 2012.
I'm sure she's recognisable to some, but she means nothing to me. It's very rare to have Disney Channel stars featuring on pins, real life ones even more so. She must be a big deal in France, or somewhere with a big market for Disneyland Paris pins!
Attraction, Shield & Winter
The Rock N Roller Coaster pin is a continuation of the much desired attraction series that was started earlier this year, and we heard was to continue in 2014. Perhaps because I don't ride this attraction the pin doesn't do a lot for me, but on the plus side we are one step closer to the release of the Pirates of the Caribbean pin.
The Mickey pin is quite nice looking in a style they have featured before and is reminiscent of the Signature Collection
which was my favourite range of merchandise released during the 20th Anniversary. Ecusson means shield in French, according to Google Translate, but that pin doesn't look much like a shield to me, though it gets extra points for having a dangly bit!
The Christmas 2013 pin is another in a possible series to feature one of the Seven Dwarfs, this time Sneezy. At least that's my guess from the way he seems to be suppressing a sneeze. This one is limited to just 600 and would go nicely on the Christmas lanyard released on the same day.
Princess Saturday
I'm delighted to see 3 more of the Princess shield pins (and these actually do look like shields) released next Saturday, December 14th, if only this means the series is coming to an end. We've had so many Princess pins in 2013 it's become quite tedious, at least for someone like me who has no interest in Princess pins!
Pueblo Trading Post Exclusives
In what is becoming a regular thing, on Saturday 21st December there will be 3 pins released that will be sold only at the Pueblo Trading Post in Frontierland. I am pleased to see them do this as the Pueblo Trading Post has long been an almost forgotten mecca of pins in Disneyland Paris, and I'm glad to see them make better use of it.
The pins themselves are all limited to 600 pieces only, and if the Anna pin is even a fraction as popular as the Frozen film, then that will sell out in just a matter of minutes. Don't worry though, you'll find it on eBay for 6 times the price later that same day!
There's also a Tinkerbell pin that continues the second Princess series that ran through 2013 and 3rd Dreams! pin that seems to have missed the opportunity to feature a scene from Disney Dreams! of Christmas, but does wish us a Happy New Year.
Cast Member Exclusive
Once again the best Disneyland Paris pin released this month is a Cast Member exclusive Tinkerbell pin. I think it's great that the Cast Members get this exclusive range and I don't wish for that to stop, I just want the ones sold to the public to be of the same high quality.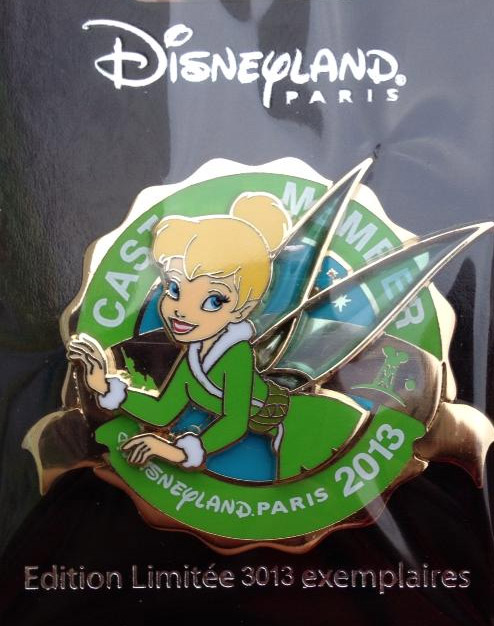 The next pin trading event is on Saturday 14th December in Hotel New York. An okay selection of Disneyland Paris pins for December, made far more appealing if you like collecting box loads of Princess pins. I'm glad to see the attraction pins coming back, and just hope that 2014 sees more like this.