Disneyland Paris Halloween 2013 – Why The Harvest Theme is Right
While almost everyone agrees that the new Halloween decorations look great, and the debuting Mickey's Halloween Celebration is visually spectacular, some have questioned the Harvest theme that makes up part of this year's Halloween season in Disneyland Paris.
Certainly in Western countries we are more used to the ghosts, monsters and witches Halloween, with spooky festivities. However, if we go back a couple of thousand years then All Hallows Eve (Halloween – 31st October) was celebrated in two ways: 1) By remembering the dead, and 2) With a big harvest feast. Whether it be the Christian celebration that some believe is where it originated, or the pagan festivals of the Celts, both were associated with the harvest which was said to end on October 31st.
So while the ghosts and spirits do make up one part of Halloween, the harvest festival makes up another part, arguably the bigger part. If we look at what Disneyland Paris are doing this year, you can see ghosts all over Disneyland Park, whether they be a top the buildings or on benches as photo locations. There are also pumpkins and pumpkin men all over the park, which ties in nicely with the Jack-o'-lanterns made out of Pumpkins that used to be carried around to ward off the evil spirits.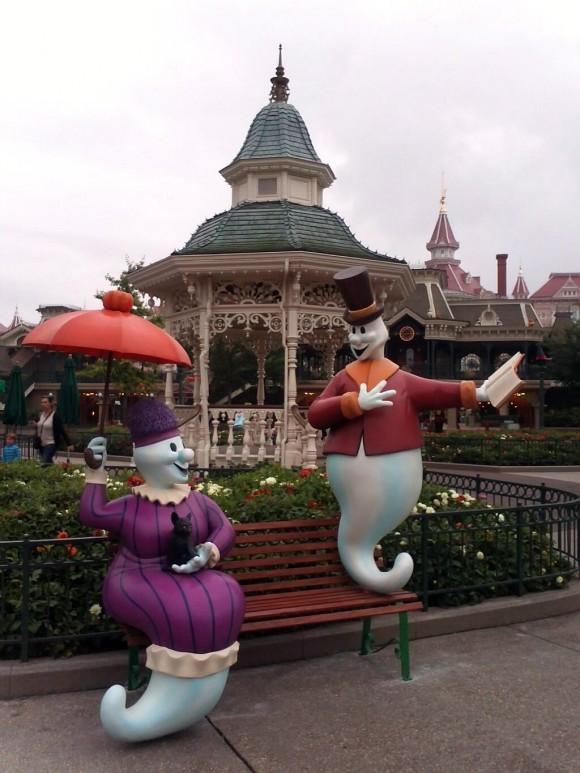 So that's one side of the origins of Halloween covered, just the harvest side to go, and that's where Mickey's Halloween Celebration comes in. Not only does it heavily incorporate the pumpkins, but it also embraces the harvest part of Halloween, with all the foods and colours that you associate with the harvest festival.
So rather than go with the more Americanised cartoon version of Halloween, Disneyland Paris have gone back to their European roots and embraced the ancient celebrations that Halloween used to represent. It's certainly not what we're used to, but surely at a time when Disneyland Paris have been slammed for not making changes, they should be applauded for not doing something they've done time and time again, and gone with something a bit different, but equally, and arguably, more relevant.
I do see the other side of the argument, and there's a certain expectation for a Halloween celebration, and even more so of one inside a Disney Park. But remember there is the Jack Skellington and Sally meet and greet in front of Phantom Manor, there is Goofy's Crazy Sweet Factory and Minnie's Costume Couture. It's not all harvest at this year's Halloween in Disneyland Paris, just certain parts of it.
I personally welcome the change, and maybe as someone who was brought up in a small village in the country this type of Halloween seems more normal to me. I think the combination of old and new make for a very different, but just as spectacular Halloween season for anyone visiting Disneyland Paris. I loved the old Halloween-lo-ween style celebrations in Disneyland Paris, but I also love that now I have something new and different, and that something has been wonderfully themed with an incredible attention to detail and appreciation of history.