Reopening Roundup #2: Marvel and Mayhem?
In another exciting week of preparation for the Disneyland Paris reopening on June 17, 2021, we've had the opening and filling of ticket reservations, more teasers from Disney's Hotel New York – The Art of Marvel, as well as the announcement of the Annual Pass reservation date, and emotions are running high around a partially visible castle.
If you needed something to lift your spirits this week you didn't have to look far beyond Disneyland Paris' Youtube channel, or even our first Dedicated to DLP Reopening Roundup video. No less than 6 brand new videos to get you buzzing about coming back to the magic. Even Cast Members had an emotional moment when their hand-written, personal wishes to Sleeping Beauty's castle were placed in a gold-castle emblazoned box inside a newly refurbished turret, and in a small ceremony attended by DLP top brass raised onto its tower, a time-capsule of sentiments from all who make the magic happen.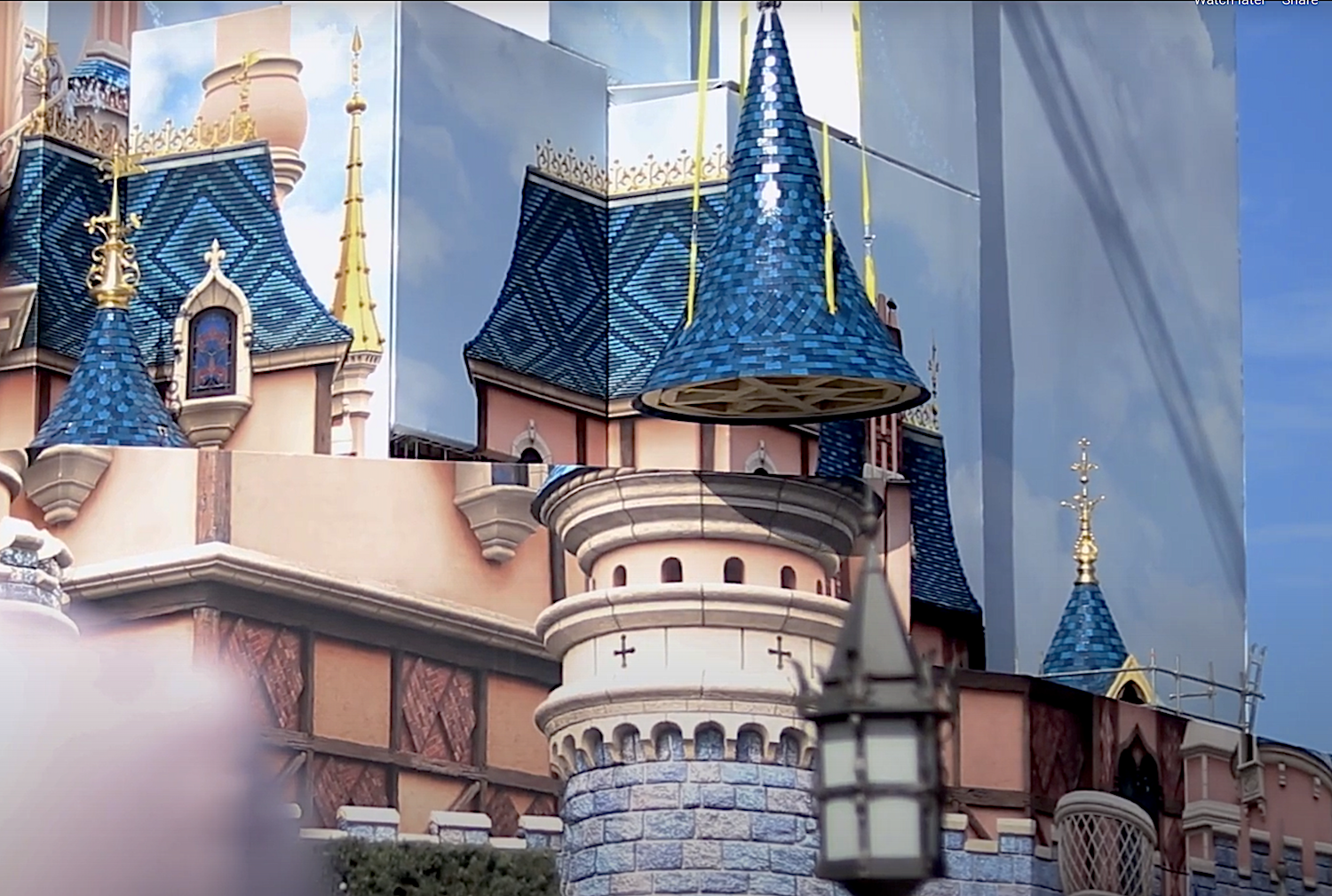 Outside the gates, still at home, future guests were getting giddy with excitement as they could finally book their trips to the Parks, including the hotels and yes, Disney's Hotel New York – The Art of Marvel. We might only have some teaser videos and images from the hotel so far, but by all accounts it seems bookings are going swimmingly for the newly refurbished establishment. At an average of €798 per night (update: interestingly now €627) in the first month there are still rooms available here, but the more economical Hotel Cheyenne will only be available from July 1st for around €298 per night. These do include tickets for 2 days to both parks when booked through the official book.disneylandparis.com site. 
As of the publishing of this article, dated 1-day tickets are also still widely available, starting at €59 (1 person, 1 park) in June and going up to €79 in July. We're assuming the uncertain travel restrictions between EU and non-EU countries are still keeping things in an ambiguous zone, although Greece and Spain have announced an early trial of the Green Covid Travel Certificate as of June 7th, and France may well follow shortly after. For those in the U.K., well, France is still Amber listed by the Johnson government, and France will require you to quarantine, so there's that, unfortunately.  
Other practical information released this week is that capacity during June will be capped at 28,000 visitors per day, closed restaurants will be Fuente Del Oro and Silver Spur in Frontierland, Toad Hall and Auberge de Cendrillon in Fantasyland and Walt's in Main Street U.S.A, and opening hours for the parks will be 09:30-20:00 and from the 3rd of July till 3rd of September 09:30-21:00 for Disneyland Park, with Extra Magic Time from 08:30-09:30, and for Walt Disney Studios 09:30-18:00 daily.
How EU Doin'?
And while the rest of the world was getting vaccinated and enjoying the Friends reunion, quite a few DLP Annual Pass holders felt like they're always stuck in second gear, when it hasn't been their day, their week, month or even year. Disneyland Paris may have extended pass memberships by the time the parks have been closed and then some, announcing two exclusive AP soft opening days on the 15th & 16th of June, however the 2021 reopening has come with a few more limits to their privileges than last year.
"For the sake of fairness and so that a majority of you can enjoy the magic, as part of the reservation system in place, we are changing the way you book your tours," read the official announcement. In a not insignificant shift of terms, AP holders can only book 3 consecutive days at the parks. This is in addition to the soft opening days which can be reserved on the AP platform from June 1st at 15:00 Paris time, "as well as any day in the context of an overnight reservation in a Disney Hotel." New dates may then be booked after the first visit of 3 days, or if they decide to cancel one of their 3 reservations.
This of course has met with some consternation, particularly from AP holders who live further afield, as they point out a long journey, especially cross-border in these times of Covid travel restrictions, doesn't usually warrant a minimum of 3 days. Disneyland Paris in turn have said they understand these changes are quite different, and therefor offer two options: a further extension of 60 days on active Annual Passes, or the possibility to terminate them outright.  
We've seen some of the big changes that the Walt Disney Company has carried out to the Annual Pass programmes in the United States, most notably the sunsetting of passes in California. So these moves in France seem very much like the left-over sweets on the desert buffet. We wouldn't be surprised if DLP is planning to also send the AP programme over the western horizon, possibly in preparation of a new loyalty scheme, but getting holders to give up their prized passes without pushback may prove tricky, especially with the passionate Italian, Spanish and vocal German fan communities.
Still, DLP will reopen, the magic will awaken, and Mickey waffles will be made. And that is just up our Main Street. Will we see you there?