Review of Mickey and the Magician in Disneyland Paris
I did it! I stayed strong and avoided seeing any video footage or even allowing my eyes to linger over a photo for more than a fleeting glance, and as such I entered the Animagique Theatre last Monday completely spoiler free for Mickey and the Magician. I knew there would be characters from a few select films and I knew there would be magic, beyond that I knew little else, except people had almost universally praised it very highly.
We were sat pretty much in the middle and in the front row, quite giddy with excitement and relieved to be out of the queue which had us bunched up like sardines for 40 minutes before the doors opened. Then it started and the first thing to take in is the set, which is richly coloured and full of interesting and exquisitely designed props and scenery pieces. It's like something you'd see on a West End or Broadway stage, with no expense spared.
Out comes Mickey Mouse, and I got my first real life experience of the facially animated king of characters. Not only was the face articulation a treat but I"m sure I've never seen Mickey moving around the stage with such fluidity and freedom – very impressed. The show is in English and French, but some of the French parts don't get explained, like when Mickey is trying to do something with the top hat. I think it's something about singing, but no matter, you get the gist of the story, that whatever Mickey is trying to do isn't working. Yes as an English speaker I'd prefer the show to all be in English, but you never totally lose track of the story as the action on stage tells a story where words aren't needed.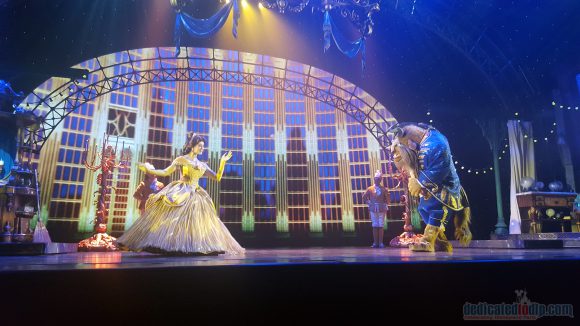 When viewing a show like this, I'm one of those people that allows themselves to be completely taken in and absorbed in the performance. This meant that when Cinderella's dress appeared and then Cinderella herself, I was wowed. Just as I was when the box levitated at the hands of Genie and then a dancer popped out. Speaking of Genie, what incredible casting, both as a vocalist and a presence on stage. This guy was one of the highlights. In fact, the casting throughout was absolutely spot on, with Belle being every bit as stunning as her animated counterpart. Staying with Beauty and the Beast, how amazing is Beast? I've never seen non-human Beast as a character and I was pretty much blown away. Throw in the aforementioned Belle, a stunning ballroom setting, Tale As Old As Time playing and it was one of the stand out scenes for me. Also made me realise that Beauty and the Beast maybe isn't just my wife's thing.
My son has been wanting to see The Lion King in London but every time I price it up, the number comes close to a trip to Disneyland Paris. I'm not sure if Mickey and the Magician will work in my favour in that respect. Will it satisfy his hunger for The Lion King or just whet his appetite? Time will tell. This section of the show is just spectacular, with many performer/animals featured and not just contained to the stage, as they roam the theatre. We were lucky enough to have a few come right up to us and were encouraged to stroke their faces. Quite incredible to get such intimate interaction with a production like this.  And how good was Rafiki's voice? Wow!
The Frozen scene was the most raw, with little in the way of props and scenery, but some great dry ice and lighting adding to the magical atmosphere as Let It Go was belted out. No- it wasn't the same powerful performance as Idina Menzel, but neither do I think it was trying to be – anyone would be a fool to attempt that. I'm still a sucker for Frozen, and add in a fully animated Olaf and it gets my vote. I also loved the bit after Elsa had left the stage and Mickey is singing let it go. This was just one example of the humour that ran throughout and combined perfectly with the magic and pageantry on display.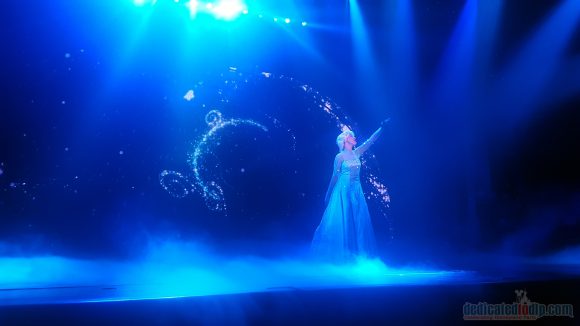 Of course, Mickey does get his magic to work in the end, after a pep talk from the Magician, who played a much smaller part than I expected going in. The showstopping number at the end, with all the main characters involved is the perfect way to close the show, and brings back Let The Magic Shine from the start of the show. At this point I am making yet another request to Disneyland Paris to please release their music on CD, or at the very least in digital format for us to download. We have money, we'll pay!
I actually stood up to applaud the performers, so moved was I by Mickey and the Magician. As attached as I am and always will be to The Tarzan Encounter from years gone by, this is on a whole new level and is like nothing we've ever seen in Disneyland Paris before. Unfortunately I didn't get to see it for a second time this trip, but it will be an absolute priority when I return for he Halloween season in late October.
Mickey and the Magician is a show that brings every element that makes for a world class piece of entertainment and weaves it together with stunning visuals, performances and music. Mickey and the Magician is everything you could ever want and more than you could ever dream of. Congratulations to everyone involved and thank you for giving me yet another reason to visit Disneyland Paris as much as I possibly can.