Disneyland Paris Pins for November 2012 – Say hello to 2013, with Duffy & Wreck It Ralph Too
It only seems like yesterday that I was writing about the October 2012 pin releases, but in that time the podcast has relaunched and I'm on way back to Disneyland Paris. That last statement only came to be this very week, and I will be back in the happiest place on Earth for the weekend of 10th-11th November to experience the Christmas festivities. Anyway, on with the pins that will be released in Disneyland Paris during November 2012.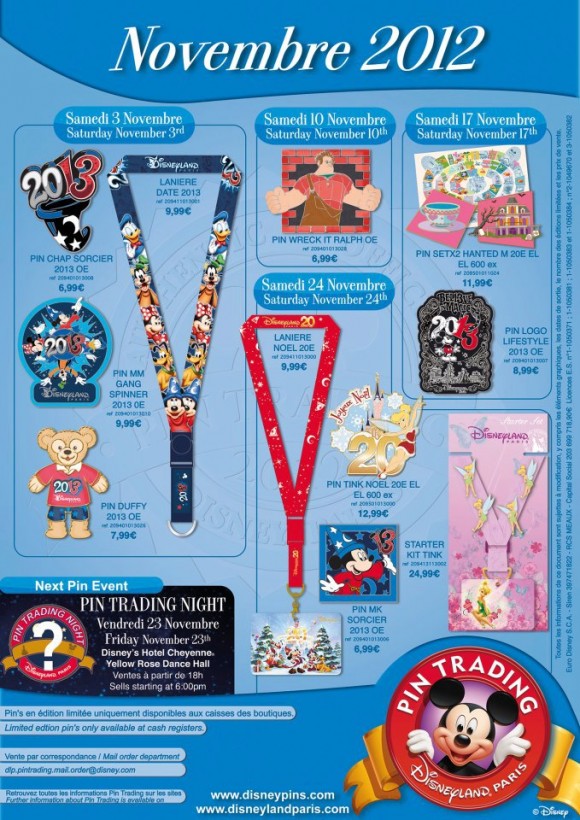 It's quite hard to think about 2013 when there are still 65 days of the year left and we've not had Halloween or Christmas yet, but here we are with a whole bunch of 2013 pins. However, before we get to them, one thing to note is that there are no 20th Anniversary Train pins this month, so that set must have been completed last month with the Stitch and Angel releases.
I actually like all the pins released on November 3rd, but especially the sorcerer's hat and The Mickey and gang spinner pins. The latter looks great and at 9,99€ is pretty cheap for a pin with a special feature. The lanyard that goes with it is nothing spectacular but sometimes it's nice to go back to basics and put the spotlight on Mickey and pals. Hey, I'm even ok with the Duffy pin, as I have warmed to him over time and since he has played a less prominent role within Disneyland Paris.
The one pin released on Saturday 10th December, the day I arrive in Disneyland Paris – did I mention I was going back? Anyway, that pin is Wreck It Ralph, the new Walt Disney Studios film released in America on November 2nd but not until February here in the UK. Nice looking pin and pretty cheap at just 6,99€. I'm certain Mark from IMDO Podcast will want one as he is as excited about the release of Wreck It Ralph as anyone I know, and he arrived State-side today so will watch it before he returns.
The week later we see another two releases in the ongoing pin game series, this time featuring Mad Hatter's Tea Cups and what is labelled as Hanted M (Haunted Mansion?), but I'm hoping since this is Disneyland Paris is actually Phantom Manor. Or maybe hanted M is the French translation of Phantom Manor? The 3rd pin released on November 17th is a great looking Mickey Mouse Believe in Magic Lifestyle pin, with what I think I can make out to be a few icons of Disneyland Paris on the bottom half, possibly.
The last set of pin releases in Disneyland Paris are on Saturday November 24th and include 2 lanyards; a Christmas lanyard and a Tinkerbell lanyard contained within a starter set. I like the former but not so much the latter, but then Fairies aren't really my thing. There's also a Tinkerbell Christmas pin featuring the 20 from the 20th Anniversary logo and the snow covered castle behind. Finishing off this month's releases is a Sorcerer Mickey 2013 pin which is nothing ground breaking but a nice pin all the same, and another relatively cheap pin at 6,99€.
Pretty good pins for November, with the Mickey and gang spinner and Lifestyle pins being my particular favourites. There are none I dislike and a whole bunch that I'd be happy to have in my collection.