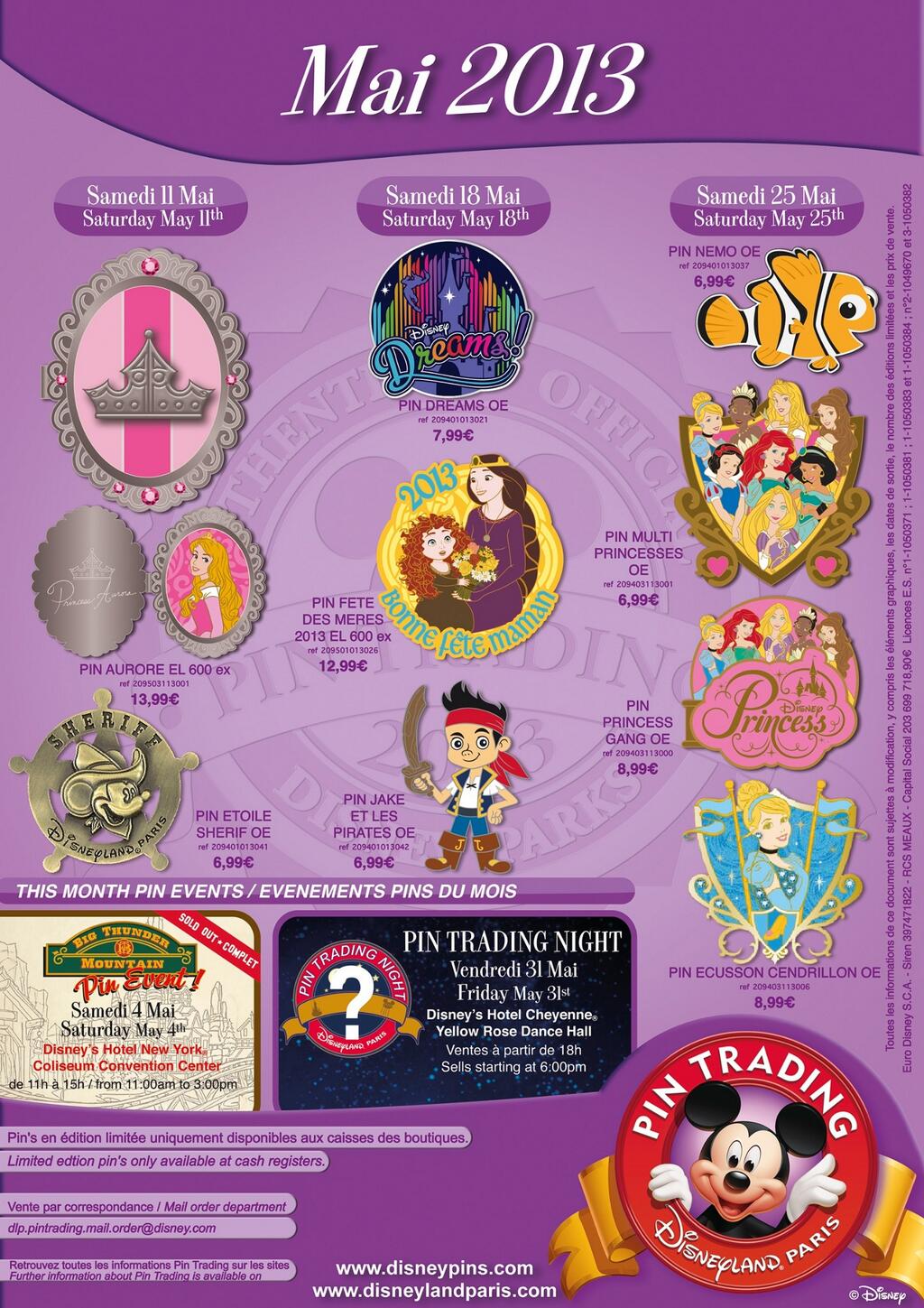 Disneyland Paris Pins for May 2013 – Even More Princesses, Dreams!, a Pirate, a Fish and a Sheriff
Yes, it's that time when the new Disneyland Paris pins for the upcoming month are revealed, and what treats do we have in store for May 2013?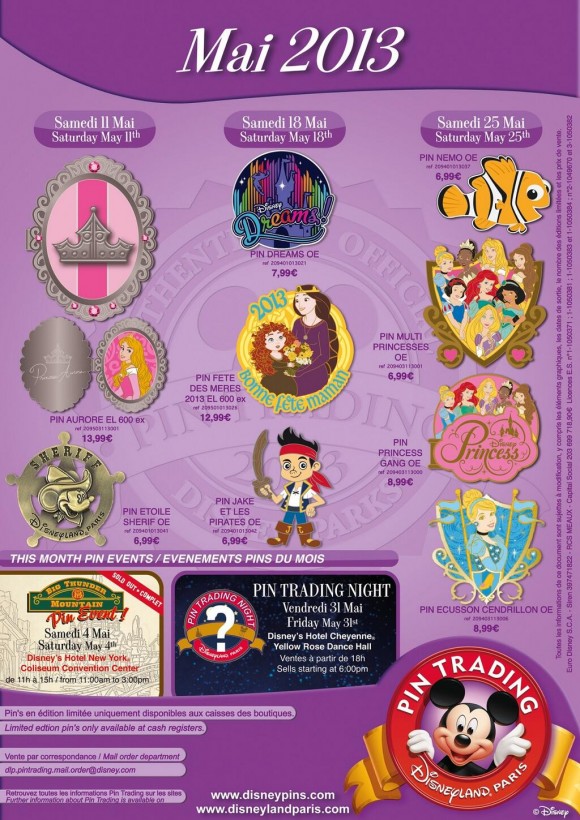 Someone out there really likes Princess pins, I mean, a lot! For April we had 14 Princess pins, all of which have not even been released yet, and already we can see that there are another 5 planned for May – that's more than half of the upcoming pin releases in Disneyland Paris. The joke has gone too far – enough with the Princess pins…please. In fact, by way of protest I will talk no further about them – look at the poster above, lovely.
The Sheriff Mickey pin is great – I love the monochrome colour scheme, the layered feel and also that it acts as both a Mickey pin and also a Sheriff badge. Simple yet clever at the same time – job well done. A week after that is released on the 11th, we get the second Dreams! pin, and if I'm honest it's not actually that different to the first Dreams! pin, which took an age to be released when it came out in September 2012. This is not a patch on the Dreams! pin series being sold on the Disney Store Website
that I had heard were being sold in the resort too – so why don't they feature on the release poster? Maybe they are Disney Store exclusives after all – seems unlikely though.

Speaking of these Disney Store Dreams! pins, here is an update from Disney Store sent to me by Jonathan Broomfield:
Following the error which led to the Dreams Rapunzel Pin being available to buy before the release date on our French site, we know that many of our loyal Pin fans are excited about the official release of this Pin on 7th May. We can confirm that we have 165 of this Pin in stock across the Disney Store Europe, and that there will be a limit of 2 Pins per Guest.

Although many Guests who ordered the Pin before the release date did order only two in the spirit of Pin Trading, there were a handful of orders of up to 5 Pins, which were honoured due to the nature of the error. We'd like to assure our Pin traders that we have put in measures to ensure this doesn't happen again, and we hope that this answers all your questions.
The Jake from Jake and the Neverland Pirates pin is unremarkable, but a nice variation from the usual characters that get featured in these pins. On the subject of unremarkable comes the Nemo pin released on May 25th, and capitalising on the recent announcement of Finding Dory. Though why they didn't release a Dory pin to celebrate this is slightly baffling.
There are no more of the great attraction pins this month, which means they are either on a break, or that series is finished without covering the rest of the resort's attractions. If the latter then that's a great shame as they were the best series of pins in Disneyland Paris pin release history.
There are two pin trading events – one which you can't go to on May 4th in Hotel New York because it's sold out, and the other is taking place in my beloved Hotel Cheyenne the day after I leave on Friday 31st May – bad timing for me.
Not a great month for in releases I'm afraid – definitely the weakest set of pins in 2013. Let's hope it's a temporary lull and we are back to what has been great form for June.