On Thursday Disneyland Paris sent an image to their InsidEars group, and that image was of CinéMagique, with the words returning soon on it. Before I get to this tremendous news, I'd like to say once again, and sorry for sounding like a broken record, but why on earth Disneyland Paris don't announce their own news is beyond me. This is not sour grapes as I'm on the list to receive such announcements, but I'd much prefer it come from them publicly, than get tweeted out en masse by bloggers, vloggers and other fan sites in some pointless quest to be first. I want Disneyland Paris to own their news, be excited about their developments, and then us fan sites can comment on it should we choose. With the number of rumours and leaks that get circulated, fans, especially those outside of the hardcore realm of regular visitors, would then know to look at the official communication channels for confirmed news, rather than being confused by rumours and teases from unofficial sources.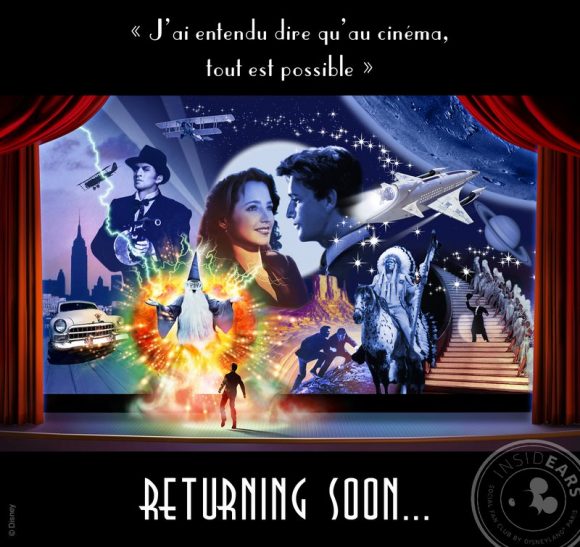 CinéMagique Returning – The Good
Now I've got my moan out of the way, this is such good news as CinéMagique is one of the greatest attractions in Disneyland Paris history. I rate it so highly that it's a top 5 attraction for me, and my favourite in the whole of Walt Disney Studios. It's an emotional storyline that cleverly takes you through the history of cinema, with some clever special effects and a lead character that you care about.
The date being thrown around for its social media (again, I'd much prefer an announcement than fan site rumours) is November, so I'm assuming Studio Theater will be repurposed when Marvel Super Heroes United ends in September, and then themed back to Marvel for next year's Marvel Super Heroes United run in summer 2019. It's great that they will be using the theatre during the downtime, though why such an expensive to create show is not on full time is a little confusing. It could be that the technical errors that have plagued Marvel Super Heroes United since it opened means that they can't keep it open and risk continued low guest satisfaction. So this time can be spent trying to get those problems fixed off site, rather than in the public eye. It's a great show when it works, as you can read from my review, but unfortunately, the problems have continued for its whole run and do still to this day.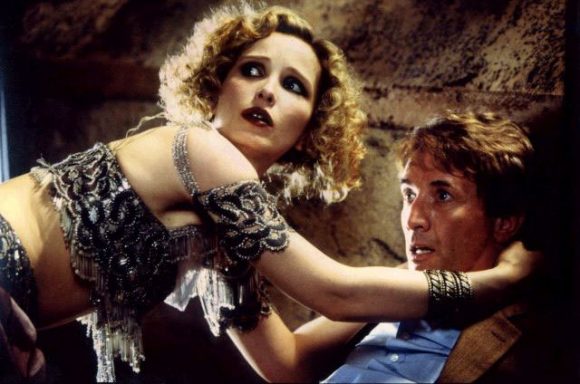 The big question now is whether CinéMagique will come back with any changes. They updated and digitised it a few years ago, so it can be done. However, I'm guessing this is a last minute decision based on the Marvel Super Heroes United problems, so I'd expect to see the same show CinéMagique return, even down to George using an atrociously out of date mobile phone. But that's part of its charm, and as much as it does date the show, George using a smartphone just wouldn't be the same. I guess they could make it super modern and topical to Disneyland Paris, with George having to use LineBerty to get his luggage back – then I bet we'd see him stamp on his own phone in frustration!
CinéMagique Returning – The Bad
Can the return of one of the all-time Disneyland Paris greats actually have any bad points? Well yes, I go to Disneyland Paris next month, but then don't have plans to return until August 2019. So assuming Marvel Super Heroes United does return, I won't actually get to see the return of George and the glorious CinéMagique. That's it, my own selfish frustrations aside, this is fantastic news, both for giving them the chance to fix Marvel Super Heroes United and bringing back a well-loved classic while they do that. My one request is that they right the previous wrong, and release CinéMagique merchandise, including a replica toy phone with sound bites from the film. Press 1 for How did… vous… find… moi?