Previously…
When Was The Last Time You Didn't Go To Disneyland Paris For A Whole Year?
My Year Without Disneyland Paris Update #1 – January 2018
My Year Without Disneyland Paris Update #2 – February 2018
My Year Without Disneyland Paris Update #3 – March 2018
My Year Without Disneyland Paris Update #4 – April 2018
May was both the easiest and the hardest month to not have any plans to visit Disneyland Paris in 2018, and I'll start off with the easy bit. We, that being myself my wife Denise and my son Lucas, have decided that we are going back to Disneyland Paris next summer, and you can read all about the many decisions that need to be made and what we plan to do, in this article. So to have a bit of a plan to return, even one a very long way off, gives us something to look forward to, and already walks to school with Lucas have involved talks of how many times we will go on Big Thunder Mountain and whether we'll go on Tower of Terror again. On that latter one, I say yes, but Lucas says no, even though it was him that got me on for the first time back in 2016.
So we can handle not taking Team Riley to Disneyland Paris in 2018 now that we have our 2019 summer trip in the planning stages, though I do really need to get going on that and actually book it.
However, so much great stuff has been happening in Disneyland Paris, that as much as a future trip is fantastic, I've suffered from massive amounts of FOMO (fear of missing out) this month. First there was InsidEars, which I was invited to, but couldn't make due to having to work on the Friday and going to see Hamilton in London on the Saturday. Hamilton was the best show I have ever been to so that was all good, but the InsidEars event saw so many of my friends all together in my beloved Disneyland Paris, and a whole bunch of people that I'd love to have met. Plus there was a ton of news revealed, and Avengers macarons! The silver lining is that being back home I was able to get a podcast episode about all the news released that same night.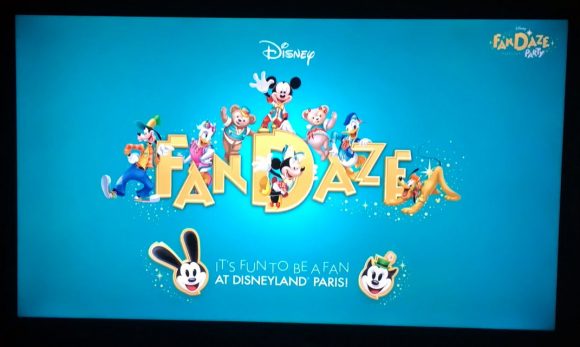 Then there was Pirates and Princesses, which I wasn't overly bothered with after seeing videos people have uploaded to YouTube, but as always it's a case of things being so much better in person in the Parks than on a screen. Everyone, and I do mean everyone, who has been over to Disneyland Paris for the Pirates and Princesses festival has said it's absolutely incredible, full of energy, great songs and amazing interaction. Then there was Disney FanDaze this past weekend, which I know was June and should be in next month's article, but it's the 4th June as I write this so I'm including it. My blog my rules! Thanks to a 6.5 hour live stream I was able to see everything going on at the Disney FanDaze Inagrual Party, and once again, had all my friends telling me what an amazing time they had, and sharing so many brilliant character photos. Again though, it did mean I could get a review of the event up quickly – I know, cheap plug!
So that's month five for you, one filled very much with mixed emotions. It also proves once again that Disneyland Paris still has a very special place in my heart. It's also encouraging to see just how much what Disneyland Paris is offering at the moment is loved by so many people, and some of those have been hard to please in the past. It'd be much easier if people came back saying it was a load of rubbish, but alas, Disneyland Paris seems to be on fire at the moment.