The biggest news possibly since Disneyland Paris opened hit this week, as Disney announced a €2 Billion expansion plan for the Walt Disney Studios Park. A Marvel land, Star Wars Land, Frozen Land and a Lake! In this episode we discuss all of that, as we study the concept art and come up with lots of theories as to what might be, including all your wonderful and enthusiastic feedback. There's also some FanDaze and Pirates & Princesses music news to kick things off, with actual music!
You can listen above or right click and download it for later. You can also grab it from iTunes here. If you have a non Apple MP3 player or phone then the subscription URL for you is http://dedicatedtodlp.libsyn.com/rss. We are also on Stitcher Radio, so look for us there.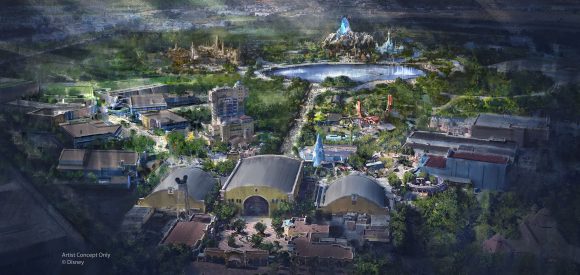 Dedicated to Disneyland Paris Podcast on iTunes
If you liked the show we'd really love you to rate us and leave a review on iTunes – we'll read your reviews out on the next episode, you'll be famous…sort of!
Disneyland Paris News Update #57: Disney Announces €2 Billion Expansion of Walt Disney Studios
httpvh://www.youtube.com/watch?v=mdRP3pfy_Go
Have Your Say
We'd love to hear your thoughts on this 115th episode of the podcast and if you have any suggestions for the next episode, any questions, or if you just want to say hello. You can email us at podcast@dedicatedtodlp.com, tweet us @DedicatedToDLP and you can find us on Facebook here. You can also see Dedicated to DLP TV on our YouTube Channel.