Ever since I started Dedicated to DLP in September 2010 it's brought me great satisfaction and offered up a lot of exciting opportunities. One of the best experiences happened when I last visited Disneyland Paris earlier this month, and has nothing to do with characters, attractions or shows. Around 18 months ago my good friend and podcast co-host partner Mark was in Disneyland Paris and was approached by someone asking if he was Mark from Dedicated to DLP, with his laugh possibly giving him away. That was Amanda Macklin, mother of Stephen, undoubtedly the biggest fan of Dedicated to DLP.
Stephen is life limited, and one of the things he really loves is Dedicated to DLP, and listens to the podcast episodes over and over. He was overjoyed to meet Mark, and wondered where I was. I think it probably amazes many people when they realise that this recent trip was actually the first time Mark and I have been in Disneyland Paris together. By fortuitous coincidence, we were set to be in Disneyland Paris at the same time as Stephen and family, though Amanda kept it a secret.
Fast forward to Wednesday 16th March and we agreed to meet up just after the late afternoon Welcome to Spring performance. It was near Buzz Lightyear Laser Blast when we approached Amanda, Stephen and Daniel, Stephen's younger brother. Stephen was very surprised but happy to see us, and for me it was fantastic to meet him at last. I don't have delusions of grandeur thinking I'm anything more than just a guy who writes and talks about Disneyland Paris, but to Stephen we meant a lot, and so it was my absolute pleasure and privilege to meet and spend time with Stephen and his family.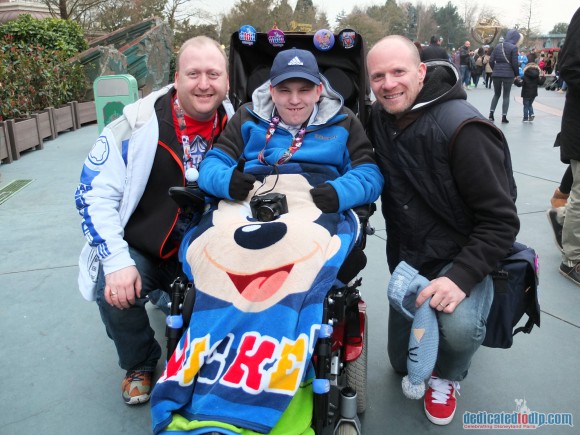 We had a lot of fun with Stephen, taking photos and agreeing that he was now one of the boys and an official member of Dedicated to DLP. We met up with them again next day and had photos with Mickey and Minnie in their St Patrick's Day outfits, and had lots of fun with with the Leprechauns. While it was great for Stephen to spend time with people who mean so much to him, the reason I'm writing this is because I know Stephen will like to be featured on the website, but also to express how much it meant to me. Stephen is a lot of fun to be around and has a very positive attitude, and in 6 years of running Dedicated to DLP, meeting Stephen and his family was one of the absolute best experiences. While Stephen may think Mark and I are cool for doing Dedicated to DLP, it's quite the opposite, and it's he who is an inspiration to me, and someone I am proud to call my friend.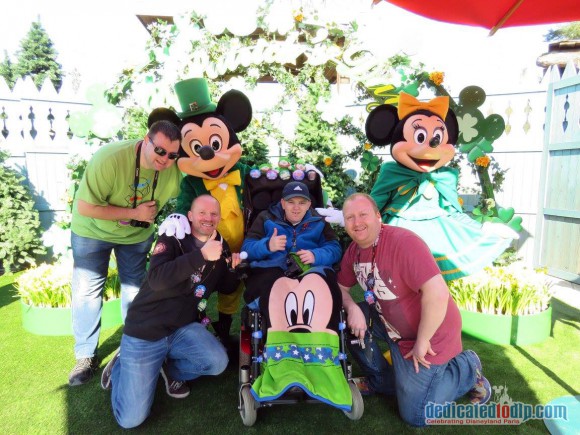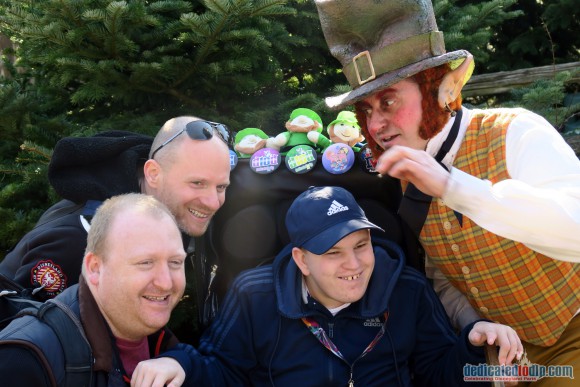 It's Stephen's birthday when I visit Disneyland Paris in August and he's persuaded me to attend my first ever Halloween Soiree in October. Not sure I will be able to go as a Ghostbuster like he suggested, but we'll see. Stephen has become a big part of the Disneyland Paris community, and I'm sure everyone who meets him feels the same way I do, all the better for it. Stephen, I'm very glad to have have met you, to be able to call you my friend and look forward to seeing you again soon.