So last week a friend of mine Kizzy Quigley was in Disneyland Paris, and was invited to something very special. I'll pass over to Kizzy now, as this is her account of what happened, what she thought, and some photos too.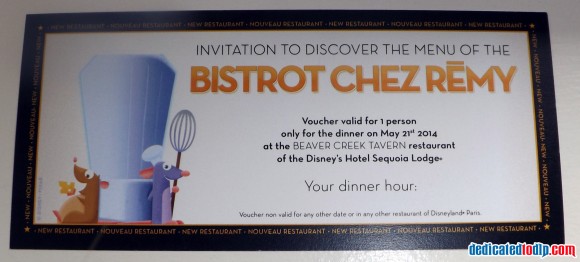 We arrived at the Disneyland Hotel Monday May 19th and were checked in by a lovely CM who said he had a special treat for us if we would like. Naturally I was intrigued but didn't expect what came next. He disappeared to the back room for a minute and returned with 4 invitations for a special, private menu trial for the new Bistrot Chez Remy, which will open along with the new ride Ratatouille: The Ride in July.
The meal was to take place on Wednesday May 21st at 6.30pm at the Beaver Creek restaurant in Sequoia Lodge. We were very overwhelmed! We were informed we would dine for free and then take a short survey in regard to our meal.
On Wednesday we arrived over promptly at 6.30pm and had a short wait as the kitchen was running a little behind. At 6.45pm we were seated by our fabulous waiter, Nicolas. He was very friendly and theatrical in his service! There were some official looking Cast Members dotted around the restaurant with clipboards noting every move.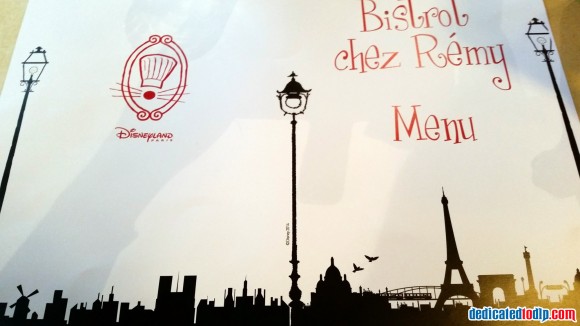 Nicolas presented us with our menu and explained the choices to us which were.
We were soon brought our drinks and some crusty herb bread which was very nice. The child's cocktails were a nice touch as was our champagne.
The children had melon balls and cherry tomatoes with breadsticks to start and my daughter chose Salmon with ravioli for her main course and my son had the linguine with tomato sauce. My daughter was not very keen on her salmon but this may be due to it being her first time to try salmon. She did very much like the ravioli. The linguine was fantastic but a huge portion. My son did his best to finish it but was beaten! The kids dessert of hazelnut éclair with red berry coulis and white chocolate with Remy's image imprinted on it was a huge success.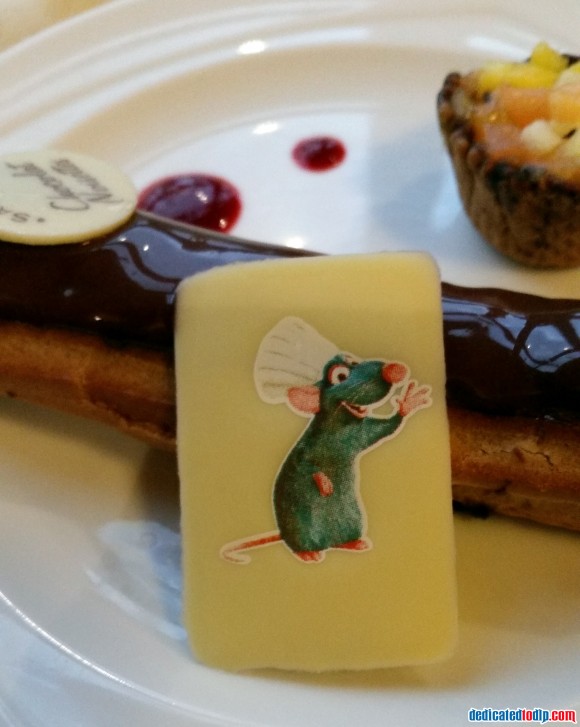 My mother and myself both enjoyed our set starter of cheese salad. The dressing was particularly good and the cheese very flavoursome without being overbearing. My mother chose the cod for her main course. She thought it was very well cooked and her only qualm was that the ratatouille was bland. I had the steak, cooked medium-well and fries. This was the best steak I have eaten in Disneyland Paris. It was tender on the inside and nicely charred on the outside. It was accompanied by a chef sauce which was perhaps a brandy cream sauce and worked well with the steak. My ratatouille was also under seasoned. This is definitely something they need to address if it is to be a statement component of the adult menu main course.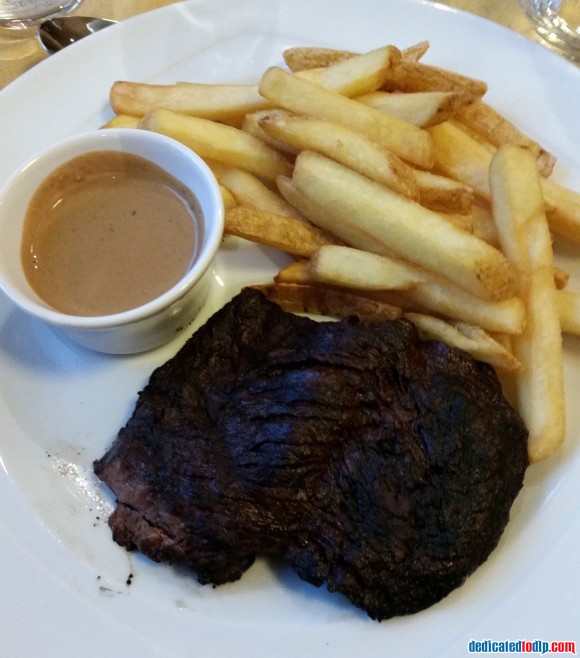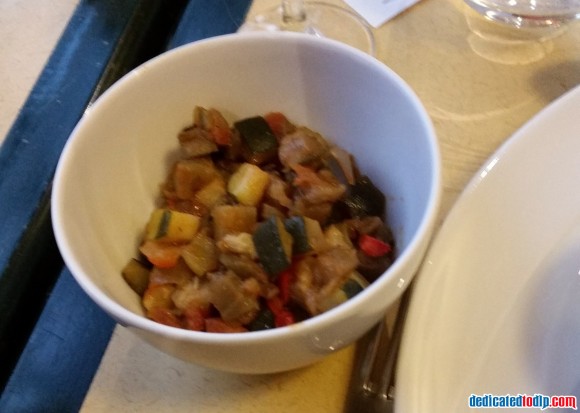 The adult's desserts were laid out on the buffet table in the middle of the restaurant but were served to us by our waiter after we had ordered. My mother chose the chocolate mousse and I chose the tiramisu. Both were served in tall dessert glasses with Mickey Mouse wafers.
After we finished our meal we were taken to the other side of the restaurant and were given our questionnaires. We had to answer questions about the quality of our service, food, the menu stationary and our general thoughts on the experience. My opinion was the that menu was perhaps a little limited for children but did cater for most palates. A choice for starter and dessert may work better in practice in my opinion.
As regards the adult menu our feelings were that the only area where it was lacking was on what should be the signature main course accompaniment of ratatouille. I thought the starter would be bland but in honesty it was very good, well seasoned and dressed. Both main courses were to a high standard and desserts were also superb.
On reflection I would have thought the menu would be an offering of typical French food and would, if I were overseeing its development probably include more French fayre like a tart tatin or beignets in place of an Italian dessert like tiramisu.
We completed them and were on our way. The restaurant was at full capacity. The look of the menu itself I think is quite good – it is concise and its design is well themed without being garishly covered in images of Remy. Perhaps more French wine options should be showcased but we are not wine drinkers so it wouldn't be a personal gripe.
In summary, the food is very good but could be more typically French and more options should be available for children but all in all there is very little to be ironing out before opening in July. Also the restaurant was running at full capacity – I would imagine there were approximately 50 diners while we were there. We were given no indications of menu prices nor asked what we would be happy to pay.
Thanks Kizzy!
The rumours of a one course restaurant are not true, though they aren't that far off. But for a non beef eater like myself, the addition of a fish course is so welcome. However, before we get too carried away, let us not forget that this was just a testing menu and not necessarily the real thing. Though I'd be very surprised if the menu on July 10th isn't very similar. I don't like Ratatouille, but it sounds like they have work to do on that over the next month – you can't have people walking away disappointed with the signature dish! I like the kids menu too – staying classy, but still appealing to children. I think my boy Lucas would be happy with any of the three kid's options.
In late June Mark, he of the podcast, will be heading over with a bunch of other invited guests, to ride Ratatouille: The Adventure and sample the delights of Bistrot Chez Remy. Unfortunately I am away at that time, but fear not as Mark will return with a full report of everything for both the website and the podcast. My question to you fine people – does the menu sound appealing, would you like to dine in Bistrot Chez Remy if this is what they ofer?