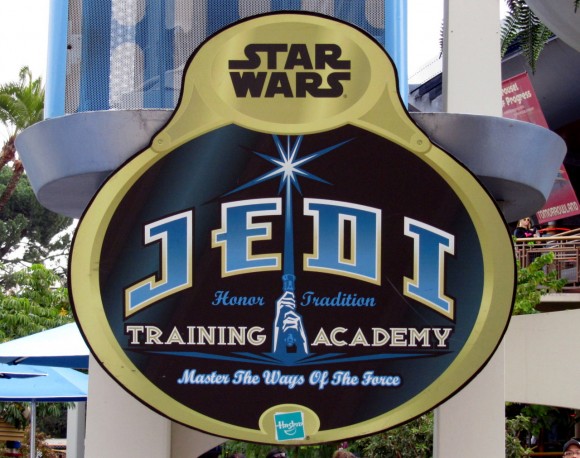 The "Jedi Training Academy" project will become a reality in Videopolis, just after the refurbishment of the Café Hyperion the next year

— DisneylandBerry (@DisneylandBerry) May 12, 2014
This tweet from @DisneylandBerry set a few tongues wagging yesterday, as the first step in the rumoured Star Wars Land could be on it's way to Disneyland Paris. If you don't know what the Jedi Training Academy is, then here is what the Walt Disney World website says about their version, followed by a video a guest shot of the experience.
Junior Jedi knights learn to use the Force at this 20-minute training academy as they prepare to meet the Dark Side.

Calling All Potential Padawans!
Kids between the ages of 4 and 12, don a brown robe and pledge the Jedi Oath under the tutelage of a Jedi Master. The brilliant Star Wars fanfare stirs your spirit as you learn how to use The Force—and your wit—to wield your lightsaber. Behold how the Jedi Master hones your battle skills, for you never know when you will have to defend yourself against the Dark Side!

The Dark Side Beckons
There is a disturbance in the Force and Stormtroopers arrive—could Darth Vader himself be far behind? Take the ultimate test and see if you can defeat the Dark Side as you alone battle this Dark Lord of the Sith! If you succeed, you will receive a certificate proclaiming you a true Jedi Knight.

May the Force be with you!

Sign Up Early to Participate
Calling all potential Padawans: Visit ABC Sound Studio early in the day and reserve your spot in the Academy!

To register, report to the queue outside ABC Sound Studio at park opening. Twelve Guests between the ages of 4 and 12 years of age will be selected for each show. The young Jedis-to-be are then instructed to arrive 30 minutes prior to the assigned show so that they can receive further special instructions.

Be sure to register early! The Academy has limited capacity, so it's first come, first sabered.

Please note: All Guests who wish to sign up for the Jedi Training Academy must be physically present during registration.

Know Before You Go
Be sure to check the Times Guide at Disney's Hollywood Studios for the schedule and show times. Since this is an outdoor show, it is subject to cancellation due to inclement weather. Show times are subject to change.
httpvh://www.youtube.com/watch?v=3v6pQFcu2dw
The Cost
This is great on two counts, as not only do we get a new attraction in Disneyland Paris, but it makes use of the Videopolis stage for the first time since The Legend of the Lion King closed in 2009. Well, apart from the Jingle Bell Boys at Christmas and the odd special event. You can see from the video that there is actually very little theming needed and they can do it all on the current stage without too much development. They should be able to do this for a modest investment, at least in relation to how much attention it should get if advertised effectively.
The Food
There was chatter some time ago that they didn't want to change Videopolis too much as it's the most profitable eatery on the resort. With the addition of the Jedi Training Academy they can keep all the seats in place and still serve as many fast food meals as they do now. It could also see them freshen up the menu with a Star Wars meal and some meal deals with toy companies like Hasbro.
The Language
The attraction relying somewhat on spoken word shouldn't be a problem as they can alternate shows between English and French, just as they do with shows like Disney Junior Live! over in Walt Disney Studios. This doesn't help people who don't speak either language, but then there's only so much you can do, and it does look very visual and relatively easy to follow along be copying the action of the Jedi Master. Kids are often fat better are coping in these situations than adults who are stuck in their ways.
The Age
As an adult Star Wars fan it's a little disappointing that I won't be able to join in, but I'll get a lot of pleasure from watching my son Lucas participate, at least for the next 6 years. But what of those that don't have children, their option is to just watch other people's children having fun. This makes it very much a families only attraction.
The aforementioned Disney Junior Live! is just for small children and their families and people don't moan about that, but then Star Wars has much more of a universal appeal. You only have to look at Star Wars Weekends over in America to see how many adults are interested in the activities they put on over there. But while it does have a slightly limited appeal given the age restrictions, is it any different to a ride that has height restrictions? There are many more of those that exclude small children in Disneyland Paris.
The 12 Guests
12 people per show is not that many, and I can imagine there being a few upset children if they don't get picked to participate. This system obviously works in America, but then it's well known that people in those parks are a lot better behaved than those in Disneyland Paris. Of course we don't know only 12 will be taking part in the Videopolois version, there could be double that amount for all we know. It's going to be a case of getting in line and hoping for the best. Maybe there will be a queue at the start of the day where all allocated tickets for all slots will be given out. At least then you know you have to be there at a specific time to get your place.
Star Wars Land
Hopefully in time for Star Wars: Episode VII, if this rumour comes to fruition, Disneyland Paris will have a brand new Star Wars attraction in the form of the Jedi Training Academy. This has to just be the first step in the development of Star Wars Land, and would assume that the now closed Captain EO (which hasn't been confirmed as being permanently closed by Disneyland Paris) would be next on the list to be changed into a Star Wars themed attraction.
I for one hope this does turn out to be true, and I have no reason to believe otherwise at the moment, as Videopolis has been screaming out for some improvements for years now. Star Wars is the most popular and enduring film franchise of all time, and is about to go through another long term growth cycle – perfect timing for the Jedi Training Academy to come to Disneyland Paris.