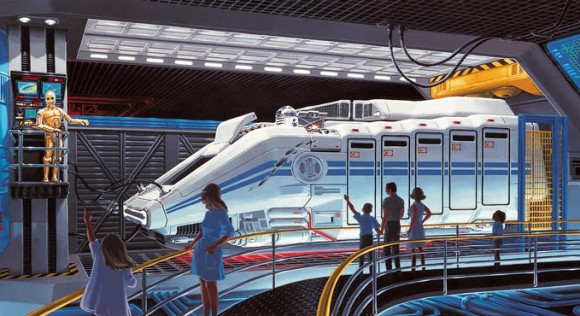 When we first took our son Lucas to Disneyland Paris in 2010 he was 2, and Star Wars was not his thing – it was all about Lightning McQueen and Cars. When we visited last year he had his 4th birthday the day we arrived and was by then a huge Star Wars fan, much to his father's delight. However, being small for his age he was a quite a way short of the 102 cm needed to go on Star Tours. We had to tell him it was closed and he was fine with that, reveling in repeated rides on classic Disneyland Paris attractions such as Pirates of the Caribbean and Phantom Manor.
On May 6th Lucas will be 5, and what he doesn't know is that 3 weeks later we'll be taking him to Disneyland Paris for a late birthday surprise – we'll be telling him on his birthday. This morning I decided to see how tall Lucas is, my guess being around 96cm given that he was 93cm at the start of the year. At the moment I looked at the height chart and told Lucas he had grown to 102cm, his immediate response was I'm big enough to go the Star Wars ride, as he ran off to tell his Mum!
Yes Lucas you are now tall enough, but what you don't yet know is that you'll be having your first experience of Star Tours in just a few weeks. Has this elevated my excitement for our upcoming trip? I think you know the answer to that.