It was here, Disneyland Paris Half Marathon day, and after the 5k on Friday and the 10k the morning before I wasn't feeling my best. I know that I stupidly started these races too fast but I wasn't going to make the same mistake today. After the excitement and rare characters of the 10k I decided that time did not matter at all today. I was going to enjoy this rare experience, make the most of it and most importantly have fun! This didn't stop me getting to the start early though. With the same layout as the 10k, we waited in front of the stage, dancing to the DJ set, trying to keep warm. After the appearance of the hosts, interviews and a warm up session, it was start time.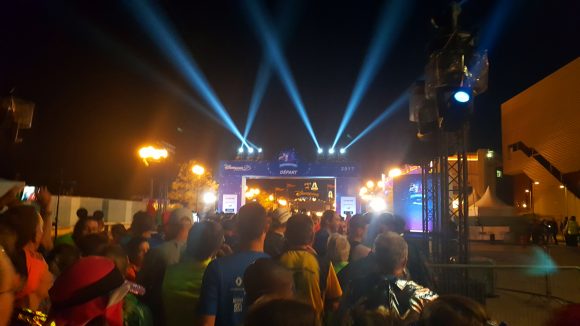 21k lay ahead of us, hopefully filled with characters, plenty of support and fun but I still couldn't wait to cross the finish line. Again we started off running through Walt Disney Studios, but with a slightly different route, passing Tower of Terror lit up with the RunDisney logo, circling round and passing the 1k marker in Studio One.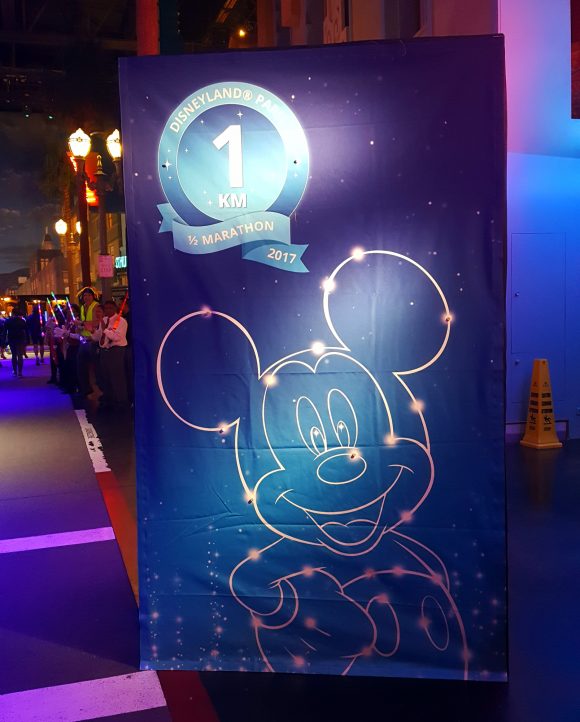 On to the Front Lot and round into the backstage area. Time for our first character, a thumbs up from Spider-Man as we ran past. On to the Studio Tram Tour track, again, only to find Alice waiting among the flower set. After this short first visit to the Studios we left via the backstage and entered Disneyland Park next to The Chaparral Theater, running through Frontierland. Now this was usually a regular thing for me at rope drop, but this time my goal wasn't a ride, it was The 3 Caballeros including Donald, who decided to run along side me for a few paces. Kuzco, Kronk and Yzma were outside Fuente Del Oro Restaurant, the characters were plentiful and we hadn't even passed the 4K mark. Through a back exit next to Phantom Manor we passed the cast canteen and onto Main St, to be greeted by Mickey and Minnie in their 25th anniversary outfits, with a beautiful backdrop of the Town Square Gazebo.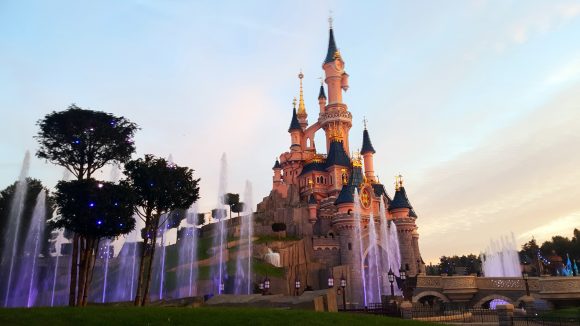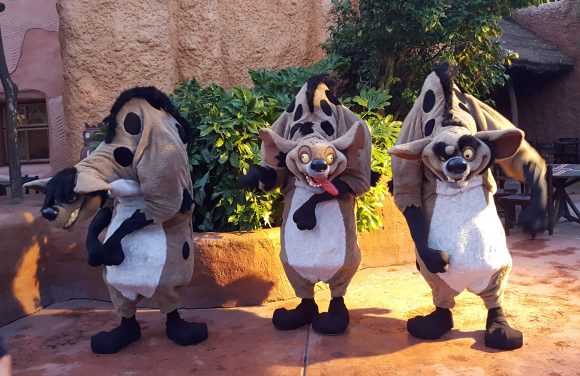 Down towards the Castle and into Adventureland to find one of the best rare character meets so far, the 3 hyenas from The Lion King…wow! Next up Jack Sparrow by Pirates of the Caribbean of course. Then through the Castle towards Royal Castle Stage we went to see Scrouge McDuck, looking very dapper indeed in his 25th outfit, accompanied by 25th tricycle and Cast Member. Around the course towards it's a small world to be greeted by a few Princesses and Princes: Rapunzel, Flynn, Snow White and her Prince, plus the carriages from the parade. Another parade float was waiting just a short distance ahead, the Crush float, with working bubbles that gave me a boost as I tried to chase and pop as many as possible.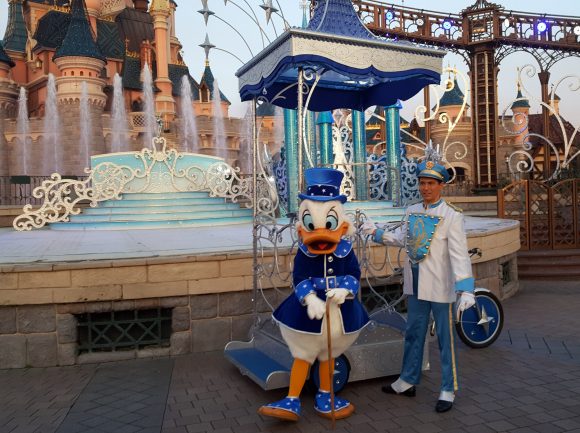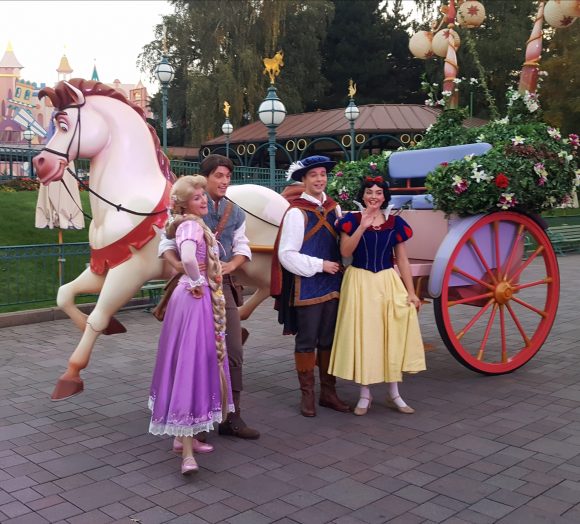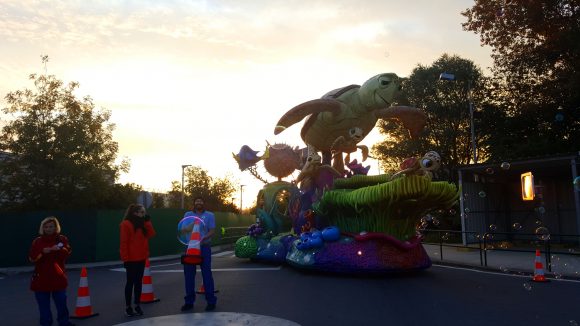 Taking a path out of the public area of the park the route took us round and into Discoveryland, to come face to face with two Stormtroopers. A nicer welcome came a few seconds later in the form of Nick Wilde with a Zootropolis backdrop, then Sadness with an Inside Out setting. These were all amazing photo opportunities, each character so far was situated in the perfect themed locations in the parks and had appropriate backdrops or floats to accompany them. Queues were also short, as people just wanted to keep going, so these were characters I wasn't going to miss.
With the sun rising over the parks we exited into the last bit of backstage area. Next we made it onto the part of the course I was dreading, but a smile from Walt Disney himself helped me on my way. For 7k or so we were out of the parks and through the surrounding villages and hotels. The route was nearly exactly the same as last year so I knew when to brace myself for any slight hill, and I mean slight, you feel them all at this point. There were break dancing groups, cheerleaders, and many different bands lining the route, so it was never boring. Seeing some stunning countryside and quaint little villages was a nice change, but I was still itching to get back to the parks, especially when the route was slightly industrial. Get me back to the Disney magic.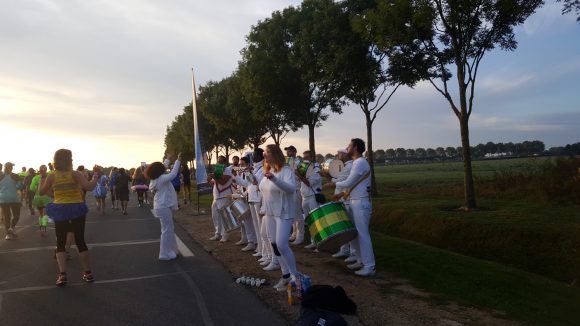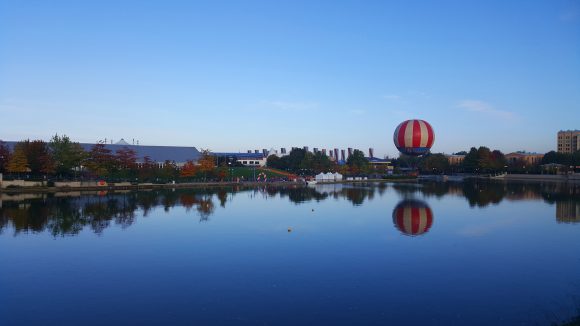 When the Santa Fe hotel came into sight I was boosted. Through the grounds of Hotel Cheyenne, around the lake and into Disney Village, which was now starting to fill up with visitors to the parks. Praying I didn't look too disheveled with the crowds forming along the route, I pushed on. Last year this was the last stretch of the half marathon but this year the finish line was in Walt Disney Studios, so there was still a few kilometres to go. We entered the Studios on the Tram Tour track of course, to repeat some of the same route we had run earlier on. But my disappointment didn't last long as the characters had changed. Tinkerbell was now amongst the flowers which made for a beautiful photo. Last part now, onto the Stunt Show stage to pose for a photo with the 25th Anniversary car and two performers dressed in stunning 25th outfits, then round to the home stretch. Goofy, Pluto, Chip and Dale all in their track suits were waving us by as we crossed the finish line.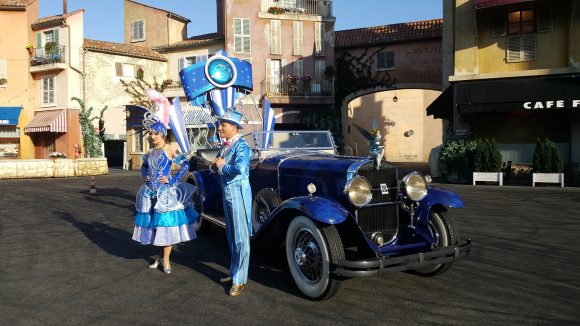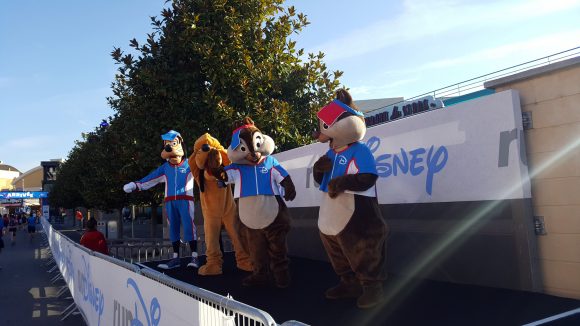 In complete shock that it was all over and finally finished I rushed to get my medal. The set up for this was slightly different with a one way traffic system sep up so you could only pass the medal collection once. Then off to pick up my challenge medal and badge, and lastly the snacks on offer. Feeling slightly spaced out I exited the Studios. The whole weekend had been amazing and I personally didn't encounter any problems. There were ample refreshment stops and snacks provided on the routes, snack packs afterwards and even heat wraps after the half marathon, so an improvement on last year. But without the Cast Members, volunteers and characters I wouldn't have be able to cover 36k in one weekend, so to them I want to say a massive thank you.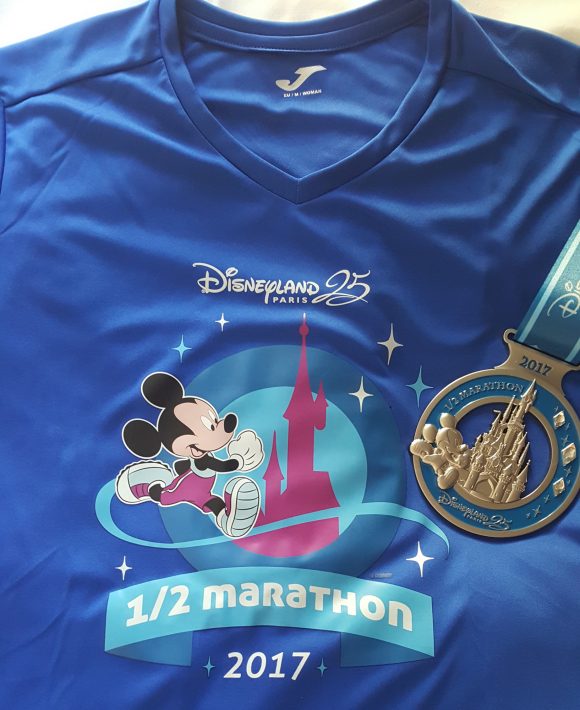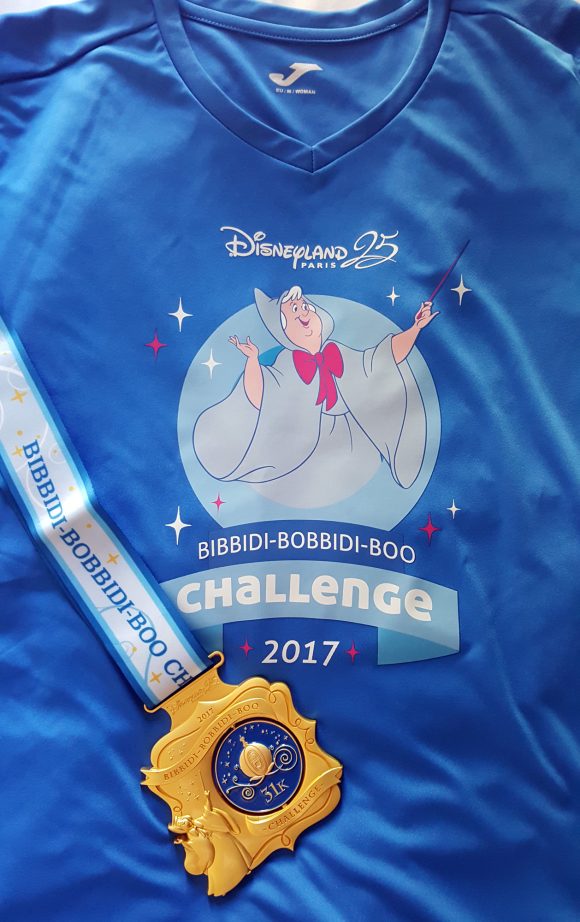 No matter your ability or age, as long as you have a passion for Disney, runDisney events are for you. I noticed nearly everyone taking part were there to enjoy the magic, achieve something they never thought they could and most of all to have fun. runDisney provide running events for everyone, even those who hate running!
Related posts:
The following two tabs change content below.
New writer for Dedicated to DLP Jane is a passionate all round Disney fan, who's love for Disneyland Paris grows with each and every visit. When not in her favourite place she spends the majority of her time booking and planning her next trip "home". If they would let her, she would happily live in the castle, waking up to a view of Main St every morning.
Comments
comments